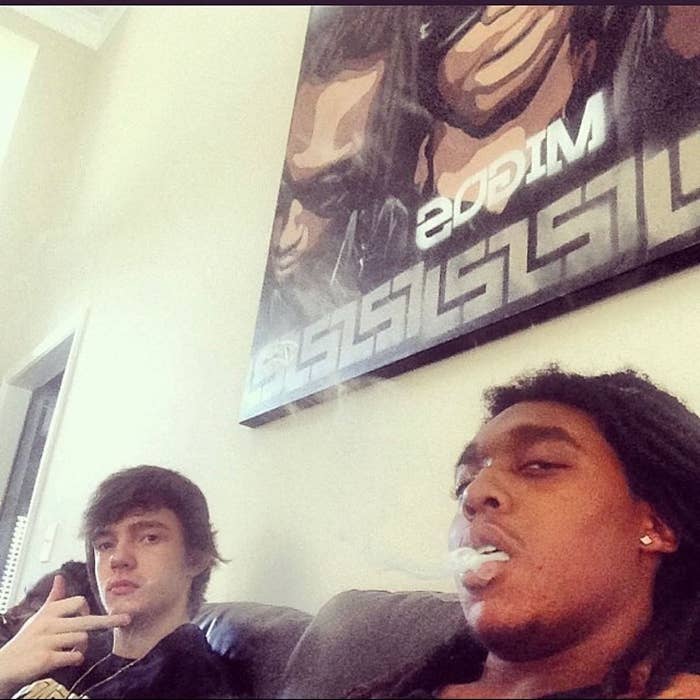 The hip-hop world is still mourning the loss of rap titan Takeoff with nearly all of his friends, family, and collaborators putting out some form of tribute to the Atlanta rapper, who died on Nov. 1 at age 28. Canadian producer Murda Beatz took to Instagram to pay his respects to Takeoff, who, along with the rest of the Migos, was one of the first people to take Murda under his wing.
"Words Can't Explain How I Feel This Has Been The Only Thing On My Mind," wrote Murda. "Without Takeoff, There Would Be No Murda Beatz."
"I Met You Almost 10 Years Ago, You And The Gang Always Made Me Feel Like I Was Their Blood Brother Since We Met. Your Family, Your Momma, Your Brother Lingo, Your Uncle Quavo, Your Grandma, Everybody Treated Me Like I Was Part Of The Family. You And The Gang Really Adopted Me And Put Me Under Your Wing."
"I Stood Beside Yall And I Was Lucky Enough To Watch You Become One Of The Best Rappers Of Our Generation. My Brother Helped Push Trap Music To The Global Stage. We Took Mixtape Rap To The Top Of The Charts And Made It Mainstream."
Across the post, Murda reminisces on his early days when he was less known and how the Migos treated him like he was family. 
"I'm So Proud To Call You My Brother And I'm So Grateful That I Met You Along This Journey Called Life. We Are The Same Age And It Breaks My Heart We Cant Grow Old Together Like We All Supposed To. Ima Miss You Bro This Shit Never Gonna Stop The Gang Gonna Keep Going Hard For You Bro I Promise On My Soul 💔 I'm Sorry This Happened To You 💔 Sending All My Love To You, Your Family And The Gang 4L," he added.
In an interview with Home Grown Radio, Murda spoke about living with Migos when he was 17 and learning about the music industry. He largely attributes his success to the help Migos gave him as a young producer.
"I knew I was doing something right when we dropped 'Pipe It Up,'" Murda said when asked how he knew he had "made it."
Most recently, Murda Beatz produced multiple tracks on Quavo and Takeoff's Only Built for Infinity Links: "Tony Starks," "Hotel Lobby," "Look @ This," and "Mixy."
Thousands gathered last Friday at Atlanta's State Farm Arena to honour the life and legacy of Takeoff.