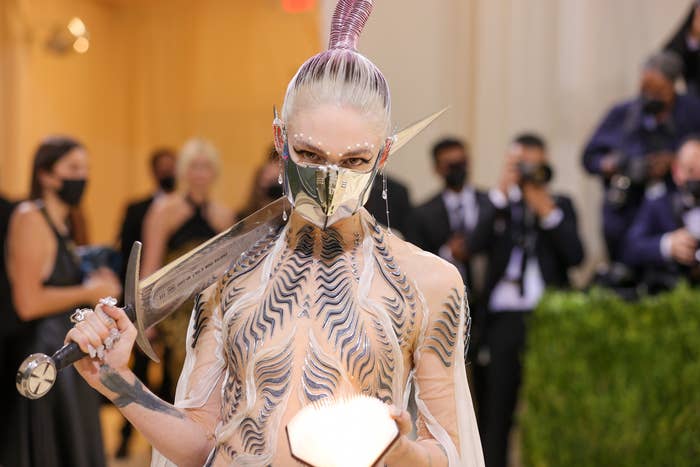 When artists feel like they're snubbed from the Grammys, they typically take to social media to express their disappointment. This year was no different when Charli XCX likened her Grammy snub to Mia Goth not receiving any Oscar nominations. 
Grimes, in an act of solidarity, took to the comments to call the Grammys irrelevant.
"Me not being nominated for Crash is like Mia Goth not being nominated for an Oscar for Pearl and only further proves that people don't wanna see hot evil girls thrive," Charli XCX originally wrote in the IG post.
"The Grammies are so irrelevant I wouldn't even sweat it," Grimes responded. "I stopped even clocking them in any capacity when I was on the producer of the year board and they quite literally would not allow me to nominate anyone who wasn't on a pre-fabricated list that was exceptionally boring. I was one of 3 women and the only person under 40 for sure. It's literally not a relevant thing. I tried to nominate Sophie and was told that wasn't allowed."
Though SOPHIE was never nominated at the Grammys, Kim Petras paid homage to the late artist at the award show over the weekend.
Petras, the first out transgender woman to win Best Pop Duo/Group Performance at the Grammys, dedicated a portion of her acceptance speech to Sophie as a way to thank her for everything she did.
"I just want to thank all the incredible transgender legends before me who kicked these doors open for me so I could be here tonight. Sophie, especially, my friend who passed away two years ago, who told me this would happen and always believed in me," Petras said during her speech. "Thank you so much for your inspiration, Sophie, I adore you and your inspiration will always be in your music." Whether the Grammys get it or not, the game-changing girls do.