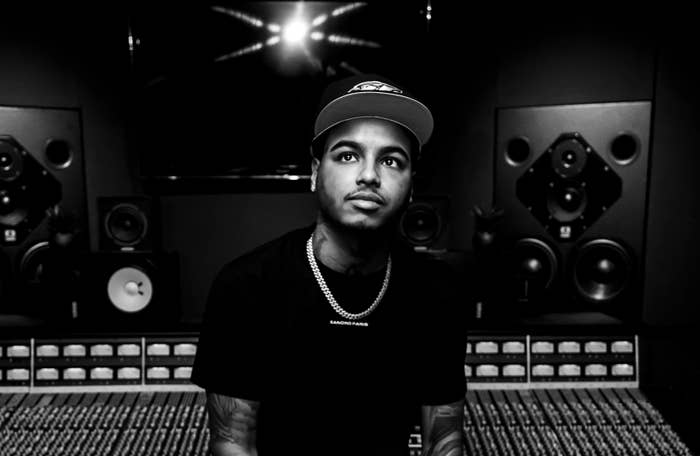 Jay Whiss arrives at Noble Street Studios in Toronto's west end with a brown paper LCBO bag. Inside, a box of Veuve Clicquot Brut champagne. He pours himself a glass with zero fanfare, politely offering this scribe and the Universal Music Canada publicist to join him (we decline) and settles on the couch for the early Monday afternoon interview. It's the eight-day countdown to the Prime Boys member's full-length solo debut, Peace of Mind, so he's entitled to celebrate.
"Usually, I'll drink a white wine spritzer. I was drinking a lot for a while and it started taking a toll on my body, so that's the lightest. I'm half-Irish," he adds of his mom's side—and by way of explanation. "I'm a drinker for sure. Sometimes, I get so inebriated in the studio that I don't even know I do things." For example, about the verse at the end of "Please," one of the songs Amir Jammalich mixed in Noble's studio, he says: "I forgot I even did that for like a week, but it was one of my best." So, for now he'll stick to spritzers—and champagne.
Whiss, who released a solo EP, Dark Cloud, last summer on Universal—after a trickle of one-off singles independently, and a 2018 album, Koba World, with his acclaimed Esplanade-reared hip-hop collective Prime Boys—worked hard on Peace of Mind, rounding up producers Murda Beatz, Richie Souf, Cubeatz, Damian Birdsey, 1Mind, Lani Christ, and Pro Logic. 
Murda—whose CV includes Migos, Drake, and Travis Scott—goes way back with Whiss. He gave the up-and-coming rapper a boost in 2016 by featuring him on his mixtapeKeep God First, on the track "Brown Money." 
He says his fellow Prime Boys—rappers Donnie and Jimmy Prime (yes, the guy who coined "The 6")—are proud he's releasing his first major label album. They are nothing if not loyal and dedicated. At least those are the qualities that emerge in listening to his lyrics and noting his history with Prime Boys, which extends beyond the three artists to include managers, photographers, videographers, or as he calls them, "a small circle of friends."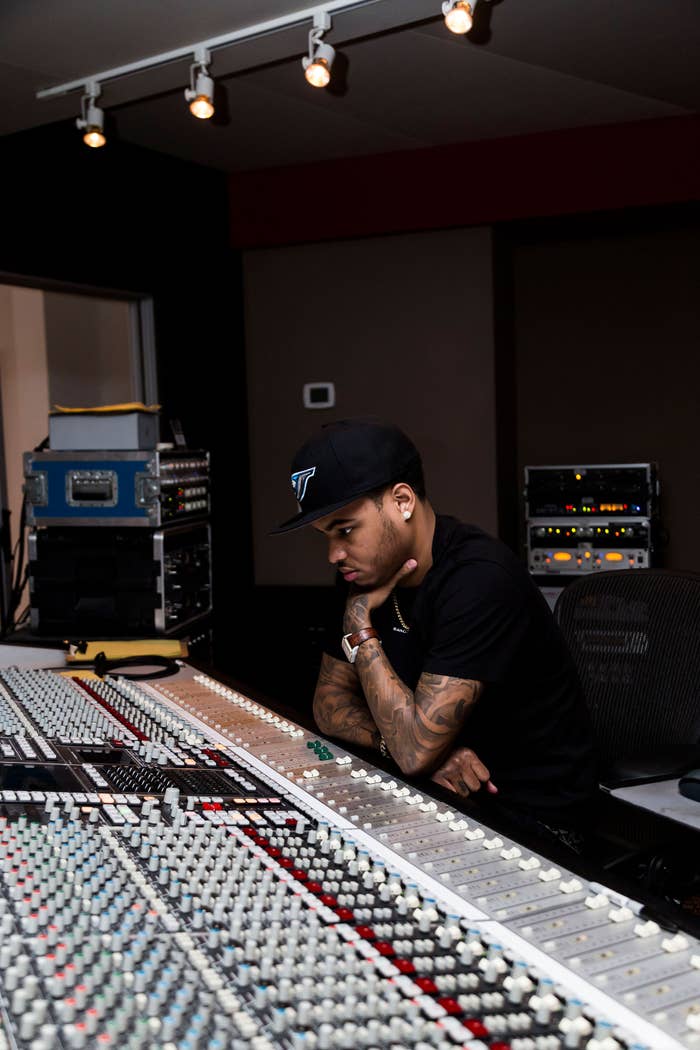 Puffy L'z is featured on "Valet," and of course Donnie and Jimmy make an appearance on a couple of tracks, "Lay Low" and "Left Me For Dead," respectively, but Whiss makes sure to give his group a shout-out—"Prime forever"—at the start of no less than half the 10 songs. "Honestly, it helps me before I record," he explains of the mantra.
His aim was to create an album with "a classic feel," the beats mostly chill, almost ethereal (as on "Don't Change On Me," "Dark Cloud," and "Either Way") and the hardness coming from his lyrics, tone, and flow.
"I wanted to make sure it was timeless. I didn't try to chase any of the current sounds," Whiss says. "I listened to a lot of people's debut albums to gauge. Even my favourite artists, I like their first album the most. They say you have your whole life to make your first album."
"I figured everything out myself. I've always been very introspective. I spent so much time alone. It gave me a lot of time to decide how I want to be."
There are a lot of personal details to be extracted from tracks like "Back Track," "Dark Cloud," and "Mind In A Maze," and that was also a goal of his for Peace of Mind.
"I wanted it to be, when you listen to it, that it answers all the questions you'd have for me, you know?" Whiss says. "Even people that are close to me, or friends that I don't get to speak to every day and might wonder why this is how I reacted to this and that, I just wanted to really express who I am and why I am the way I am." 
Right out of the gate, on lead-off track "Don't Change On Me," we learn a few key things about the man born Jordan Whiston a quarter of a century ago: "I'm goin' places and it's obvious/ No older bro, no older head." And perhaps most telling: "My only concern every day/ My only concern to be great." 
Whiss is focused, determined. He grew up feeling like an only child. He has an older sister on his dad's side who lived in New York; his dad was in and out of his life—mostly out. "I figured everything out myself. I've always been very introspective. I spent so much time alone," he says. "It gave me a lot of time to decide how I want to be."
During those early days, music—specifically the classics—provided him with the guidance he couldn't find elsewhere. "When I'm young, I'm listening to mainly Jay-Z and maybe Nas 'cause they seemed like they had it figured out. Little lines like, 'Show you how to move in a room full of vultures' [from 'Izzo (H.O.V.A.)'], those types of things really helped me become who I am. I want to speak in a language that people can take it and learn from it as well, too."
He grew up in the Esplanade, the area of Toronto near St. Lawrence Market filled with all walks of life, from all cultural and socioeconomic backgrounds. (Prime Boys showed a snapshot of life there in the video for 2014's "I Heard.") While he and his mom moved west to King and Shaw when he was 11, Whiss spent all his time back in the Esplanade after school "because all my friends that I grew up with are from there."

As for school, Whiss had issues with authority and was in trouble a lot, but on his own, he flourished. He says at age 11, he started making $100 a day selling household products door-to-door; by 15, it was $200. A year later, he wrote his first song. By 19, he launched his own sales business, even employing other kids. "That was what was funding all my studio sessions," he explains.

With no adult mentors or guidance, he was driven by how he didn't want to be.
"I'm my own pilot. I don't put anything past myself in any aspects. If I want to do something, I know I can do it, you know? I've been fortunate that music has never been the backbone of everything financially. I've always been able to pretty much do most of the things I want.
"I was never motived by 'I want to be a rapper; I like his lifestyle. I want to be a rock star; that guy gets all the girls.' That's never been my motivation. I never put that as my blueprint 'cause that's not what moved me."
So while he raps lines like "I'm doing mobster shit/ Eatin' lobster bisque/ Watchin all my enemies do the opposite," don't take it too seriously. Not everything on Peace of Mind is autobiographical. "Certain things, I guess, are cliché that I'll touch on because it comes to mind. I'll speak on it, but it's nothing I pay attention to or really care about, to be honest," Whiss says.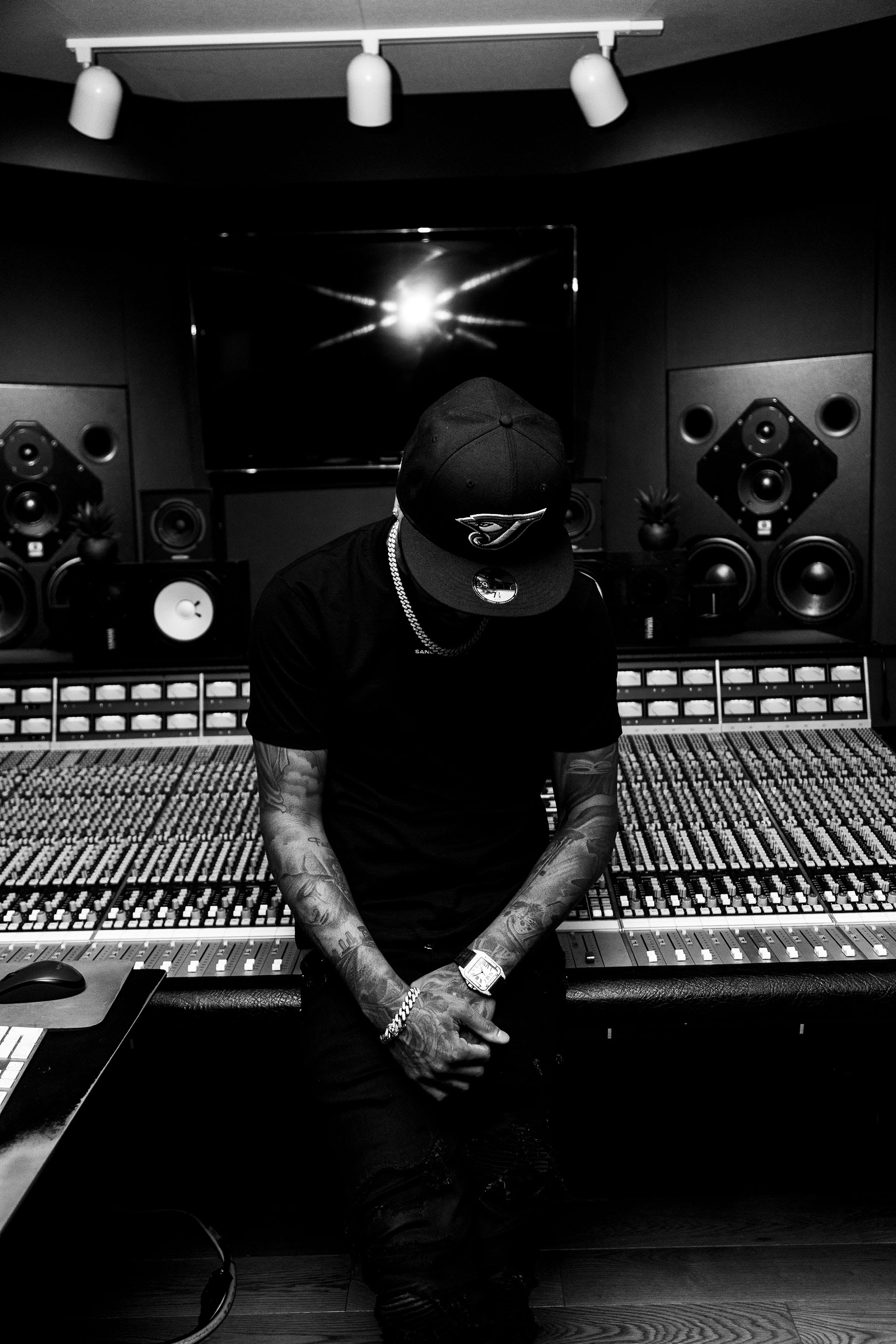 But the song that will tell you the most about Jay Whiss? Track 10, the outro, the big yet introspective finish: "Mind In A Maze." Whiss lost two friends in the Prime Boys' circle, rapper Smoke Dawg and brand manager Koba Prime, to murder in 2018. It begins: "I got roses in my hand/ I ain't goin' on a date/ They for my niggas grave…/ I got roses in my hand/ And a heart full of pain/ Can't believe I'm losin' friends/ I'm still crying to this day…." 
"That was the holdup of the whole album, to be honest, with 'Mind In A Maze.' That's my favourite song I've ever made. It's not just a song; it's literally me," Whiss says.

The rapper should now have peace of mind, with Peace of Mind, knowing his effort and vision to reveal who he is will be out there, recorded. Who knows, it might even inspire some kids to find their true selves, the way Hova inspired him.
"It's just amazing that I could do it in such a song that sounds so good to me, too—that I could really express myself that deeply. That's the song I've always wanted to make, where this is me in a nutshell. This song—this is everything that's going on in my mind that I might not speak to you about whether you're with me all the time and we've never spoke on. This is the highest level of expression that I've done so far."