There are smart ways to include rap songs in the classroom, and then there is this: a Georgia middle school teacher has been suspended for bringing Kodak Black's verse on A Boogie Wit Da Hoodie's platinum-selling single "Drowning" into his classroom. The lyrics were given to sixth graders at DeKalb County's Bethune Middle School, who were then tasked with turning the words into their own, more positive lyrics.
The assignment caught the attention of Crishana Wright when her daughter Kalani brought it home. Wright told WSB-TV Atlanta that her daughter's lessons are important, but this specific assignment was "really against everything I try to teach them."
"I'm reading all these words and I immediately asked her why she had this and she said it was an assignment," Wright said.
"I saw that and I was like, 'My mom would be mad,'" Kalani said.
In a photo provided by WSB-TV, Kodak's violent and sexually explicit verse can be shown, including the lines
"Sniper Gang I put a nigga on a carton/I'm the shit I'm fartin', I don't know how to potty" and "I ain't doing trims, I'm in the cut like I'm a barber/She call me daddy, but I ain't her motherfucking father."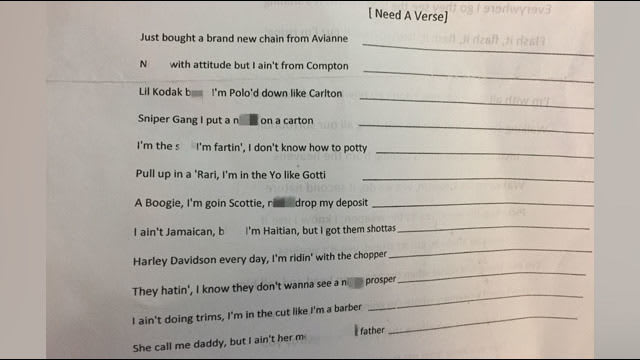 "I don't really see how you can make that positive but to say don't do it," Wright said.
The teacher has been suspended and the superintendent of the school district released the following statement:
"The assignment was inappropriate, unacceptable and contrary to our standards. The employee responsible has been removed from the classroom and will be held accountable for such poor judgment. While we encourage teacher creativity, the expectation is that the instruction is always standards-based and age appropriate."
"I think we all kind of know when it may be a problem, then if that's the case don't take the chance," Wright said. "You're dealing with children's minds; you have to be very cautious." 
It also goes without saying that Kodak Black is not the greatest role model for impressionable middle school children. The rapper has been called out for some questionable comments about race and has been accused of assaulting women in the past.  
The rest of "Drowning" also includes explicit lyrics such as "I'm with all my niggas, I don't go nowhere without 'em/If they don't let us in they might throw shots at the bouncer" and "Niggas with attitude, but we come straight out of Highbridge/I'm gon' make her panties wet when she see the way I flex."
Perhaps this Georgia teacher could have learned a lesson from Erica Buddington, a Harlem teacher who went viral last month for remixing Cardi B's "Bodak Yellow" lyrics to create an educational song for her geography class: