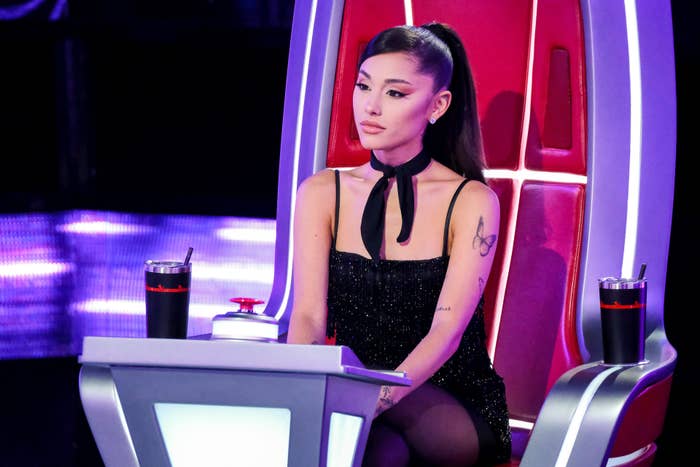 The estranged wife of Ariana Grande's rumored boyfriend has broken her silence.
In a recent interview with Page Six, Lilly Jay addressed her separation from 31-year-old Broadway star Ethan Slater and his reported relationship with his Wicked co-star. Jay insisted the "story" was more about Grande and the singer's soon-to-be ex-husband Dalton Gomez.
"[Ariana's] the story really. Not a girl's girl," Jay told the outlet. "My family is just collateral damage."
The comments came just a day after Slater filed for divorce from Jay after several years of marriage. The two were reportedly high school sweethearts and tied the knot in 2018, about four years before they welcomed their first child together.
"I'm focused on my son and doing my best to navigate a spotlight I have never wanted or experienced before," Lilly Jay told TMZ. "[I'm] watching with horror as stories are published speaking to my experience. I am asking for privacy and respect as an individual who is not in the entertainment industry and as a mom. I ask to be left alone to rebuild my life and raise the beautiful boy I gave birth to last year."
However, insiders told Page Six that Jay has been contacting various outlets in an effort to share her side of the story.
"She's rightfully upset because her marriage fell apart, but Ariana and Ethan didn't do anything wrong," a source said, adding that Slater started dating Grande months after he separated from Jay in early 2023. "Ethan is trying to take the high road and hopes he can resolve this situation for the sake of their child."
Grande and Slater have not commented on their rumored romance.
Earlier this month, Page Six reported that Grande and her husband Dalton Gomez had decided to file for divorce after two years of marriage. Insiders claimed the couple separated in January, shortly after Grande and Slater began filming Wicked overseas.
"They came to the decision together," a source said. "They were having problems before January, but they want to remain best friends… They've been really good friends throughout the entire process, and their friends and families have been trying to protect them."