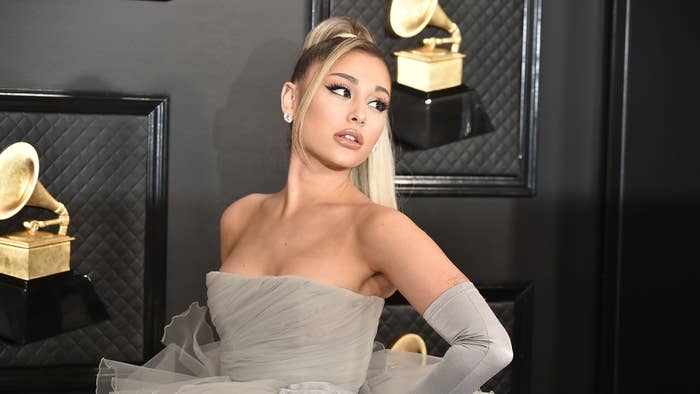 Ariana Grande's romance with her Wicked co-star Ethan Slater—who is filing for divorce—has reportedly left his estranged wife feeling like he abandoned their family.
Per TMZ, sources close to Lilly Jay said the relationship between Grande and Slater, whom Jay married in 2018, was a surprise. She's apparently very upset with how the situation unfolded, especially because they welcomed their son together last year. Grande also apparently used to hang out with Slater and Jay while they were a married couple. A timeline for Grande and Slater's relationship isn't clear, but sources said it started at least a few months ago.
According to legal docs as reported by TMZ, Slater filed for divorce from Jay on Wednesday. The news comes just over a week after it was reported that Grande and Dalton Gomez, who married in May 2021, are divorcing. The two have been "quietly and lovingly working on their friendship" according to a source, per People. Grande and Gomez plan to "remain best friends" despite the divorce. She was also spotted at Wimbledon with no wedding ring.
"It's understandable that emotions are high and it's hard seeing your ex move on, especially in such a public way, and her friends are trying to protect her," one source told TMZ. "But Ari and Ethan are just trying to lay low and be respectful of their exes as they pursue this new relationship."
Grande and Slater have yet to confirm their relationship, but the news has sparked confusion after some pointed out that Slater played Spongebob Squarepants in the 2017 Broadway musical adaptation.
It caused some to believe that Tom Kenny, who has voiced Spongebob since the series debuted in 1999, was dating Grande. "Hi everyone, I'm married to Tom Kenny," wrote Kenny's wife Jill Talley after a post from the Cut asked if Grande was "dating Spongebob" following her divorce. "He is not dating Ariana Grande. I don't know if Ethan Slater (who played SpongeBob in the musical) is or isn't dating Ariana Grande. However, they're both adorable and I totally ship it. Just wanted to set the record straight. P.S. as for me and Tom Kenny — we are celebrating our 27th wedding anniversary today."