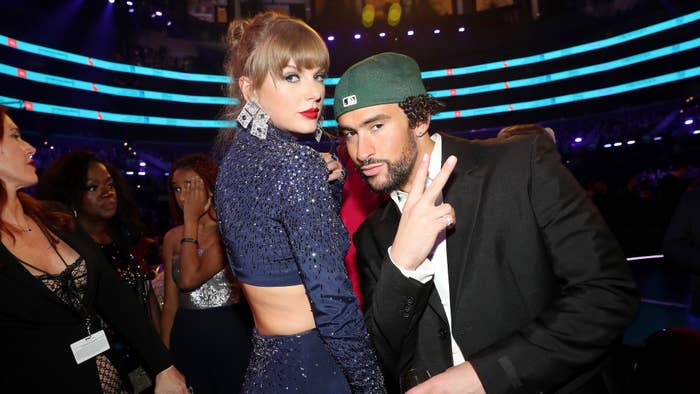 Taylor Swift and Bad Bunny made serious bank last year. 
The Grammy-winning artists were among Forbes' top 10 highest paid entertainers of 2022—a somewhat surprising list that included directors, showrunners, actors, and pioneering rock stars. Swift and Bad Bunny came in at the No. 9 and No. 10 spots, respectively. The former reportedly earned $92 million last year, thanks in large part to record sales. Her 2022 album, Midnights, topped the Billboard 200 for five weeks, and went on to break a series of streaming records on Apple Music, Spotify, and Amazon Music. Swift, who is the only female entertainer to make the 2022 list, has made the top 10 six times before. 
Bad Bunny made his first appearance on the list with an estimated earning of $88 million. A large portion of that money came from his 2022 treks—El Último Tour del Mundo and the World's Hottest Tour—which reportedly raked in more than $400 million in ticket sales. The Puerto Rican superstar also nabbed a number of big-time endorsement deals with companies like Adidas, Corona, and Cheetos.
Oscar-winning director James Cameron came in at the No. 8 slot with $95 million. 2022 saw the release of his highly anticipated, and long-awaited film, Avatar: The Way of Water. The sequel marked Cameron's third entry into the top 10 highest grossing films of all time, alongside 2009's Avatar and 1997's Titanic. 
Rolling Stones landed at No. 7 with $98 million, while Brad Pitt followed with $100 million. The latter secured a big payday with the sale of his Plan B production company, which produced critically acclaimed films, like Moonlight, 12 Years a Slave, and The Departed.
The Simpsons creators James L. Brooks & Matt Groening came in at No. 5 with $105 million; while South Park creators Trey Parker & Matt Stone took the No. 4 spot with $160 million.
Tyler Perry placed at No. 3 ($175 million) and Sting at No. 2 ($210 million). 
Leading the list was English rock band Genesis, which earned a jaw-dropping $230 million. Almost all of that money came from the sale of the group's catalog, which frontman Phil Collins reportedly sold for $300 million in September. According to Forbes, the sum also included income from touring and record royalties.