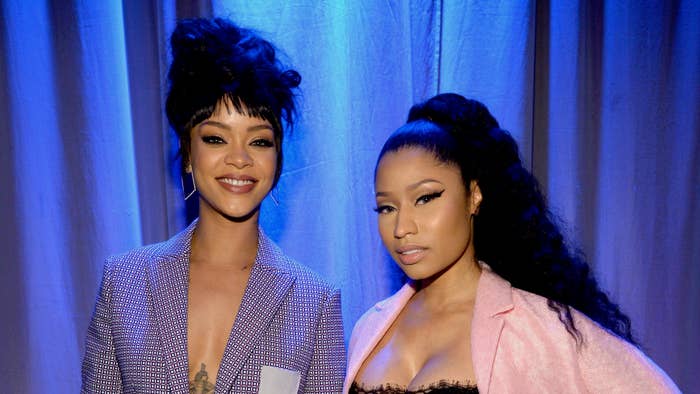 Nicki Minaj returned to Instagram on Friday to show Rihanna some love.
Earlier this week, the Anti singer shared a series of photos from her cover shoot for British Vogue. One of the images showed Rihanna posing next to her and ASAP Rocky's 9-month-old son. RiRi reflected on the moment in the caption, revealing she had no idea she was pregnant with her second child at the time.
"How crazy both of my babies were in these photos and mommy had no clue," she wrote.
Nicki hopped in the comments section to compliment Rihanna's first-born as well as to congratulate her on her pregnancy.
"A lil pretty boy already," she wrote. "Congratulations on the new bundle of joy, Queen."
Nicki also praised Rihanna's Super Bowl Halftime Show last Sunday, saying she "bodied" the gig.
Rihanna sparked pregnancy rumors during her halftime performance, in which she rocked a form-fitting jumpsuit that showed off an apparent baby bump. Shortly after the set, Rihanna's team addressed pregnancy rumors, and confirmed she was expecting a second child with Rocky. 
Rihanna spoke about motherhood in her British Vogue cover story, saying the experience has been "legendary."
"It's everything. You really don't remember life before, that's the craziest thing ever," she told the magazine. "You literally try to remember it—and there are photos of my life before—but the feeling, the desires, the things that you enjoy, everything, you just don't identify with it because you don't even allow yourself mentally to get that far, because it doesn't matter."