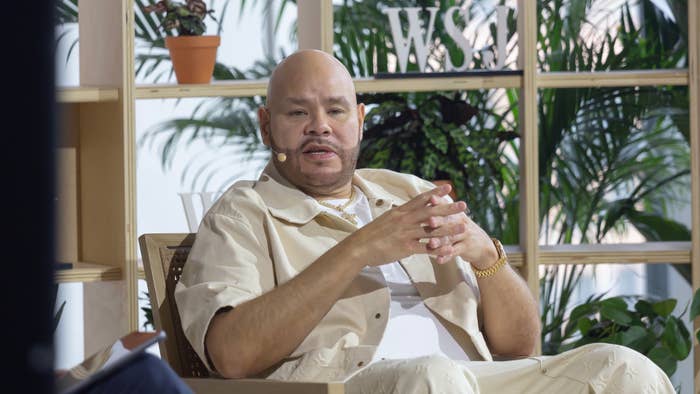 Fat Joe appears to have zero regrets about going independent. 
While speaking to the Wall Street Journal this week, the Grammy-nominated rapper discussed his decision to leave Atlantic Records and start his own indie imprint, Terror Squad Productions. Joe, who left Atlantic about 17 years ago, said he felt unappreciated and exploited by the industry giant, and eventually lost trust in its team.
"I don't believe in these people," he told WSJ's Jason Gay. "For one, I feel like the major label system is a Ponzi scheme, and they do funny math."
Joe said he never understood how he and other artists were selling so many records but saw so little in monetary returns. "You had to be like the Fugees, who sold 30 million records, to make a dollar," he continued. "I was talking to [Jennifer Lopez] about it—and you know J.Lo's a megastar—and she was like, 'Man, you know these guys, they only give you this [amount] and you never recoup.' So, it's a funny math."
The 52-year-old then spoke about feeling misunderstood and overlooked by labels that prioritized business over his art. "Artists, we're so passionate about our story, we're so passionate about our music," Joe said. "I would have to go walk into an office to a guy who didn't even really understand our art and culture. They just knew how to market, how to promote and make the most profit. I used to beg 'em: 'Are you gonna push my record? Are you really gonna press the button? Are you really gonna go for it?'"
After years under a major record label, something clicked inside Joe's head. He realized he could step away from Atlantic and invest his own money into his career—a move that gave him more control and more money. "I'm self-funding everything," he said. "I would go on tour for a month or two—Yugoslavia, China, anywhere you name—save all my money and then invest in making the album, making the videos, promoting it. And even though I went independent, I kept that same look."
But his time at Atlantic wasn't all bad. Fat Joe told Gay there was a time when he felt like a valued artist, but that all changed when his album didn't meet expectations. "I would walk into Atlantic Records, and they would have a poster of me, six stories high," he explained. "It was only me. ... I would walk in there and I would feel so cocky. And I would sit in the president's office, and I thought he was my friend. And then one time we put out an album, and the same day we dropped an album, [we were competing with] Mariah Carey, Missy Elliott Jay-Z, I was telling them we were gonna lose. But we went up against some of the biggest guys you've ever seen in your life. And we lost, and we flopped."
Joe said the Atlantic president looked at him and called him a "failure." The exec then allegedly called his attention to T.I., who signed to the label in the early aughts. Joe recalled the Atlantic boss wasn't happy he had only sold half a million records and questioned why he wasn't as successful as Tip, who had just moved 2 million.
"Bro, they changed [my] six-story poster to T.I. so fast, right?" Joe continued. "I remember I went home and I was just looking at the ceiling thinking, 'You know what, if you go independent and you sell an album, you make $7 profits. IfIsold 500,000 records, I would make $3.5 million.'"
It was at that time Joe decided he'd try to get out of his contract. "So I go back in [the office], and I go, 'Man, you're right, I suck," he recalled. "'You ain't gotta worry about me. I'll never make a hit record again. I'm washed up. You'll hear me on the old-school at noon. I'm done.'"
Joe claimed his plan ultimately worked and the label agreed to let him go.
"Then I put out the single 'Make It Rain,' and it sold 4 million records," he said. "And he's been dying ever since."