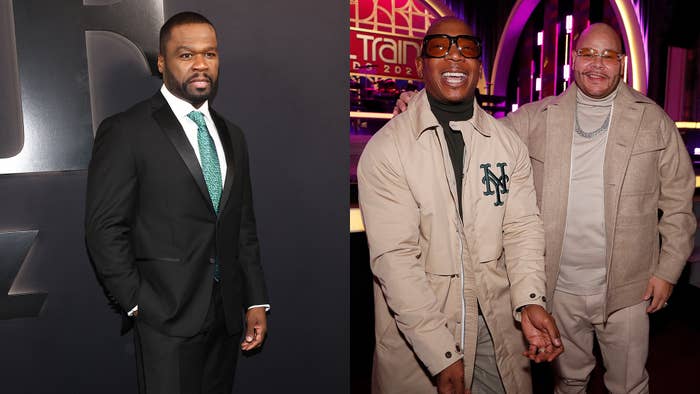 In an interview with Rolling Stone, 50 Cent said he was "buggin" when he brought Fat Joe into his long-standing beef with Ja Rule.
Reflecting on the 20th anniversary of his debut album Get Rich or Die Tryin', Fif suggested that the idea that anyone who's a friend of your enemy is also an enemy is a detriment to hip-hop as a whole. "There's an element, a part of our culture that I'm aware of it because I am it. Your Lil Durks, your NBA Youngboys, the whole surrounding cast of that … it almost splits our culture in half because when you cool with one, you can't work with the other," he said. "There's an energy that runs through it that if you cool with people I got a problem with, then you with them."
He then focused his attention on his own history of sparring with anyone who considered Ja Rule a friend. 
"It was like my issues, I was using the same thinking in the very beginning of my career because it's just the thinking you would use in the environment," he continued. "If anybody went next to Ja Rule, I'd jump on the person who featured with them, anybody who was faintly near them, 'cause I put him on life support and you wanna go resuscitate him. So that energy, later you look at it and you go, 'I was buggin'.' 'Cause I'll say that. Fat Joe, his issues, I would see him a little uncomfortable with the success I was having, and I interpreted as, 'He doesn't like me,' when he's really the kind of guy you want to be friends with because he's loyal to a default. He's so loyal for one record that [Murder Inc] did with him ["What's Luv'] that we became enemies."
Fif has been beefing with Ja for over two decades at this point, and they continue to go back-and-forth on social media on a semi-regular basis. In fact, just last month 50 took great joy in sharing a video of his music playing at a Ja Rule concert.
Fat Joe and Fif, meanwhile, have long buried the hatchet despite a particularly tense moment at the 2005 MTV VMAs. They settled their issues in 2012 with the death of their mutual friend Chris Lighty, Joe told Talib Kweli on the People's Party podcast. "When I show up to the BET Awards, we on point. We super focused," Joe said. "That's the only way I can explain it legally. They say rehearsal. I perform 'Lean Back' and then 50 Cent comes out. He ends up right by where I'm at. And when the music stops, he puts his hands out, and says 'Peace for Chris Lighty.' Chris Lighty wanted peace."