DJ Dahi didn't bite his tongue.
The Los Angeles-born producer hit up Instagram on Thursday to slam the recent leak of Kendrick Lamar tracks, which were seemingly intended for his 2022 album Mr. Morale & the Big Steppers. The songs in question appeared on Spotify that day, but were not listed on K-Dot's official page. Instead a playlist titled "Morale Pack" was posted by user Marozy, who previously uploaded unofficial versions of Kanye West's "Mr. Miyagi" and "City in the Sky." 
"Why are y'all leaking shit from 4 years ago???" DJ Dahi wrote on his Instagram Stories. "We didn't even bounce these records out. These KDot records are strictly demos. Y'all really dying of thirst out here lol."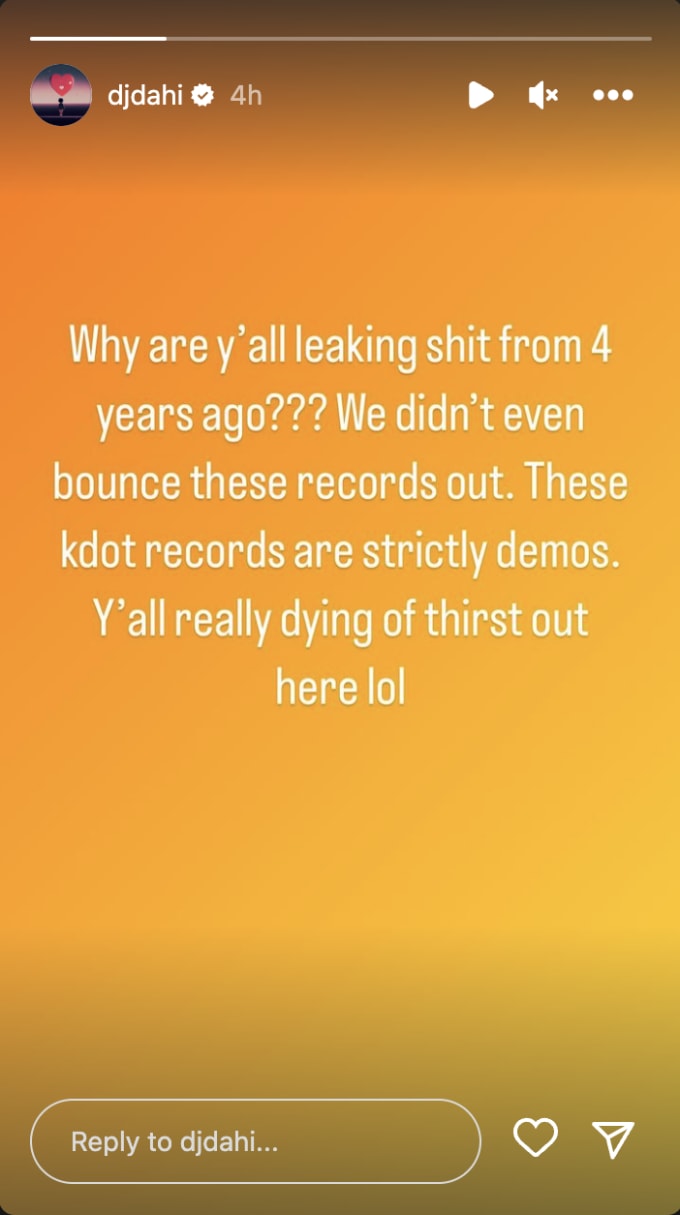 The pack in question contained three songs: "Pure," "Make Me Happy," and "Computer Love." HipHopDX points out that "Pure" featured a number of Kendrick ad-libs from a leaked version of Baby Keem's "Vent," while "Make Me Happy" contained a few bars that were similar to those on Mr. Morale's "Purple Hearts."
The "Morale Pack" is no longer available to stream on Spotify. Kendrick has not publicly addressed the leaks.
In addition to his work on Damn and Good Kid, M.A.A.D. City's "Money Trees," DJ Dahi was among the producers who contributed to Mr. Morale. He co-produced cuts like "Die Hard," "Father Time," "Rich Spirit," and "Count Me Out." The latter was reportedly intended for his own project.
"That was from a jam session that I had done with my guys. … I sent it to Kendrick, like, 'What do you think?'" he told Rolling Stone about the record. "And he was like, 'Yo, I love it.' He was like, 'This shit is crazy,' and he started writing to it, and he was like, 'Yo, bro, I think I might need it. This is exactly what I need.' Just knowing him and his process, it's like, all right, yeah. Maybe it's a good thing or bad thing, but I don't hold on to music. If I trust other artists or what they do creatively, I'll let things go because it's more about the messenger."
Mr. Morale debuted at No. 1 on the Billboard 200 chart, moving 295,000 album equivalent units in its first week. It has since earned multiple accolades, including Album of the Year and Best Rap Album nominations at the upcoming Grammy Awards.