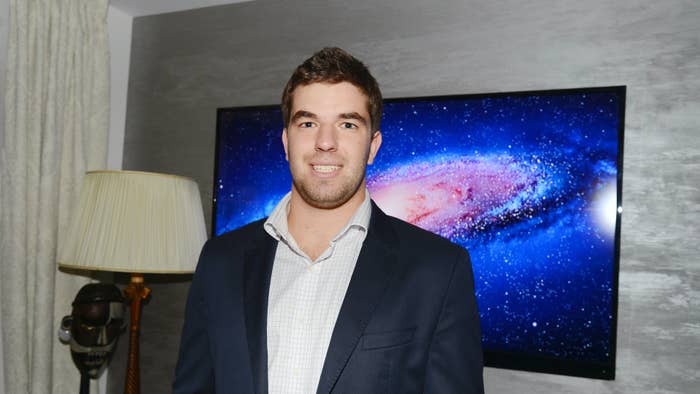 Billy McFarland refuses to abandon his Fyre Fest dreams.
The convicted fraudster returned to TikTok this week to provide a quick update on his next Fyre Fest chapter. McFarland claimed his financial backers are discussing ways he can pay off his debt from the infamous 2017 event, and have agreed to go forward with the festival's second installment; however, McFarland suggested "Fyre Fest 2.0" will be proceeded by a Broadway musical based on the inaugural event.
"I have some huge news today … The plan was to do Fyre Festival 1.5 as a Broadway musical, but things totally blew up," he said on TikTok. "So I'm announcing two things today: One, that Fyre Festival 1.5 is going to be a Broadway musical; and that two, we are in talks with partners to pay back all of my restitution and execute Fyre Festival 2 according to the original vision on this incredible and beautiful island. We have to do it right, guys, we have to make happen what was the dream."
McFarland announced "Fyre Fest 2.0" back in April, nearly a year after he was released from prison. In 2018, the disgraced tech entrepreneur/marketing consultant pleaded guilty to multiple counts of fraud in connection with the first Fyre Fest. The event was billed as a high-end music experience in the Bahamas, and secured promotions and investments from big-name celebrities, including Ja Rule, Kendall Jenner, and Bella Hadid; however, the festival turned out to be a complete disaster and resulted in lawsuits from concert-goers, many of whom cited the lack of adequate food, water, and security.
McFarland admitted he had misled investors about the event's financial status and used falsified documents to lock down funding. In addition to serving more than four years of a six-year prison sentence, McFarland was also ordered to shell out $26 million to investors, vendors, and the customers he defrauded.
Weeks after announcing the second Fyre Fest, McFarland laid out his plans for a Fyre Fest musical.
"Instead of like traditional Broadway actors, it's going to be current music artists, combined with the Broadway format of the play — making fun of me, but also I think sharing some of the good sides as well," he told NYC street journalist Adam Glyn of the production. "I have a killer partner who is doing all the logistics. I'm here to just fuck things up and make shit go viral."

McFarland also told Glyn he was in the early stages of Fyre Fest 2.0, and was receiving help "with the logistics."
"I'm getting the best music partners to do the toilets, bathrooms, and food. I'm just going to help make this thing a fucking adventure, which I love to do," he said, before addressing the musical lineup. "The reaction for getting artists has been so extreme. Half of them are like, 'Fuck off. How dare you even call us?' And there's half [who have been] been texting, emailing, saying, 'Hey, like what can we do to come?'"