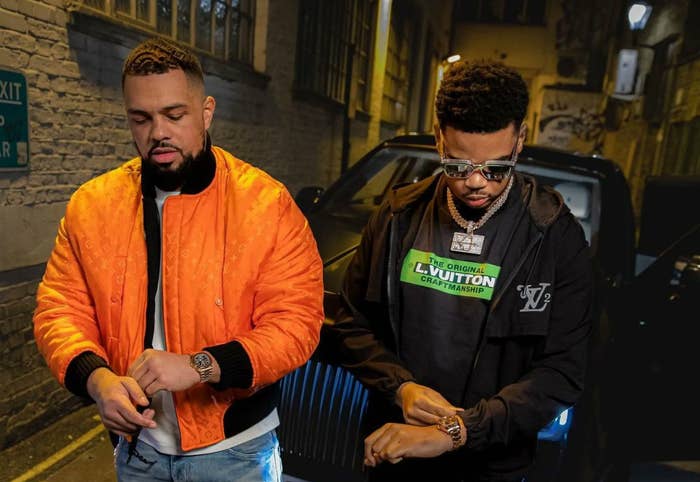 After much fanfare and about a year of waiting patiently, Blade Brown and K-Trap released their Joints project on Friday. A spiritual successor to a track of the same name released on Blade's Bags & Boxes 4 mixtape in 2019, plans for a collaborative project had been rumoured for quite some time, even before Blade confirmed it in an interview on GRM Radio/Apple Music last July.
It was until this month when they dropped "6 Figures" that we actually got to hear anything from the project, but the long build-up—which can be a killer sometimes—doesn't seem to have hurt it. Only two tracks dropped before the tape's official release: lead single "6 Figures" landed less than a month before, and "Joints 2" landed mere hours before Joints hit streaming services. That lowkey build-up seems to have been indicative of the set itself: no fuss, no frills, just let the bars do the talking. 
Now that we've had time to sit down and take Joints in, members of Complex UK's music team—Joseph 'JP' Patterson, James Keith and Mimi Itseli—put their heads together to assess the tape's highs and lows and its implications for the future of UK rap. Dive in below.
---
Best song?
JP: "Xtra Time" takes it for me. The piano-led trap production from Nathaniel London sets Blade and K-Trap up nicely to relay their bars, bars that will have most feeling like peasants for not going out there and getting to the bag. "They've never seen fifty grand (No) / They've never seen fifty bands (Never)," spits Blade, which is likely to become the streets' favourite new quotable. K-Trap's opening verse—the way he sits on the beat especially—is also arguably some of his finest work to date.
James: "Joints 2". Blade's at his most energetic on this one—switching up flows, doubling up rhyme schemes—and K-Trap sounds just as fired up. Of every track, this one's going to translate best to live settings. Splurgeboys, of course, deserve credit but it's really about the quotables—"wristwear, Swiss-made / Double R, switch lanes" and "When she sees the watch from Hattons, watch what happens / Follow the flow, watch the pattern." It is literally non-stop quotables from the first bar to the last.
Mimi: "1M" is an instant fave. K-Trap's really in his element on this track, and it's easily one of his best performances on the 11-track set. Which makes sense, because it's on a drill beat—one from frequent collaborator M1OnTheBeat. Add to that Blade Brown's big-boss swag and we have a clear winner.
Biggest skip?
JP: "Wrapper". It was produced by Skepta and I think Skepta would've sounded more at home on it. That's not to say Blade and K-Trap did badly on the track, it's just not one I'll be rushing back to. 
James: "Wrapper". For some reason, their energy levels feel mismatched here. They drafted in Skepta for production on this one, which is cool, but the instrumental sounds too much like an instrumental he discarded from one of his own projects. It's not bad per se, it's just outclassed and outshone by pretty much every other track on the tape and, in all honesty, it just doesn't really fit with either rapper or the tape as a whole. 
Mimi: "Wrapper" is the weakest joint. They didn't flow on the beat as tightly as the other tracks and, for me, it all felt a bit disjointed.
Best thing about the project?
JP: The synergy between the two rappers is something I didn't expect to be this taut, what with them coming from different corners of the UK rap field. K-Trap's slice-n-dice drill flow and Blade's bossy road rap steez unite for the greater good on Joints. And it has to be said: before this tape was ever a thought, Blade was embracing the new generation of rappers (and rap fans) like a real OG is supposed to. A solid follow-up to his debut collab project, 2007's Hollowman Meetz Blade with Giggs, Joints is exactly what the game needed.
James: The implications for cross-generational collaborations are pretty huge. Of course, this isn't the first time—Giggs, Youngs Teflon and others have been reaching across the aisle for years—but for these sorts of links to become the norm rather than outliers is pretty exciting and should, if done right, keep the scene thriving and full of creativity. This particular partnership works only because their styles complement each other—they've both dipped their toes in the water, and sized each other up. Not every UK rap link-up will come out as smooth as this one, so let's not start pairing up any and everyone and run the concept into the ground. 
Mimi: It was great to hear Blade do his thing on drill, and I loved the back and forths between him and K-Trap throughout. It's like having two of your favourite dishes all at once! They come from two important eras of British rap, but their chemistry is next level. The replay value on this tape is sky-high too, with cuts like "Joints 2", "La Cosa Nostra" and "1M" shining brightest. Joints was was made for the streets, not the industry.
Worst thing about the project?
JP: Aside from the one skip I mentioned, I can't find much fault with Joints. It's a solid 8/10 drop for me. And like Mimi said: this one was made for the streets in mind. Of course, charting would be a touch, but I know from speaking with Blade offline that this was made solely for the die-hard fans, so, as long as they're happy…
James: There are one or two tracks that probably could've been trimmed off the list to make it a more streamlined, no-skips project, but that's true of most full-lengths. If there's anything that I'd change about the tape, it might've been cool to see the inter-generational theme reflected in the beats (other than Skepta). They've brought in a pretty impressive roster of hit-makers from the current generation, but it might've been cool to bring in some of the architects of the late 2000s/early '10s era. Tbh, I'm just grateful there's no egregious sampling going on.
Mimi: If I'm being honest, I wanted a bit more from K-Trap. On some tracks, it felt like he was assisting on them rather than scoring the goals and being the MVP that we know he could be. Maybe that will change on Joints 2.
Who stole the show?
JP: Blade Brown. He's what I like to call a trap-spirational rapper: someone who rhymes about trapping in a way that it'll motivate you no matter how you make a living. As someone who's also in their thirties with millionaire dreams too, I just connect with what he raps about on a different level. I've also seen his career grow from the start—as in G Street/Wanno Road days, for those that know—so the connection runs a bit deeper. K-Trap's out here living that young, fly-boy lifestyle, which I can also relate to (ha!), but Blade wins overall. 
James: It's a tight-run race with only two competitors, but K-Trap's youthful energy leaps out of every track and keeps things moving, even at the tape's comparatively weaker moments. Blade comes from a generation of UK rap where slow and low was the only tempo and it's a style that fits him well, but K-Trap is definitely the source of much of Joints' energy. That said, Blade brings an authoritative presence—and his pen is sharper than ever, after all these years—but it's Trapo's energy and the fact that Blade meets his pace measure for measure, that makes the tape.
Mimi: I'm leaning towards Blade Brown. This new, revitalised Blade had something to say, but K-Trap was giving the best assist throughout.
Overall first impression?
JP: God didn't bless me with the gift of prophecy, but I do have a feeling this will be considered a street classic one day. Tracks like "La Cosa Nostra", "Xtra Time", "Joints 2" and "6 Figures" will help aid that conversation, no doubt.
James: Joints is, for sure, a grower. Tracks like "6 Figures", which they were wise to use as the lead single, and "Joints 2" make big impacts, but most of the other tracks reward patience and repeated listens. There aren't really any big hooks or TikTok-ready moments—which is a strength, as far as I'm concerned, and a refreshing one at that—but I hope the rest of the tape is given a fair shake. I could see a tour or some joint festival appearances helping on that front.
Mimi: It's a well-executed release, however I still would've liked to see features from DoRoad, Knucks, Clavish, Youngs Tefs or Tiny Boost on some of the tracks. On "1M", Blade says that he "never scared about charting," and in a time where things are so numbers-driven, it proves why and who they did this for: themselves and, most importantly, the fans.