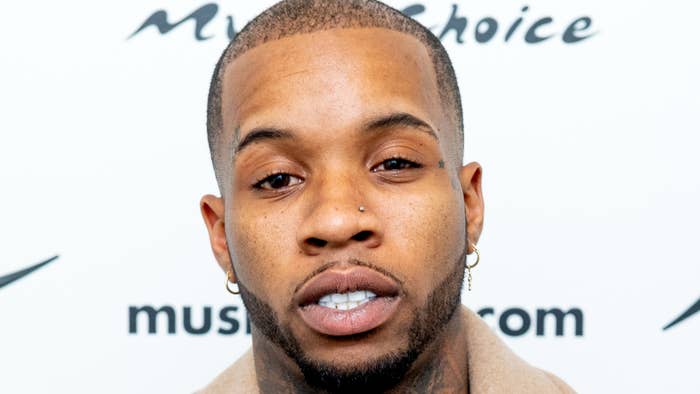 Tory Lanez shared a message on Instagram two days after being sentenced to 10 years in prison over his involvement in the 2020 shooting of Megan Thee Stallion.
Lanez maintains his innocence regarding the incident that resulted in Megan sustaining gunshot wounds to both of her feet. The 31-year-old also asserts he was wrongfully convicted and he refuses "to apologize for something that I did not do."
Lanez was found guilty of assault with a semiautomatic firearm, having a concealed and loaded firearm in a vehicle, and discharge of a firearm with gross negligence.
Read his full message below.
To The Umbrellas,

I have never let a hard time intimidate me

I will never never let no jail time eliminate me

Regardless of how they try to spin my words, I have always maintained my innocence and I always will.

This week in court I took responsibility for all verbal and intimate moments that I shared with the parties involved....

That's it.

In no way shape or form was I apologizing for the charges l'm being wrongfully convicted of. I remain on the stance that I refuse to apologize for something that I did not do.

I've faced adversity my whole life and every time it looked like I would lose, I came out on top. This is nothing but another moment where my back is against the wall and I refuse to stop fighting till I come out victorious.

Tough times don't last, tough people do.

To my family, friends and umbrellas thank you for your continued support.

See you soon.
Following his sentencing, Los Angeles County District Attorney George Gascón released a statement, accusing Lanez of trying to intimidate and silence Megan over the last three years.
When she discussed the case for the "final time" with Evette Dionne for Elle, Megan opened up about being "called a liar every day" on social media, specifically by Lanez, whom she refers to as "my attacker" and claims he "laughed and joked about my trauma."
"For years, my attacker tried to leverage social media to take away my power," she said. "Imagine how it feels to be called a liar every day? Especially from a person who was once part of your inner circle."
Megan said she wanted to handle the situation privately, but once Lanez went public, she was forced to do the same.
According to court reporter Meghann Cuniff, Lanez asked Judge David Herriford, "Please don't ruin my life," prior to denying his motion for a new trial. An ironic plea considering what he put Megan through over the past three years.