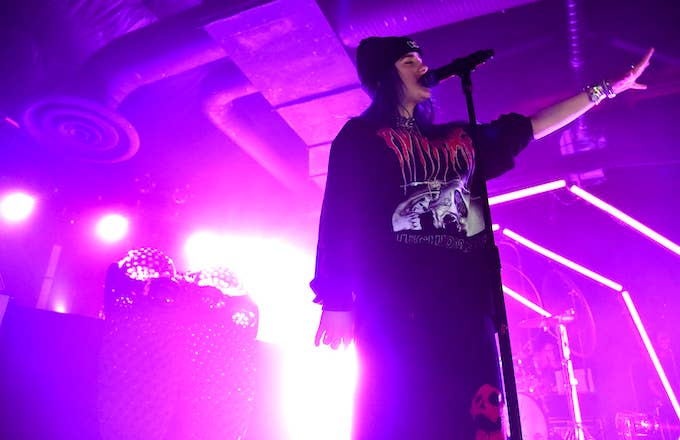 Billie Eilish took a moment during a stop in Oakland on her 1 By 1 Tour to remember XXXTentacion, who was shot and killed just four months ago. The title of the song, which is "6.18.18,"  is a reference to the date that XXX passed away. "This song is about a very powerful person that no matter what was going on in his life, he was always there for me," an emotional Eilish explained. "He made me feel OK when nothing else did, so I just needed to make this song."
You can check out footage from the performance below.
Eilish responded to the news of XXXTentacion's death by sharing a series of text messages.
A recent Billboardprofile on XXXTentacion's manager Solomon Sobande reveals how he didn't allow a jail to stand in the way of getting his client to sign a management contract. Sobande started off by presenting X with an intriguing offer. "I told him the truth and I said I've done a lot of interning," he said. "I've been studying the game for mad long and I know all these managers are coming after you and trying to offer you things. But A., these niggas is not going to help you get out of jail and B., I'll do it for half. That's how I got him." 
Then, Sobande had to get a signature, and all he needed to make that happen was $100, and a willing guard. "I gave the $100 to the guard, he took the contract to X, X signed it and gave it to me," he said. "I looked at the signature, and this shit said, 'J.O.' I was so excited. I gave him a pound through the glass and left."