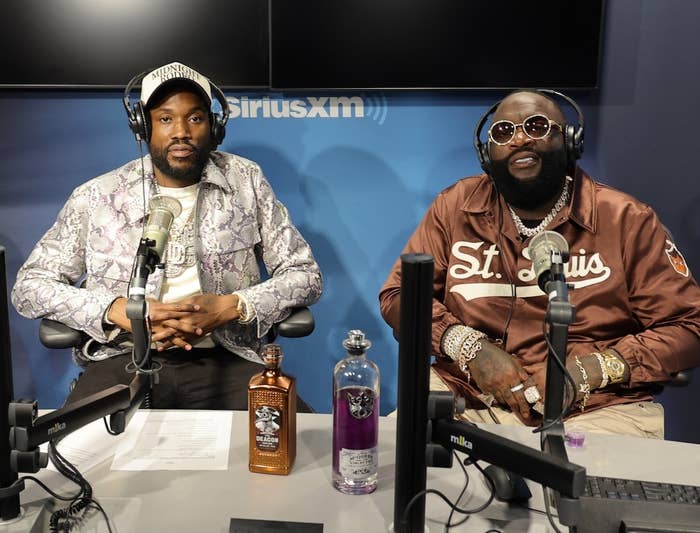 Meek Mill almost gave Rick Ross the wrong impression during one of their first encounters.
The Too Good to Be True duo recently guested on Complex's 360 with Speedy Morman, where Mill discussed his rented Rolls-Royce Phantom breaking down during a business meeting with Ricky Rozay. Around the 2:45-minute mark, the Philadelphia rapper recalled being in awe at Ross' mansion during his first visit, noticing that Ross had a marble driveway filled with foreign cars and statues in his backyard. Although Mill was rocking an Audemars Piguet watch at the time of the meeting, he admits it wasn't flashy enough to surprise "Da Boss."
Upon returning to Philly, Mill agreed with his friend to impress Ross the next time he went down to Miami. "I went home for, like, three days. I was telling my man, like, 'Yo, next time we come back down this jawn, we gotta come back down here right,'" he said. "Like, make sure they see us the right way."
Instead of renting another Impala, Mill said he "ran into the worst rental in Miami n***a" and copped a $3,500 per day Rolls-Royce Phantom which came with some malfunctions. After going to the open-air mall Bal Harbour, Mill hopped back in the whip and noticed that the vehicle didn't start, but the renter made up for it by bringing him a Bentley Flying Spur instead.
Mill then felt pressure to keep up with Ross' Rolls-Royce Phantom while driving behind him on the Greater Miami Expressway.
"I wanted Ross and 'em to see me in a certain way," Mill said. "But it took me a lot to drive that foreign like that."
However, Mill made up for the rental trouble on his next Miami trip, as he "ended up buying a Rolls-Royce"—an even bigger car flex.
Featuring singles "Shaq & Kobe" and "Lyrical Eazy," Mill and Ross' collaborative album Too Good to Be True releases on Nov. 10.