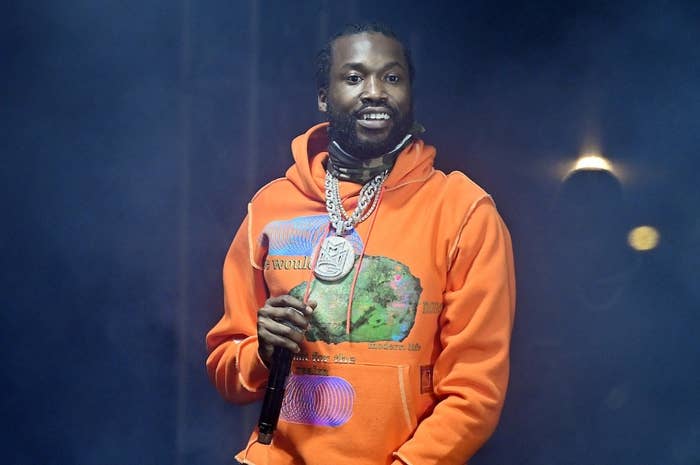 Jay-Z caught the hilarious 2017 video of Meek Mill falling in front of his mother's house.
During the Philly rapper's Complex GOAT Talk sit-down with Too Good to Be True collaborator Rick Ross, the two discussed their favorite viral moments that featured themselves. While Rozay's was a clip of him failing a diving board attempt, Meek brought up the classic video of him slipping and falling on his mother's steps in the winter.
"I would say my greatest time [was] when I fell down the steps – coming down my mom's steps and it was snowing outside," Meek began around the 4-minute mark. "I actually was coming to do an interview in New York. I'm trying to hurry up [and] I slipped down the steps."
He continued, "I ain't think nobody seen it. My mom sent it to me the next day and said, 'Damn, what happened to you?' 'Cause when I fell down the steps, the snow fell on my head like [a] cartoon."
Jay-Z later gave Meek his opinion after the "Lyrical Eazy" rapper shared the video on social media.
"So I posted it [and] Jay-Z hit me like, 'Why you post that? That wasn't right.' I said, 'Man, that's the type of shit I be on. He hit me back like a month later [and] was like, "I see why you posted that shit; that shit made you look human as hell."
After the video went viral, Meek played it off on Twitter, turning the embarrassing moment into a lesson. "Leaving out my mom house was tragic for me! Icey [sic] ass steps!!! U fall get right back upppp!" he tweeted at the time.
While the public might not be getting any viral gags from Hov in the future, Ross and Meek's GOAT Talk chat was nonstop comedy, from Ross repeating the word "jawn" to Meek offering advice to Will Smith about his value.