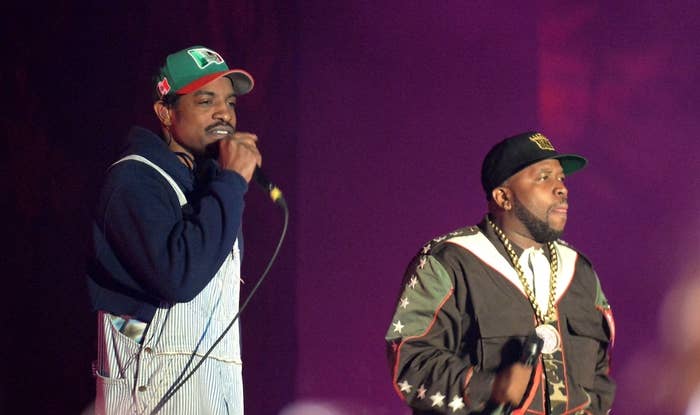 André 3000 once got a lesson in showmanship from Prince.
Alongside fellow Outkast member Big Boi, the duo co-headlined the 2014 iteration of Coachella, which 3000 spoke about with GQ for a new cover story timed to his upcoming album, New Blue Sun. The 48-year-old recalled that the opening weekend performance was "horrible" from his perspective, but that the Purple One reminded him about Outkast's impact.
"The very next morning I get a call from Prince," 3000 told GQ reporter Zach Baron at the 27-minute mark. "Which I don't know him like that, I don't know how he got my number. I do not know. And the first thing he says is, 'You know what your problem is? You don't realize how big y'all are.' And then he was like, 'You got to remind people who you are.' And from that point on, I was like, Okay."
The message stuck with 3 Stacks, as Outkast's festival performances noticeably improved that year, although the group hadn't released an album since the 2006 soundtrack for musical drama Idlewild.
Prince, who died in April 2016, preceded the group as Coachella headliner in 2008, buzzing through his iconic tracks like "1999," "Purple Rain" and "Let's Go Crazy," along with a cover rendition of Radiohead's "Creep."
3000 is also taking another cue from Prince by doing the unexpected with his debut solo album, which releases on Friday. The LP will be entirely instrumental, with 3000 playing his trusty flute, although fans have anticipated him returning with new verses. "Sometimes it feels inauthentic for me to rap. "I've worked with some of the newest, freshest, youngest, and old-school producers. I get beats all the time. I try to write all the time," 3000 told GQ.
But rap isn't on his heart at the moment. "Even now people think, Oh, man, he's just sitting on raps, or he's just holding these raps hostage. I ain't got no raps like that. It actually feels…sometimes it feels inauthentic for me to rap because I don't have anything to talk about in that way," he continued. "I'm 48 years old. And not to say that age is a thing that dictates what you rap about, but in a way it does. And things that happen in my life, like, what are you talking about? 'I got to go get a colonoscopy.' What are you rapping about? 'My eyesight is going bad.' You can find cool ways to say it, but…."