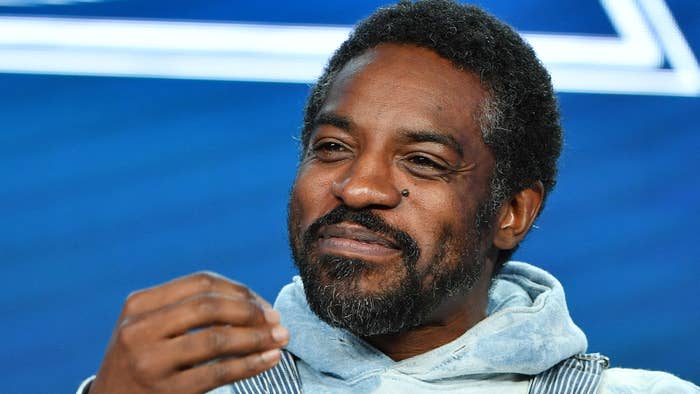 André 3000 is releasing his long-awaited debut solo album this week, but it's not the rap record many had anticipated.
In an interview with Zach Baron for GQ, the OutKast rapper and actor directly addressed why his new full-length New Blue Sun is all woodwind instead of hip-hop. The opening track of the album is titled "I Swear, I Really Wanted To Make A 'Rap' Album But This Is Literally The Way The Wind Blew Me This Time," and he's insisted that he did try to record a rap record but it just didn't work out.
"I've worked with some of the newest, freshest, youngest, and old-school producers. I get beats all the time. I try to write all the time," said André, who has only given fans a smattering of guest verses over the past few years. "Even now people think, Oh, man, he's just sitting on raps, or he's just holding these raps hostage. I ain't got no raps like that. It actually feels…sometimes it feels inauthentic for me to rap because I don't have anything to talk about in that way."
He suggested one of the big factors for him is age, something that has long been a talking point in hip-hop as a young genre. "I'm 48 years old. And not to say that age is a thing that dictates what you rap about, but in a way it does," he continued. "And things that happen in my life, like, what are you talking about? 'I got to go get a colonoscopy.' What are you rapping about? 'My eyesight is going bad.' You can find cool ways to say it, but…."
André added that there's been plenty in his life he could rap about, whether it's the loss of his parents, his son reaching adulthood, or his experiences with fame. "Those are real subject matters. I jot down what's going on in my life. But to make it into an entertaining song to where it's just not self-serving or it's not just—like there's a part of entertaining someone else too," he said. "And what's that saying with recovering addicts? They say, 'The longer I'm out of it, the better chances I have of staying out of it.'"
He compared his place as an aging hip-hop star to boxers, who he said "do exhibition fights every now and then, but they're not stepping in the ring."
There's a larger conversation to be had about rappers and age—the charts, for one, indicate that it's a young man and woman's game for the most part—but André has more than earned his right to do whatever he wants. Also, artists evolve, and it's not like he hasn't been busy. In 2022, he appeared in two critically acclaimed movies, Showing Up and White Noise.
When asked why he decided to release a woodwind album, he responded with a question of his own. "Why anything?" he said. "Why did we record these albums before in my career? It is just kind of: Those are the things that came."
In a recent interview with Rodney Carmichael for NPR, he described himself as a "slow writer," even when he was working alongside Big Boi as OutKast. In the same interview, he touched upon how an ayahuasca trip in which he "actually turned into a panther" helped inspire one of the tracks.