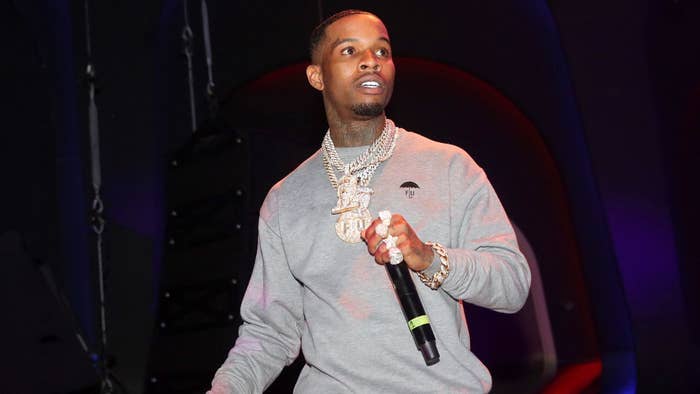 Tory Lanez and his defense team are reportedly in "meaningful discussions" about reaching a plea deal in his case surrounding last year's Megan Thee Stallion shooting.
Los Angeles County Deputy District Attorney Kathy Ta told Rolling Stone the parties were in a "possible settlement discussion." If a plea deal is not met by Nov. 3, preliminary hearings will kick off in December and witnesses will start being called.
Lanez was charged last October with felony assault with a semi-automatic firearm and carrying a loaded, unregistered firearm in a vehicle after he allegedly shot Megan Thee Stallion in the foot following an argument last summer. Lanez's defense attorney Shawn Holley also told Rolling Stone the team plans to maintain its position of Tory being innocent if the case does go to trial.
"As in every case, the lawyers for the parties discuss the possibility of resolving the case," Holley said. "This case is no different. That said, our position as to what did and did not happen in this matter remains unchanged, and [Lanez's] plea of not guilty stands."
TMZ reported that a judge had increased Lanez's bail after he violated the protective order granted to Megan Thee Stallion when he appeared on the Rolling Loud stage in Miami to perform with DaBaby. His bail was increased from $190,000 to $250,000.
The protective order was placed due to the felony assault charges Lanez had already been hit with following the July 2020 incident with Megan. The Canadian also recently announced he's got a new album coming.