End of an Era: The Downfall of Rap Groups
Migos splitting up marks the end of a long era of rap groups ruling hip-hop. We take a look back at their dominance and decline in the genre.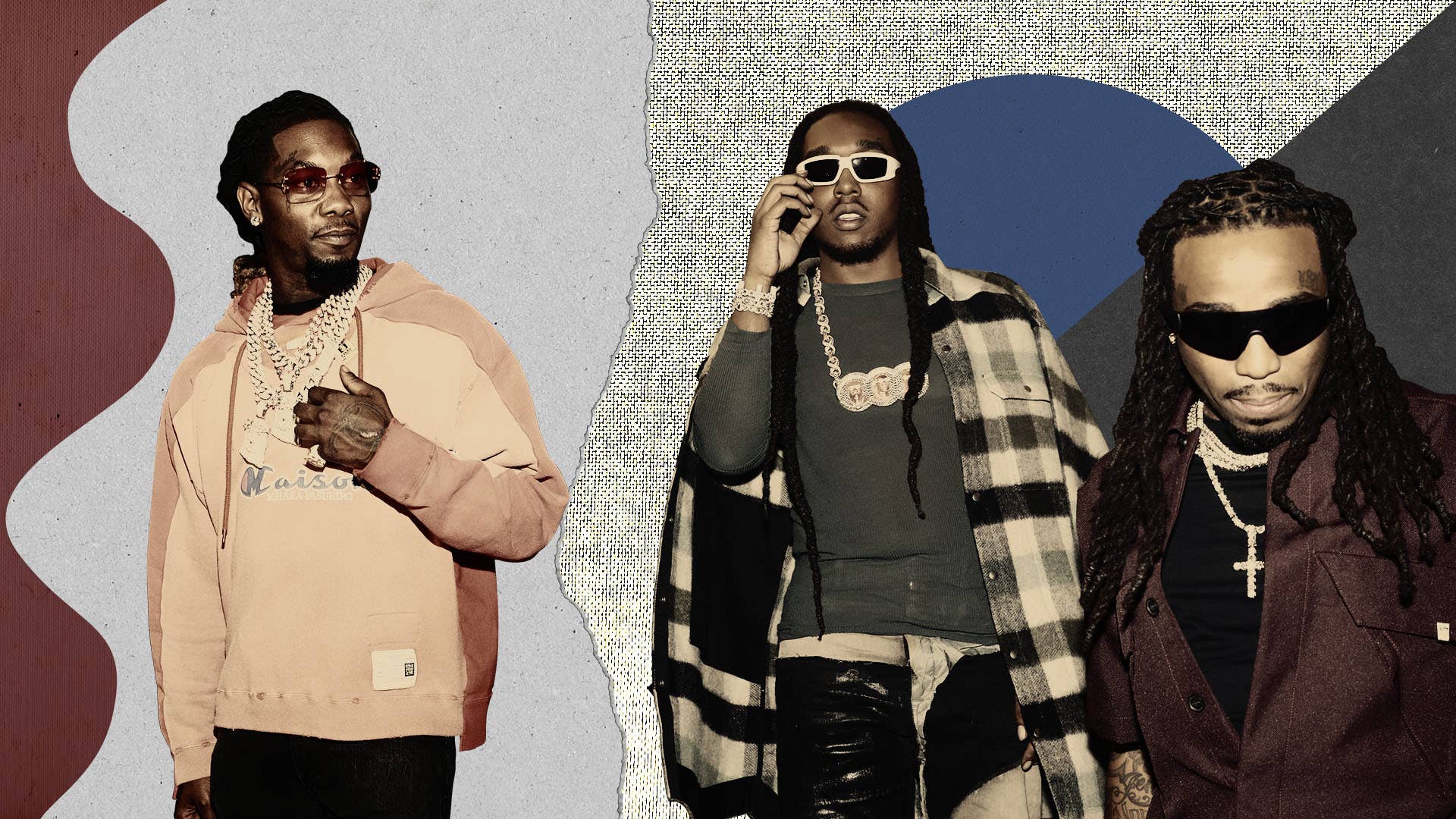 Complex Original
Image via Complex Original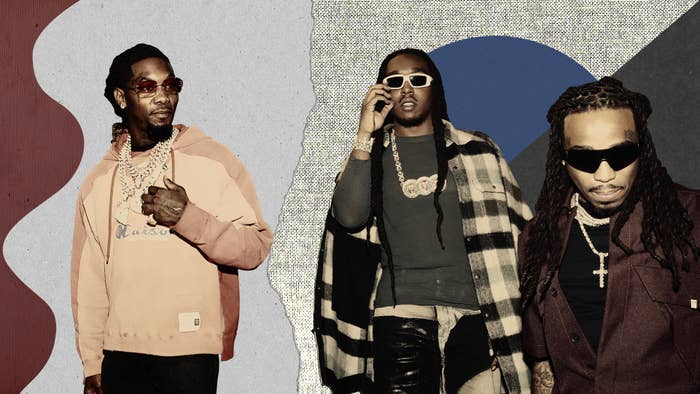 Rap began as a group endeavor. It was born in the melting pot that is New York City and was nurtured by friends who formed crews to spit to the tune of their favorite beats. Decades later, that's no longer (formally) the case.
Hip-hop is still a relatively young genre (about 50 years deep), and is therefore still experiencing metamorphoses and expansion with the passing of each decade. One of the most significant gradual shifts in rap has been the transition away from artists operating primarily as groups or crews to being more solo-focused. 
Despite these changes, though, the significance of rap groups in the roots of hip-hop history remain strong. The first proper rap record, "Rappers Delight," was created by a rap group, The Sugarhill Gang. Generally, groups are the pillars of hip-hop and helped forge the sturdy foundation that the genre stands on today. Groups and collectives dominated the Golden era of hip-hop in the '80s and '90s. In fact, some of the greatest rappers of all time are the product of a group that was once equally if not more legendary than their solo act—from RZA of Wu-Tang Clan to Jadakiss from The LOX, Cam'ron of Dipset, Lil Wayne of Hot Boys, and many more. 
The recent split of hip-hop's last modern powerhouse rap group, the Migos, marks the end of group supremacy in rap, and Quavo and Takeoff would attest to this. Based on our conversation recently, the newly formed duo believes that they were only able to stay together for so long because they're family––and when artists don't share that same bond it's easier for groups to splinter and seperate.
"With us, it was really family that kept us strong," Quavo said, discussing the decline of modern rap groups. "Sometimes you don't have strong artists, and it's hard for all three artists to be superstars [in a group]. And then with time, some of that shit falls off and there's only one superstar, and then they're gone."
Griselda is another prominent hip hop collective that has split recently. The collective informally parted ways in 2022 after Conway the Machine decided to leave Shady Records and venture out to pursue his own deal.
Rap groups and collectives falling from prominence in hip-hop's landscape can ultimately be attributed to the music's nature of adapting to the times. Like many other genres, rap artists now build stages predicated on individualism and personal branding. 
When hip-hop began in the '70s and '80s, its survival required a group effort because it was being attacked on all sides by conservative censorship and community violence. Those conditions haven't changed much, but the power of the individual artist has. The emergence of the internet, streaming services, and social media have made it easier for an artist to create their own fanbase without needing the support of a larger group to help sell out venues or build a platform. Playboi Carti and Travis Scott are key examples of that.
When discussing the state of the modern-day rap group, it's essential to highlight the distinction between a group, collective, and label. Duos like the City Girls, Run the Jewels, EarthGang, and others that are still thriving in today's landscape are not considered here because a rap group consists of three or more active members who release music as a unit and operate their business as an ensemble. Wu-Tang, for example, pursued solo careers, but they were still releasing music under that shared moniker.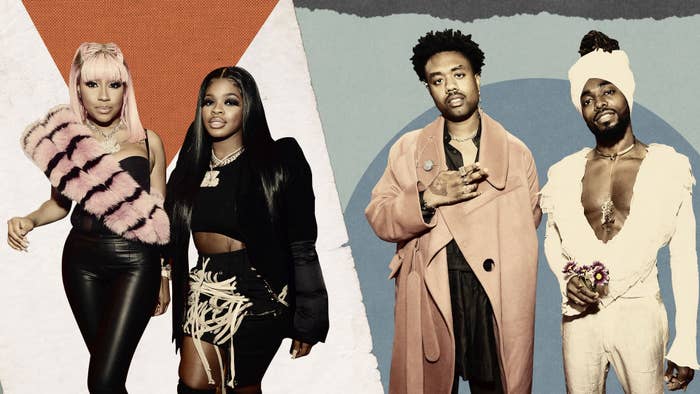 A rap collective, meanwhile, is an assortment of artists who join forces under the same umbrella and sometimes release music together, but normally work as individuals and aren't under any contractual obligation. ASAP Mob, Odd Future, and Brockhampton are a few examples. 
Collectives then differ from historic rap labels like Death Row Records, Bad Boys Records, Murder Inc., and more because they are not collectively signed to any immediate major label partner. However, rap labels like Roc-A-Fella, Aftermath, and newer ones such as Dreamville Records, Top Dawg Entertainment, and G.O.O.D. Music share many similarities to collectives in that they utilize an artist-to-artist business approach that is conducive to more favorable partnerships and allows for closer connections between acts. Dreamville and TDE are good examples of rap labels that move like a collective because they're able to produce blockbuster projects (such as Revenge of the Dreamers 3 and TDE's Black Panther soundtrack) as units to support their small rosters and give them visibility by placing them on projects from their larger names. 
The gradual shift away from the rap group model began as rap collectives became more prevalent in the late 2000s and early 2010s. This movement was championed by the new internet generation of rappers who could meet people with similar taste in music chat rooms, corner shops, and apartment stoops. 
ASAP Mob and Odd Future were two leaders of this new guard of rap collectives that also fostered some of the biggest solo acts in the genre today. ASAP Mob was formed in Harlem in 2006 by ASAP Yams, ASAP Bari, and ASAP Illz. True to rap's origins, the collective started with three rap lovers who lived in the same neighborhood. ASAP Mob would eventually expand to include household names like ASAP Rocky and ASAP Ferg, and they released several projects as a collective, including Cozy Tapes Vol. 1 and 2. 
On the opposite coast, Odd Future was created in Los Angeles in 2007 by Tyler, the Creator, Casey Veggies, Hodgy, Left Brain, and the production trio Super 3. The crew ballooned through the late 2000s and 2010s and included impressive names like Earl Sweatshirt, Frank Ocean, Syd, and more who all continued to carve their own paths in music. The benefit of being part of a collective like this is that it allows creatives to be nurtured on a more human level rather than being churned through the industrial music machine. 
"I was at a real dark time in my life when I met them. I was looking for a reprieve… And here was this group of like-minded individuals whose irreverence made me revere. The do-it-yourself mentality of OF really rubbed off on me," Frank Ocean told GQ in 2012 when talking about meeting Tyler, the Creator and Odd Future.
Geographical familiarity was eventually no longer necessary to form close-knit relationships between artists. In 2007, Birdman and Lil Wayne (a product of the Cash Money Millionaires group) discovered a burgeoning Drake and Nicki Minaj and formed Young Money Cash Money, a hybrid rap label that was born out of a rap collective. It was the beginning of a return to a more label-focused approach. Drake now has a label of his own, OVO, that houses several different artists and duos, too. 
In the 2000s and 2010s, collectives and labels succeeded in helping artists create their own platforms thanks to the help of united collaboration and natural chemistry, but they also played a part in their downfalls. Once individual acts like ASAP Rocky, ASAP Ferg, Tyler, the Creator, and Frank Ocean started to become global superstars, it became increasingly more difficult for the collectives to tour as a group, work together on massive posse cuts and group albums, and be as present as they once were at the beginning of their careers. Collectives like Odd Future and Brockhampton broke up in 2015 and 2022 respectively and, while others like ASAP Mob and Young Money still stand today, they rarely release music together under a shared moniker. Even Kendrick Lamar, the face of TDE, left the label after 17 years and branched out to start one of his own with pgLang. None of these splits were dramatic, but they reflected the need for artists to be able to stand alone and develop their careers to build their legacies. 
The criminalization of rap has also played a role in the decline of rap collectives because when artists associate themselves with larger groups, they run the risk of being categorized as a criminal organization, as is the unfortunate case with Young Thug's Young Stoner Life label and connected RICO case. During his first bond hearing, the prosecution alleged that Thug is the "top dog" of the criminal syndicate because he's viewed as the face of the group. In 2022, being the "leader" of a rap group means an artist can be prosecuted as a gang kingpin and their lyrics used against them in court.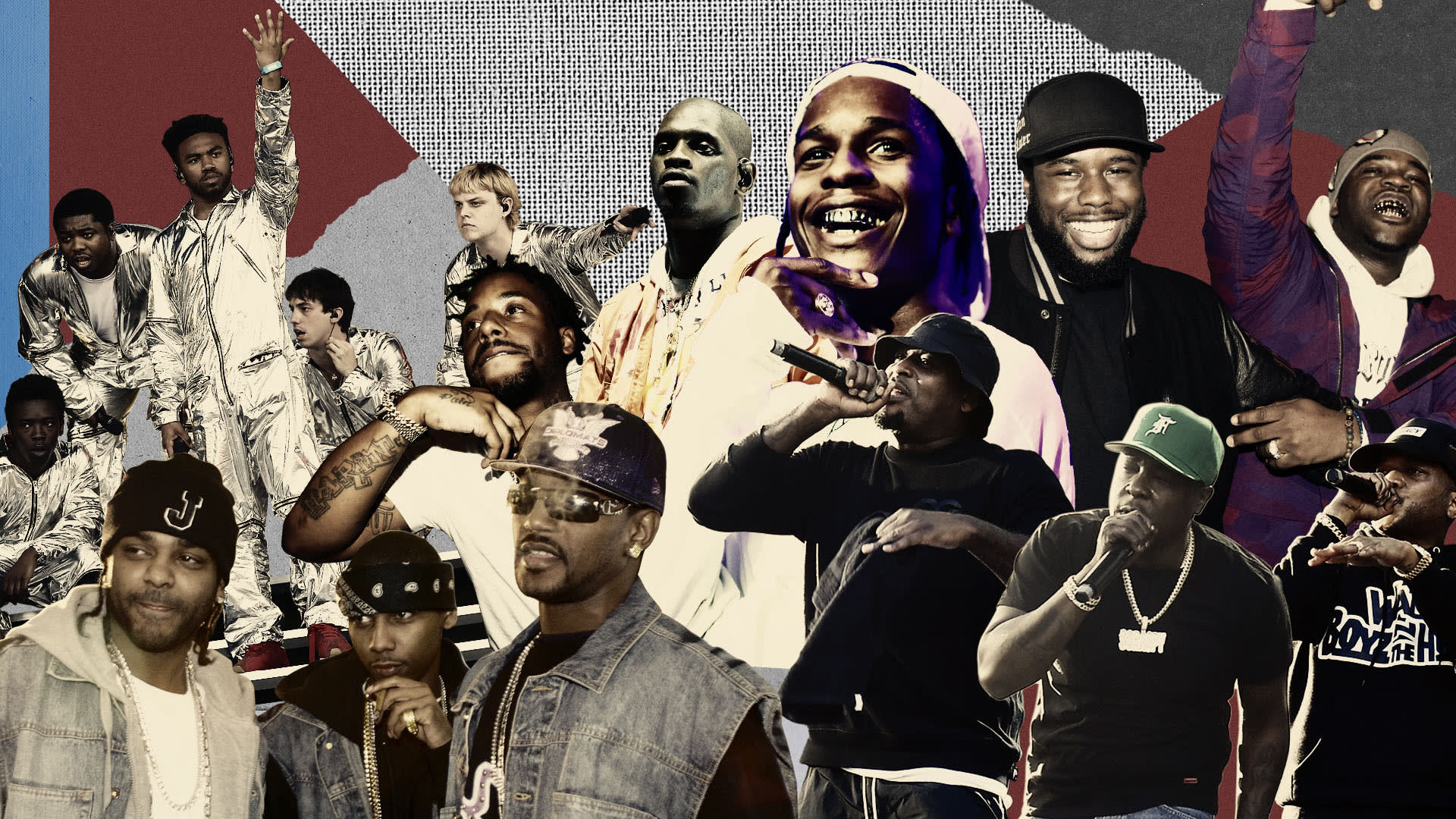 While most of the great rap groups of old are living out their wonder years on Verzuz stages or running nostalgic return tours, there is still some hope for those trying to form new ones today; it's just more challenging now. Rap has become one of the most lucrative businesses in the world, and thus, artists are busier than ever. Some rappers have teased the formation of groups on EPs and songs—like Noname, Saba, and Smino creating the soulfully eclectic trio of Ghetto Sage—but it's hard to actualize these plans when everyone has individual touring, albums, and fanbases to cater to now. Despite not technically being groups, rap duos like the City Girls, EarthGang, and now Unc & Phew are holding down the space for non-solo acts.
When The LOX faced Dipset in their now-iconic Verzuz battle in Madison Square Garden last summer, it illustrated how deeply rooted group synergy doesn't just go away with time. Jadakiss, Styles P, and Sheek Louch bounced off each other effortlessly as they had just gotten off tour in the '90s, delivering a masterclass in live performing. 
Nothing is meant to last forever, even in music. Rap groups and collectives were never the exception. Still, moments like that are a reminder that there's always power in a reunion.
Editor's note: This piece has been updated with a correction that refers to Griselda as a collective rather than a group.