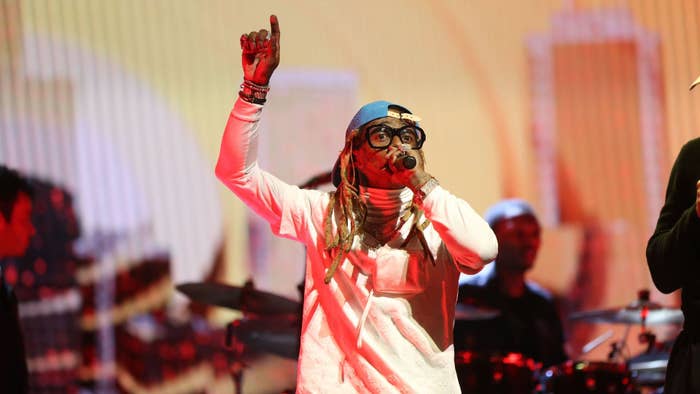 Lil Wayne is trying to make your weekend a little more interesting. The Young Money executive just aired the first episode of his new Beats 1 radio show Young Money Radio tonight and was joined by Deion Sanders and New Orleans' mayor LaToya Cantrell plus special guest call-in's from Lil Baby, Travis Scott, Jessie Reyez, and Babyface. Wayne covered a lot of ground in the inaugural episode, previewing a new song he has with Tory Lanez called "Help" and another new song that he has with Jessie Reyez that is set to be included in the deluxe version of his latest album Funeral which he announced should be coming "soon." 
In a segment of the show called Wayne's World, which looks to be dedicated to talking about new music and updates with artists, the first artist Wayne called was Lil Baby. Baby previewed one of the songs that will be featured on the deluxe version of his latest album My Turn which will be coming with six new tracks on May 1. It's worth noting that the snippet of the song he played for Wayne is completely different from the track and he just dropped called "All In" that came with its own music video and the announcement of his deluxe album. 
After that conversation and chopping it up with Travis Scott for a little bit, Wayne called Jessie Reyez who is set to be featured on the deluxe version of Funeral. 
"I want to speak on some artists that is involved with the deluxe, and they're also artists that I have a lot of respect for and I think they're dope," Wayne said when introducing Reyez. "Reason I bring it up like that is cause maybe y'all didn't know too much about me knowing these artists."
The two talked about how they've been staying sane during this self-quarantine including meditation and vocal warm-ups before Wayne shared the new song they have together. The song is reflective of some of the newer sounds Wayne was playing with on Funeral, now coupled with a melodic Jessie Reyez assist.
Wayne also hopped on the phone with the legendary R&B producer Babyface following his Instagram Live Versuz battle with Teddy Riley earlier this week. During the conversation, Wayne talked about how the iconic R&B singer Betty Wright influenced him in learning how to play the guitar. 
"Shoutout to Ms. Betty Wright, she made me pick that guitar up and show me a few things," Wayne said. "She actually told me to come see her, she said she got these four strings she wanna show me, and she said 'with these four strings, you're gonna be able to play every song and any song' so I cannot wait to see her."
This was, of course, followed by Wayne asking Face the pivotal question of how he keeps himself looking so young, to which he replied is all thanks to Jergens lotion.
To close the night, Wayne previewed another new exclusive off the Funeral deluxe which was a song he has with Tory Lanez called "Help." We get another taste of melodic Wayne here as well, with both he and Tory floating on the beat in the snippet. All in all, it was a very eventful kick-off for Weezy's new radio show.