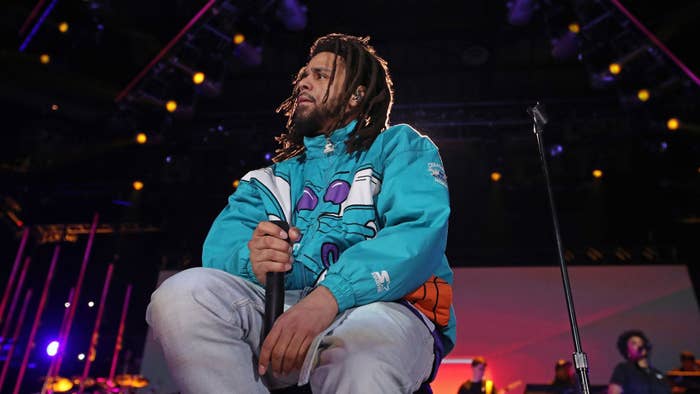 As memes of Bernie Sanders at the inauguration in his very cozy fit and posture continue to go viral on social media,  J. Cole decided to join in on the fun and make a Bernie meme as well.
 "Fixed," Cole captioned a photo of Bernie photoshopped onto his iconic 2014 Forest Hills Drive cover on IG. What makes this even funnier is that Cole is not a regular traverser of social media, so for him to join in just adds to the already hilarious meme.
Earlier on Thursday, Cole also shared that the second iteration to his signature sneaker line, Puma Dreamer 2, would be releasing on his birthday, Jan. 28. Along with the news, he recreated his 2014 Forest Hills Drive Cover, this time sporting a pair of Dreamer 2's instead of Jordan 1's.
"Had to get back on the roof. This time with my own shit on. DREAMER 2. First colorway "January 28th" available 1/28 online @puma and @footlocker," Cole captioned the post. This is the most content fans have gotten from J. Cole in a while. Just on Monday, Cole's manager Ibrahim shared that they had been shooting a music video for something, hopefully one of the several projects Cole revealed he would be dropping.
While J. Cole fans are enjoying all this activity from him, everyone else can collectively enjoy all these Bernie Sanders memes that keep popping up.