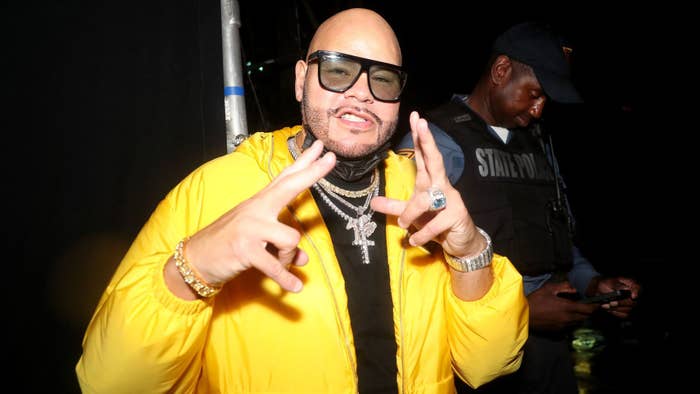 Artists have often used their money to do creative and outlandish things, but the latest resurgence of rappers using large bills to spell out words for social media has caused legacy acts like Fat Joe to advise the current generation to stop showing all their cash to the IRS.
After Nick Cannon commented about the phenomenon on Instagram, Joe went on Instagram Live to advise young artists against participating in the "Money Challenge," noting that the person who actually started it was Busy Bee in the '80s.
"I dare you to look down my Instagram, or anywhere on social media, and see if Fat Joe has ever pulled out a $100 bill," Joe said, imploring other rappers to stop revealing how much money they might have off the books. "One! And then these people, when they get caught…you told on yourself."
Joe explained how easily the IRS could pin people for tax-related crimes for posting mounds of cash. "You ain't never had a legit job in your life. You writing your names with mountains of money," he said. "Fuck is wrong with you? Nick Cannon said, 'IRS is watchin.' Fuckin' right! … In fact, all they gotta do is [hit the] hashtag Money Challenge. 'Alright, who's Loco32? Who's JonJon33?' … There's no explanation. You got money, you got money. Don't do it to yourself."
After YoungBoy Never Broke Again and Lil Durk gave the challenge new life, Soulja Boy, 50 Cent, and others have been trying to lay claim to being the first rapper to spread their money out and spell a word with it for a photo. Amid the madness, LL Cool J pointed out he's an OG in this sphere, posting a picture of himself from what looks like the early '90s at the latest. The only difference? LL wrote his name in ice cubes instead of money. Probably less of a tax headache.