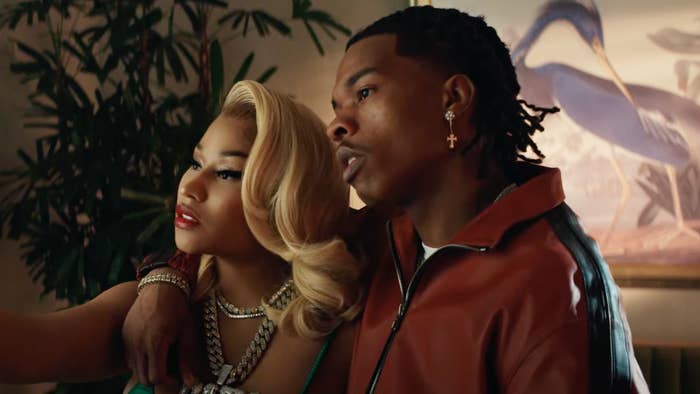 Nicki Minaj season is upon us. After re-releasing Beam Me Up Scotty last year and hitting us with one of the best rap songs of 2021, "Seeing Green," she says a new album will drop in 2022 sometime before summer.
Today, she got things started with a new single called "Do We Have a Problem?" featuring Lil Baby, and it arrives alongside a nine-minute action film music video directed by Benny Boom.
Before dropping the song, Nicki talked up Lil Baby's verse, telling her fans on Instagram, "Y'all know I always keep it real about verses and all of that. Lil Baby, he might have… he might have got me! But listen, the point is: Lil Baby went super-duper hard—pause—and it's so refreshing to see people still care about that type of stuff. I still care about it."
So does it live up to the hype? What's the best thing about the song? Worst thing? Biggest surprise? Members of the Complex Music team answered those questions and more. Here are our first impressions of Nicki Minaj's new Lil Baby-assisted single "Do We Have a Problem?"
Eric: Before anything, I watched the music video, where Nicki and Lil Baby run around with guns (and cool jackets) for nine minutes. All the cutscenes distracted me from forming an opinion on the actual music at first, but one thing was immediately clear: Nicki and her team really believe in this song (and they threw a ton of money at it). You don't make a grandiose action film for a song if you think it's going to flop, so it's going to be interesting to see how "Do We Have a Problem?" performs. It looks like it'll have a lot of industry muscle behind it.
Andre: My first thought was that things were going the way I expected them to go lyrically and sonically, and they kept in that direction. I wasn't blown away, but both of them were solid. 
Jessica: I wasn't a big fan of Nicki Minaj's flow on the chorus, and I thought her delivery on the first verse suited her much better. On the verse, Nicki demonstrates her skill, weaving in and out of different flows while paying homage to fallen rappers and throwing in homophones and other wordplay. Lil Baby's verse wasn't as great as some of his previous features, but still enjoyable. 
Eric: Nicki and Lil Baby trading bars. We all know Baby is capable of keeping up with (or outrapping) A-list artists on their own songs right now—just last year, we saw it with Drake, J. Cole, and others. So it was cool to hear Nicki rap alongside Baby, even jumping in with bars of her own at the end of his verse. Before "Do We Have a Problem?" dropped, she hinted that Baby might have bodied her on it, and you can tell that motivated her. Nicki is trying lots of flows here, clearly trying to push herself in new territory. I think that natural competition helped the song.
Andre: I enjoyed Lil Baby's verse the most. He sounded focused, as usual, and attempted to match the vibe of a Nicki record with some of his raunchier bars.

Jessica: I'm not sure there is anything particularly spectacular about this track right now.
Eric: The beat. It sounds a little dated, and it distracts from all the different flows Nicki's trying. I can't quite tell if it's a synth or a violin, but the repetitive high-pitched sound gets old by the end of the song, and it clashes with some of Nicki's flows.
Andre: I would have enjoyed it more if the beat had picked up percussion-wise at some point. I get the vibe they were going for, but the beat felt sparse to me. I always get a little confused by records that feel like they're aiming for club play but feel slow and sparse. 
Jessica: I hate to keep mentioning it, but Nicki flow on the chorus is going to take me some time to get used to. I feel like it was Nicki who once criticized rappers for making the same song over and over again. While this isn't identical to what we hear out there, there's something so familiar about the track that makes it hardly stand out. 
Eric: I wasn't surprised by much. This is basically what I expected from a Nicki and Lil Baby collab in 2022. (Although, I can't say I expected to hear Fivio Foreign's name on the hook.)
Andre: No particular surprises. 

Jessica: I am a little surprised that Nicki decided to come with such a different flow on her first single in three years. I expected something more in the lane of a single like "Chun-Li" than this.
Eric: I like it. It's not perfect, but it does give me hope for Nicki's next album. It's an ambitious song, stacking a bunch of different flows and melodies on top of each other, and for the most part I think Nicki pulled off what she was going for. You can tell she's motivated right now. I hope the rest of the album has better production, though.
Andre: This is a solid single that I'm sure both of their fan bases will enjoy, pushing toward the top of the charts. I would have enjoyed it more if Nicki had taken a couple bars of her verse to speed up and match Lil Baby cadence-wise. But at the same time, I think some people will enjoy the yin and yang of her more deliberate delivery sandwiching his verse. Also, I'm still trying to figure out how I feel about the "son your whole set like it's around six" line. 

Jessica: I'm not quite a fan of "Do We Have a Problem?" right now. With the hype around Nicki Minaj's first single in three years and the momentum Lil Baby has been building over the past few years, this could've been a huge hit—even the promotion for the track was exciting. Unfortunately, it's a little underwhelming. Nicki's new flow isn't sitting well with me and sounds like an attempt to attract a younger audience, or maybe even find success on TikTok. Lil Baby's verse was also not as impressive as his past work. I think this single has some potential to grow on me, but I may have to sit with it for a while longer.