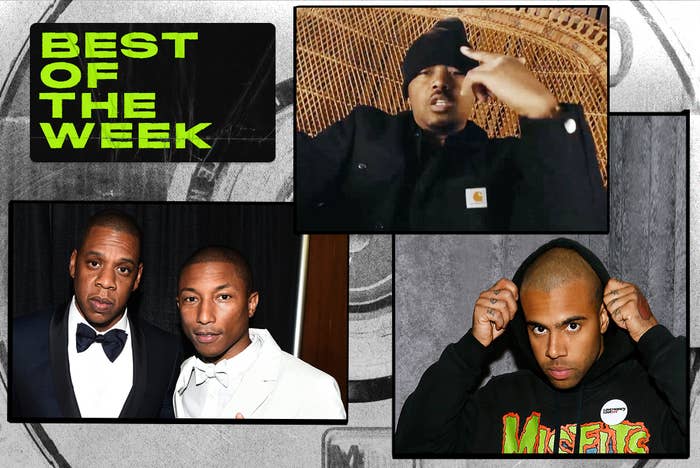 The summer may be winding down, but the new releases aren't slowing just yet. This week seems to be all about collaborations. Pharrell and Jay-Z united on "Entrepreneur," an uplifting anthem that celebrates Black excellence. Nas and The Firm reunited on "Full Circle," which appears on the veteran's latest album, King's Disease. Mulatto and 21 Savage also joined forces for "Pull Up," a hypnotic trap record from Mulatto's debut project. While there are a lot great collaborations dropping today, the best new music this week also includes impressive solo releases from Vic Mensa and Fivio Foreign. 
Check out all the best new music releases below. And follow our playlist on Spotify for more updates here.
Pharrell ft. Jay-Z, "Entrepreneur" 
"Entrepreneur" is an empowering anthem with a funky Neptunes-produced beat that celebrates Black businesses. On the track, Pharrell sings about his own ambitions, while also acknowledging the systemic injustices many Black people face. "In this position with no choice/A system imprison young black boys," he sings. After a quick transition in pace and a bouncy refrain, Jay-Z slides in with bars about Black excellence and entrepreneurship. "For every one Gucci, support two FUBUs/ Sippin' crip-a-Cola consumer and a owner," he raps. The accompanying video is also inspirational, with cameos from Tyler, the Creator, Issa Rae, and other Black leaders. 
Mulatto f/ 21 Savage, "Pull Up"
"Pull Up" is a dizzying trap record that finds Mulatto dancing over piano keys with bars about dope boys and designer clothes. She also weaves in lines about the pandemic, spitting, "Bitch, I'm quarantine clean, you can't touch me with gloves." 21 Savage sounds right at home as he slides in with a head-bumping verse. "All my spots got plaques in em/All my cars got straps in em/All my songs got facts in em," he raps. "Pull Up" appears on Mulatto's debut studio album, Queen of Da Souf. 
Vic Mensa, "Dirt On My Name"
On Vic Mensa's latest track, he goes back to the basics. "Dirt On My Name" is a hard-hitting record that finds the Chicago rapper drilling in on the criticism and hate he's received throughout his career. On the record, Vic suggests he's had "a rap beef with the whole game." He also subtly addresses cancel culture and the many attempts to get him out the paint. Despite the controversies, Vic lets listeners know that he isn't backing down. "I'm spraying everything, I don't really need to aim," he raps. "Dirt On My Name" is a standout from Vic Mens'a latest project, V TAPE. 
Nas f/ The Firm, "Full Circle" 
"Full Circle" marks the long-awaited reunion of hip-hop collective The Firm, which includes Nas, AZ, Foxy Brown, and Cormega. On the track, each artist holds their own with razor-sharp bars over classic Hit-Boy production. And as if a nostalgic reunion of The Firm wasn't enough, Dr. Dre dropped a few bars at the end to polish everything off. "Full Circle" is one of the records fans are talking about from Nas' new album King's Disease. 
Internet Money ft. Future and Swae Lee,  "Thrusting"
"Thrusting" is a moody track about relationships that also doubles as a club record. Swae Lee sets the tone with soft vocals that appeal to his love interest. "I need your attention undivided/ You want the vibe? I can provide it," he sings over a dancehall-inspired beat. Future comes in later with screechy crooning as he reminisces on the good times. "Made our own religion, our own rules," he sings. "Thrusting" appears on Internet Money's debut album, B4THESTORM. 
Fivio Foreign, "13 Goin On 30"
Fivio Foreign is switching it up on "13 Goin On 30." Fans are used to Fivio's lethal delivery over haunting drill beats, but on his latest track, he gets sentimental as he reflects on the challenges he's faced in his life. "Should've never gave up on me," he spits, addressing the naysayers. Although the track has grim moments, Fivio also celebrates his rise to the top. "Now I'm makin' bigger moves," he adds.
The Lox f/ DMX, "Bout Shit" 
The Lox and DMX have reunited. "Bout Shit," which serves as the third single from The Lox's upcoming album, Living Off Experience, is a hard-hitting and braggadocious record that shows the group flexing their pen. On the track, DMX spits, "We ain't playing with you niggas/ In the trunk I got them things that be spraying at you niggas." In addition to the lethal verses, X's growls and barking adlibs are what piece the track together. 
Aminé f/ Luke Steele, "Hello" 
Aminé has been on a roll as of late. Two weeks after dropping his album Limbo, the Portland rapper is back with a new song alongside Aussie collaborator Luke Steele. The track begins with soft vocals from Steele over rhythmic production, but quickly transitions to a booming, uptempo beat. "Look, I'm a hot boy, you know I'd be with the sun be," he cuts in slicing through the instrumentation. Aminé starts off with a punchier flow, but then speeds things up with tongue-tying bars. "Hello" would make a great festival track. 
Chief Keef & Mike Will Made-It, "Bang Bang" 
Last week, Chief Keef celebrated his 25th birthday, and today he's keeping the party going with a new collaboration with Mike Will Made-It. "Bang Bang" is an ominous record that finds Chief Keef tapping into his classic mixtape era. On the track he spits, "Tryna play with me, you better off playin' a plan B/ Cause your plan, it ain't working…" On the chorus, Keef keeps it simple, whispering "bang" repeatedly.