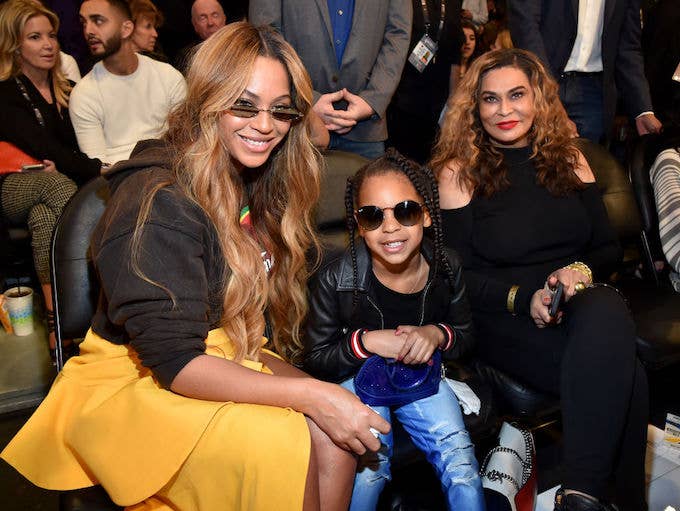 During a recent interview on the podcast Meaningful Conversations with Maria Shriver, Tina Knowles-Lawson talked about her group chat with daughters Beyoncé and Solange, and how their ability to open up to another has been therapeutic since the passing of Nipsey Hussle. 
When asked about how she keeps her family close, Knowles explained that she and her daughters stay in constant communication. "It's like I have four girls. And it's so funny because we are always on group chats," she explained. "And we'll be on a group chat for two hours, just going back and forth and laughing about something or being sad about something."
Knowles then opened up about how much Beyoncé's husband Jay Z cared for the late rapper. "I'm sure you heard about Nipsey Hussle being killed, so we've been on this group chat… the sadness about that, and the disappointment," Knowles said. "He's on my son-in-law's label and my son-in-law [Jay-Z] loved him so much."
In terms of her two daughters, Knowles explained that their family group chat is a place where they can all lean one another. "He was such a great guy that the whole community is sad, but it's really comforting to be able to be on that group chat and talk about it," she continued. "It's like counseling."
Once news of Nipsey's passing broke, Beyoncé and her mother took to Instagram to honor the West Coast rapper, and sent their condolences to his family. "I'm praying with every ounce of my heart for your family," the Lemonade singer wrote. "Rest In Peace, Nipsey."
"Let us continue and support the effort that this young amazing man put in motion," Knowles-Lawson captioned her post. "Rip Nipsey Hussle regardless as to who actually killed him ,and if it was or was not gang related guys. It was his wish that there would be this meeting held . He set it up! We should honor his wishes and his hard work to make this happen and respect his process!!! One young black man's life can be saved it is worth the price."
Hussle's Celebration of Life memorial service is taking place on Thursday in Los Angeles. For anyone who could not attend the service at the Staples Center, a livestream is available here.