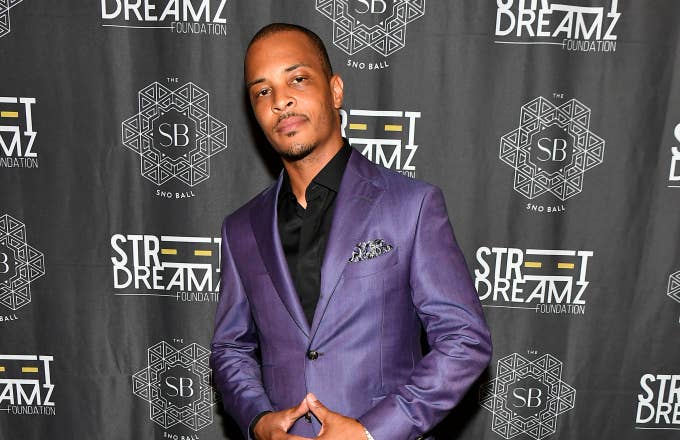 When Kanye West's "Sunday Service" descended on Atlanta recently, West's good friends T.I. and 2 Chainz decided to come and worship. But the experience wasn't entirely positive for Tip.
Last Monday, T.I. posted a picture to his Instagram where he, his wife Tiny, 2 Chainz, and Chainz's wife, Kesha Ward, were seen sitting front row at the event. But instead of being entranced by Yeezus' musical selections, T.I. had a look of disgust on his face. As he promised in the picture's captions, the rapper sat down with Killer Mike on the latest episode of his ExpediTIously podcast to discuss why he was so upset.
"I cut my fellowshiping short at Magic City to get 45 minutes of sleep to drive by here and be accosted and basically exploited," T.I. told Killer Mike. "As soon as I sat down—mind you, I'm telling you they had already raised the offering. [The pastor] had already raised the offering—when we sat down there was a whole new agenda... It's like they rung the red bell at the Player's Club... You ain't [about to] run no game on me. I will not be extorted."
The pastor of the New Birth Missionary Baptist Church (where Sunday Service was being held), Pastor Jamal Bryant, caught wind of T.I.'s criticism, and took to Instagram to issue a lengthy response to T.I. and Killer Mike.
"As black men I hope we can come together 'expeditiously' to find common ground to build," Bryant wrote. "I want to invite both of you to come and give church another chance. I promise you I'm more interested in your life than your life savings!" T.I. responded that he has nothing but "love and respect" for the Pastor, and is open to reconnecting somewhere down the road.