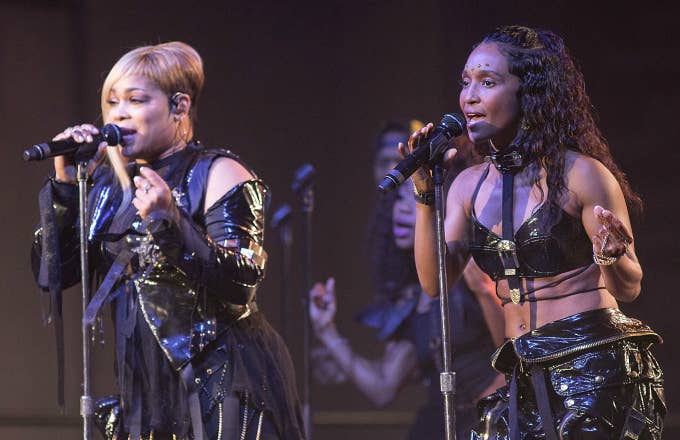 The story of TLC will hit the stage. Rozonda "Chilli" Thomas explained to Cheddar that she and her groupmate Tionne "T-Boz" Watkins have been working on music, but not necessarily for a new album.
Instead, the new material will be used for their upcoming Broadway musical. Although their story has been covered extensively through documentaries and the VH1 biopic, CrazySexyCool, Chilli stated that the musical will touch on stories in their lives that they never told. 
"We have so many stories to tell," Chilli said. "We didn't tell it all in our biopic we did with VH1. A lot of good stuff. It's gonna be very emotional but a good ride."
TLC's saga has plently of material to work with, including Left Eye's time with Death Row Records and girl-group Blaque, Chilli's relationship with singer Usher, or T-Boz's tumultuous marriage to rapper Mack 10.
"We have so many cool surprises for everybody," Chilli teased. "It's going to be very different."
Naturally, fans should expect TLC's classics to hit Broadway. After all, the group is still performing them while on tour with Nelly and Flo Rida.
"We're so blessed to have longevity and a lot of our music is timeless," Chilli said. "When you're in the studio working you have no idea if your song is going to be like that. Time tells that. So, we're very blessed."