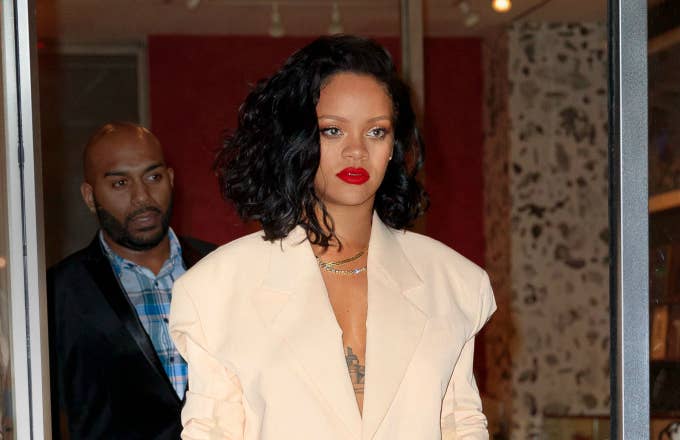 Along with a lasting impression on his community, the late Nipsey Hussle also left behind an abundance of unreleased music that he never got the chance to finish. This includes a pending collaboration with global pop star Rihanna. 
On Wednesday, Rihanna took to Instagram where she reposted a picture the superproducer Hitmaka uploaded to his personal page. In the screenshot, Hitmaka and Nipsey Hussle were engaged in a text conversation regarding a record Hitmaka wanted Hussle to work on. During the exchange, Hitmaka mentioned that the track, roughly titled "On My Mind," had the potential to be a "Hot 100 #1" as it would also feature Rihanna.
"We gotta get Rihanna then," Nip responded. "ima work on this one. This a GO!" 
Although Rihanna did not accompany the re-post with a long caption, it is clear that the singer is still overcome by grief. She immediately followed Hitmaka's post by sharing a video of Nipsey Hussle and his longtime girlfriend Lauren London under which she wrote: "I'm so sorry [Lauren London]."


This sadness is not specific to Rihanna. On Monday, the details for Nipsey's Staples Center memorial service were announced. Within 20 minutes all the available tickets were sold out. This is a direct result of the outpour of emotion surrounding the rapper's passing. Because of the high concentration of people, it is reported that the Staples Center is taking extra precautions to ensure the service goes smoothly.
According to TMZ, Hussle's family requested that Staples Center employees join forces with the LAPD and the Nation of Islam to prevent a repeat of the violence that disrupted Nipsey's storefront vigil. Per documents obtained by the publication, authorities are still searching for the man who shot two people mourning Hussle with the intent to harm more. Because the suspect hasn't been found, Hussle's loved ones are doing everything they can to make sure his celebration of life is a peaceful event.