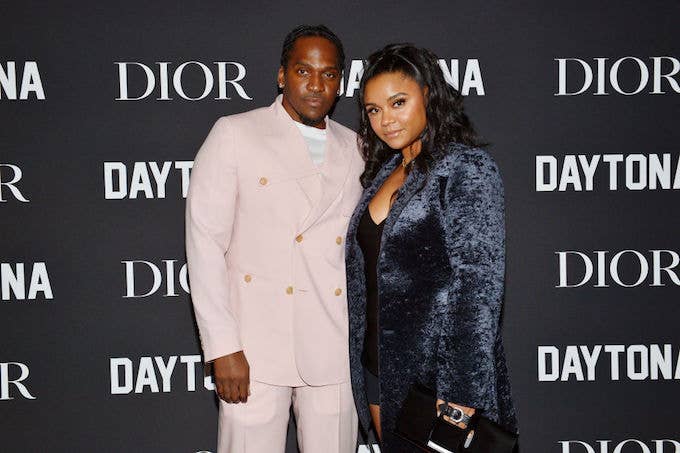 Pusha T made it clear he's not impressed by rappers with secret families. So it's only natural that he and his wife, Virginia Williams, announce to the public that they are expecting their first child.
Push and Ginny took to Instagram on Monday with matching posts revealing their family is growing. The posts feature a Christmas-themed illustration of the couple and their dogs. Written on the picture are the words "Happy Holidays Baby T Coming Spring 2020."
Although they didn't say the baby's gender, Ginny's caption did disclose their child's potential zodiac sign. 
"Finally landed my dream job. World, make way for BABY THORNTON! Arriving Gemini season 2020!! WE ARE OVER THE MOON!!!!!!!!!!!!" she captioned the post that also features an ultrasound of their child. 
Seeing as Push exposed a whole family with his bars, the rapper decided to continue this trend by using lyrics to reveal his child. Unlike Ginny's post, Push turned the illustration into a video that features a snippet of an unreleased song. In the lyrics, Push cleverly references her pregnancy while still alluding to drugs.
"The Franklin Saint that broke the bank/Shifting the culture they say I taint," Push raps. "I owe my tithes, the check is blank/Who are you to question how I show thanks? ... Life goes on and babies born/And mine's on the way, couldn't wait to say it in song."