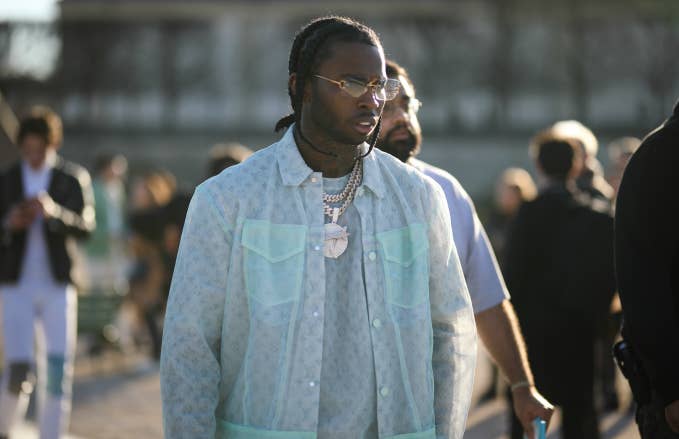 Thankfully, cooler heads prevailed in Brooklyn. 
On Sunday, Casanova and Pop Smoke met for dinner. Casanova made sure his followers saw him breaking bread with his fellow Brooklyn rapper by documenting the event on social media.
This comes after the two exchanged bars in their latest singles. Earlier this month, Pop Smoke shared a snippet of a song on Instagram that would later be released under the name "Christopher Walken." In the lyrics, he appears to be responding to Casanova's track "Demons & Devils" featuring Fivio Foreign and Smoove L.
Pop Smoke also attacked Casanova and Smoove L in the clip's caption.
"YALL OLD N***AS BETTER PACK IT UP," Pop Smoke wrote. "THIS AINT NO TRASHANOVA SHIT. NO SCARY L SHIT YALL KNOW THE WOOS RUN THE CITY."
While Pop Smoke's issues with Smoove L reportedly stem from the instrumental used by Smoke on the track "Gatti" from Travis Scott's JACKBOYS compilation album, it appears as though Casanova was catching strays for having Smoove featured on his record. The lack of real tension seems to have allowed Pop Smoke and Casanova to move past the rift.
Seeing Pop Smoke and Casanova sort out their differences brought a lot of artists to the post's comment section. "THIS SHIT MADE MY DAY," ASAP Rocky wrote. Young M.A added, "Me and you just spoke about this too! This what the city need! They want us to be against each other.. salute both of y'all." 
"Apes stronger together," Zoey Dollaz commented. Swizz Beats wrote, "Kings vs Kings." 
Fans also praised the rappers for not letting things escalate. 
Pop Smoke is currently on bail for allegedly transporting a stolen 2019 Rolls Royce Wraith from California to New York. When Smoke was arrested this month, Casanova showed support for him at the height of their rumored beef. In addition a supportive tweet, Casanova took time away from his show to start a "free Pop Smoke" chant and urge Brooklyn rappers to unify like other regions in hip-hop. 
Smoke pleaded not guilty to the charge of interstate transportation of a stolen motor vehicle and is scheduled to appear in court on Feb. 3. If he's found guilty of the crime, the rapper is looking at 10 years behind bars.