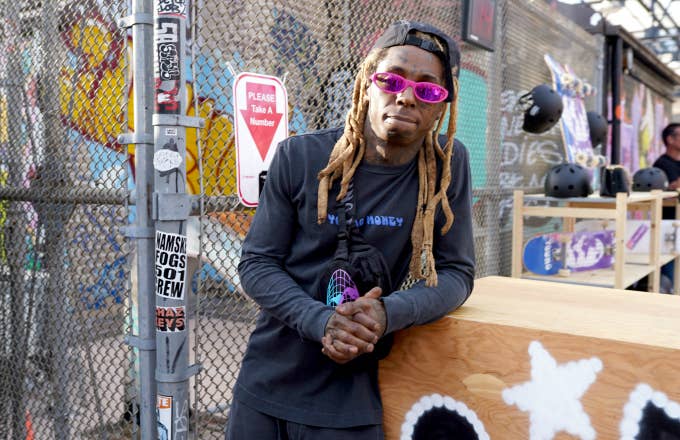 Lil Nas X's "Old Town Road" is the gift that keeps on giving. After the original was removed from Billboard's Country Chart, Billy Ray Cyrus added a verse to the track creating a remix that's having a historic run at No. 1 on the Billboard Hot 100. Yet, Lil Nas X wasn't done there. Last week, the artist released another remix of "Old Town Road" adding country sensation Mason Ramsey and King Slime Young Thug to the track.
Now, it appears that Lil Nas X has more renditions of "Old Town Road" tucked in the chamber.
This week a snippet of Lil Wayne rapping over the "Old Town Road" instrumental was leaked. Because he's known for jacking beats to create legendary freestyles, some fans assumed Wayne was just up to his old tricks. But during an interview with XXL, he revealed that he's was tapped to be on one of the hit's remixes. 
"They sent it to me and I did it as an official remix," Wayne said. "I'm not sure if they was gonna use it."
Even if the label decides not to re-repackage "Old Town Road," the track is on pace to become the biggest hit in American history. Currently, Mariah Carey and Boyz II Men hold the record for the most weeks a single has stayed at No. 1 on the Hot 100 chart with "One Sweet Day" topping the list for 16 weeks. If Lil Nas X and Billy Ray Cyrus are able to hold on for another week, they will tie this streak. With such an accomplishment coming at the beginning of his career, Lil Wayne shared some tips with Lil Nas X on how to navigate his new-found stardom.
"Stay focused. When you break that record, make sure it's not a record to you," Wayne stated. "Make sure you don't even realize it nor recognize it at all. Put that in your head that someone else broke that record and you want to break their record. Plain and simple. Because I can't even tell you if I was No. 1 on the charts because it never mattered. The only thing that ever should matter, bro, is your next song."
This ability to continue one's success is something Lil Wayne has touched on a lot lately. Like most of the current artists, Lil Nas X found his traction through the internet and social media. During a conversation with Complex, Wayne explained how hard it is to sustained yourself when the internet helps oversaturate the hip-hop landscape.

"I think about how difficult it must be nowadays to be more than just one of these balloons," Wayne said referencing the numerous balloons flooding the set's floor. "There's so many people that can do it now. Soon as you come out with something it's 'I like it' then we don't remember who you are the next week when such-and-such comes out with the next dance so you end up being one of these balloons."
In related Weezy release news, there are growing whisperings of an alleged impending streaming release for his classic No Ceilings tape.