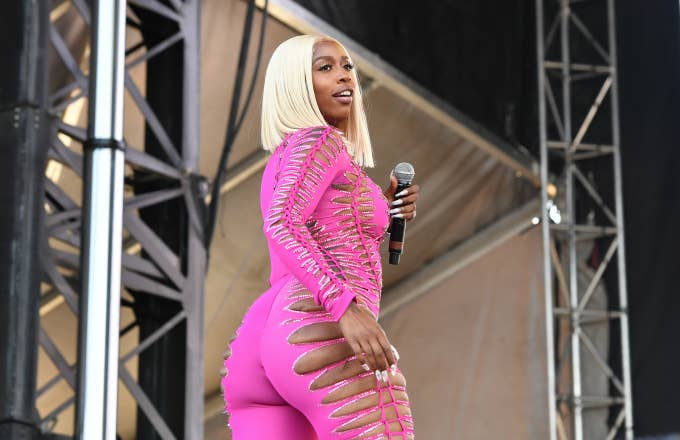 Women rappers are all too often pinned against each other and encouraged to go after perceived rivals. Kash Doll let everyone know she's not into it when she extended the olive branch to rap icon Lil' Kim.
On Wednesday, Kash Doll took to Twitter where she described meeting Lil' Kim for the first time. Upon meeting the Queen Bee, Kash realized Kim meant no malice toward her. This prompted her to privately and publicly apologize for bashing the iconic rapper.
"First of all i met lil Kim lastnight!!!!!! She was sooooooo sweet i had to apologize to her for going on a rant when i was younger!!" Kash Doll tweeted. "I was in my feelings about some shit someone i was working with told me she said i couldn't go on tour with her. lil Kim didn't [even] know."
"She was so G about it! Hugged me and embraced me like listen you're too talented for that," the rapper continued in another tweet. "i love learning shit from OGs!! @lilkim thank u for everything! you're truly an icon love."
Lil' Kim appreciated Kash Doll making their reconciliation public and did her part, showing her support for the world to see.
"In Life we make mistakes and bad decisions sometimes but it's how that woman fixes it is what defines her," Kim tweeted. "I asked at @KashDoll to fix it publicly so I can support her publicly and she kept her word @KashDoll u r a true queen for that I respect u even more."