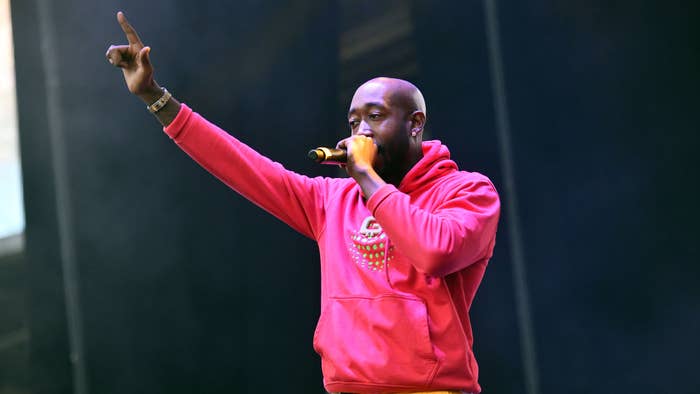 Fans that have followed Freddie Gibbs' career closely know that the rapper has a somewhat tumultuous relationship with Young Jeezy. He also put in a lot of work as an underground independent artist to build the platform that he stands on today.
As a result, Gibbs isn't letting anyone take credit for his career—especially the Snowman. 
"The greatest thing Jeezy ever did was thug motivation 101. The second greatest thing he ever did was give us [Freddie Gibbs]," a fan tweeted on Tuesday. Gibbs caught wind of this tweet and responded by letting the fan know that he's a self-made act.
"I gave us @freddiegibbs," the rapper said in a quote tweet.
In 2011, Jeezy announced he had signed Freddie Gibbs to his CTE record label. A year later, Gibbs revealed that he was no longer associated with the label. Although there are several stories floating around as to why Gibbs left the company, Freddie claims that it was merely a business and branding decision.
Being associated with Young Jeezy was undoubtedly a good look for Gibbs, but he was already making a lot of noise without the Snowman. He amassed a strong fanbase and was featured on the 2010 XXL cover before inking a deal with CTE. After his stint with the label, Gibbs took his career into his own hands and applied a lot of pressure with his independent mixtapes. This turned Gibbs into the star fans see today. 
Despite things not working out with Gibbs, Jeezy has been instrumental in the inception of a lot of artists' careers. During a conversation with Charlamagne tha God, Jeezy explained how he helped jump-start a lot of careers without getting much in return.
"I've tried to put people on, but everybody that was a part of my first project, they on," Jeezy said. "[DJ] Drama, he might beg to differ but that Gangsta Grillz wasn't in the hood till Young [Jeezy] was on that thing. Trap or Die was monumental."
Jeezy went on to explain how he helped foster YG's talent early on and assisted in putting together the Compton rapper's debut album, My Krazy Life.