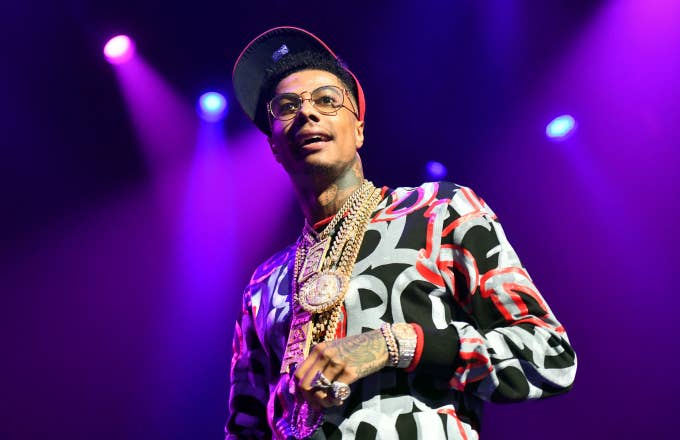 Blueface's unorthodox rhyme pattern and charismatic personality have built the rapper a cult-like fan base. In fact, one follower of the Famous Cryp went out of her way to show her dedication to Blueface.
Blueface took to Instagram where he showed off a fan's new ink dedicated to him. Keeping with his moniker, the fan—who has been identified as a woman named Cely—decided to cover a large portion of her thigh with a split portrait of the rapper and Benjamin Franklin. It's unclear if Blueface knows the woman, but he seemed to be pleased by her latest piece writing "Now dats a mf tattoo" as the post's caption. 
This is not the first time people have attempted to use tattoos to show their loyalty to the rapper. Last month, Blueface announced that he was in a polyamorous relationship with the mother of his child and another woman. Although the trio split up, both women decided to get a portrait of Ben Frank on their hand as a gesture of love before calling it quits.
Blueface has incorporated the Benjamin Franklin portrait that's featured on the $100 bill into his brand. He even has the image tattooed on the side of his face. And now there are fans out there who are paying homage to the rapper by inking their own variations of Benjamin Franklin on their bodies.