Drake Jokes About Dropping New Freestyle With Epic Kawhi Leonard Pic as Artwork
There would be no better way to revamp his timestamp series than with a single dedicated to the Klaw.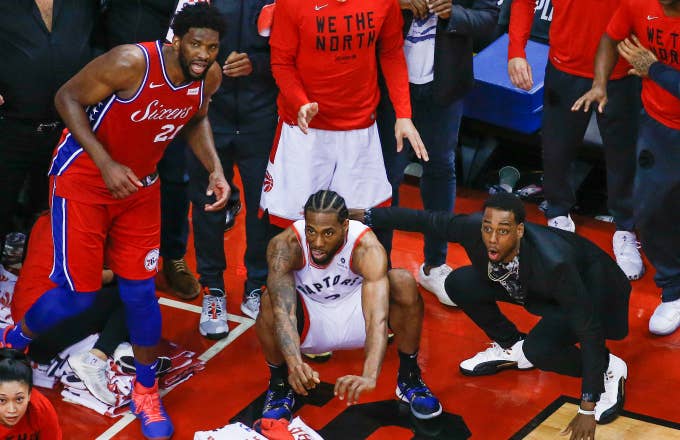 Getty
Image via Getty/Rick Madonik/Toronto Star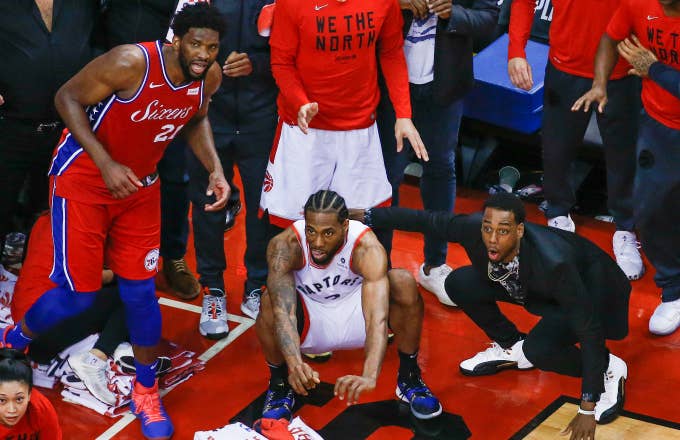 Over the years, Kawhi Leonard has become the J. Cole of basketball—an effective superstar that uses often overlooked fundamentals to win games. Coinciding with his game's lack of flashiness, Leonard also embodies a stoic person showing little emotion unless it's his very unique laugh. Yet after sealing Toronto's trip to the Eastern Conference Finals with a Game 7 buzzer-beating shot, Leonard unleashed a flurry of feelings.
This led to a now-iconic picture of Leonard squatting, watching as his shot hit every corner of the rim before falling. As a true Toronto superfan, Drake is now contemplating using his talents to add to this picture's status and further solidify Leonard's defining moment.
Following the victory, Drake took to Instagram where he posted the picture of Leonard with the caption: "[G.O.A.T.] Weezy for the win #2." Like most of Drake's post, a lot of the rapper's famous friends flooded the comments with their thoughts on the picture and the win. This included former Raptors' six-man Lou Will who wrote "This pic hard" to which Drake replied: "I might do a freestyle just to use this pic as the art."
Of course, even a joke about new Drizzy tunes or a "5AM in Toronto" follow-up is enough to set the internet on fire. Despite the reaction to his comments, it is unclear if Drake will hit the studio and drop a freestyle. But, if he does, it wouldn't be the first time he immortalized legendary Toronto athletes/sports moments with songs. 
In 2015, Drake effectively ended his feud with Meek Mill when he dropped the "Back to Back" freestyle. Although the cover art has now been changed, when the song first hit SoundCloud the artwork featured legendary Bluejay Joe Carter after winning the 1993 World Series with a walk-off home run.
Also, Lou Will has a whole Drizzy track dedicated to him. On If You're Reading This It's Too Late, Drake created an homage to one of the best six-men to ever play the game. Though it's been a minute since Drake has dropped a loosie for fan consumption, there would be no better way to revamp his timestamp series than with a single dedicated to the Klaw.