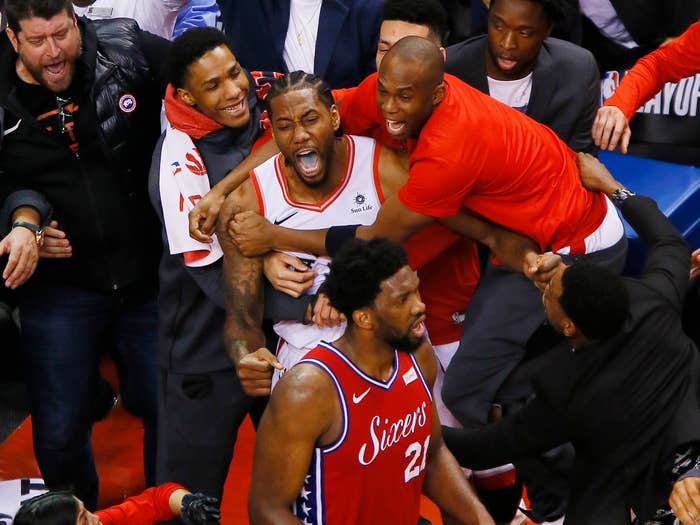 One day, we might not be able to underscore the historical significance of the shot Kawhi Leonard hit.
Of all the dramatic, movie-worthy endings to a Game 7 we could get, what Leonard authored Sunday was about as cinematic as you can ask for. Score tied, trip to the conference finals on the line, time winding down, defender all in his grill, Leonard launched an impossible two that bounced an improbable four times around the rim before falling in. Raptors move on. Sixers gone fishin'.
And because Leonard hit the biggest shot in Toronto Raptors history, the Raptors and Sixers will probably never be the same. We feel safe writing that the reverberations of Leonard's shot dropping in will be gigantic this summer. Like really gigantic. Because entertaining the hypotheticals and analyzing the potential ramifications of that shot makes the NBA so much fun to follow, please indulge us for a minute in the aftermath of a stunning and significant moment.   
We'll start with the Raptors who have to feel a hell of a lot better about their chances of securing the services of Leonard for a few more years thanks to that miraculous shot. Think about it: Kawhi had a moment in front of Toronto fans that no other Raptors player can equal. He's a national hero and a franchise savior Monday morning after delivering for a team that always came up short in those situations. No other Raptors player has hit a shot like that in the franchise's 24-year history. They might as well start casting a statue of The Klaw crouching down to watch that shot go in outside of Scotiabank Arena.
If the shot rims out and the Raptors suffer a brutal loss at home in overtime of Game 7, coming up small once again in a big spot, maybe that makes it easier for Leonard to leave this summer.
"It was great," Leonard told reporters after the game. "That's something I never experienced before, Game 7, a game-winning shot. It was a blessing to be able to get to that point and make that shot and feel that moment."
While Leonard is arguably the most peculiar superstar in the game—he's notoriously impossible to forecast or accurately psychoanalyze—I don't care what you tell me: he wouldn't be human if that moment doesn't end up figuring prominently in his decision to sign on the dotted line with Toronto come July.
Leonard's one-season run with the Raptors has gone about as well as the organization could've hoped. Add an iconic moment to an already attractive sales pitch, and it's easy to make a case why Toronto feels pretty damn good about its chances of retaining the All-NBA performer. Leonard can continue to be a low-key superstar in a low-key NBA city that's only real knock against it is the weather (eh, and maybe the conversion rate). With Kawhi's talent, and a supporting cast that's still among the NBA's best, but certainly ripe for key improvements, the Raptors should be contenders for Eastern Conference supremacy for years to come. Hell, they should be contenders for NBA supremacy with the Warriors dynasty likely on its last legs. Leonard's seemingly cool with his teammates and feeling the love from an organization, a city, and a country like few ballers ever have. I guarantee that every general manager in the NBA that has Leonard as their No. 1 free agent target wished the shot rimmed out. Leonard making it just made their jobs a little harder.
After a stellar regular season, leading the Raptors to the No. 2 seed in the East with almost zero drama, his run through the playoffs has been breathtaking. He's taken his offensive game to a new level up north. Sunday was his fifth game of the series against the Sixers where he poured in at least 33 points. Game 7 was his second 40-plus point performance of the series. Yeah, it took Leonard 39 shots to get his 41, but we're not here to debate if Kawhi is better than Kobe Byrant (he's not). As the face of the franchise, Leonard delivered for the Raptors in a way the revered Vince Carter never did against the Sixers back in 2001.
"It's a nice, lucky bounce," an understated Raptors coach Nick Nurse told reporters after the game.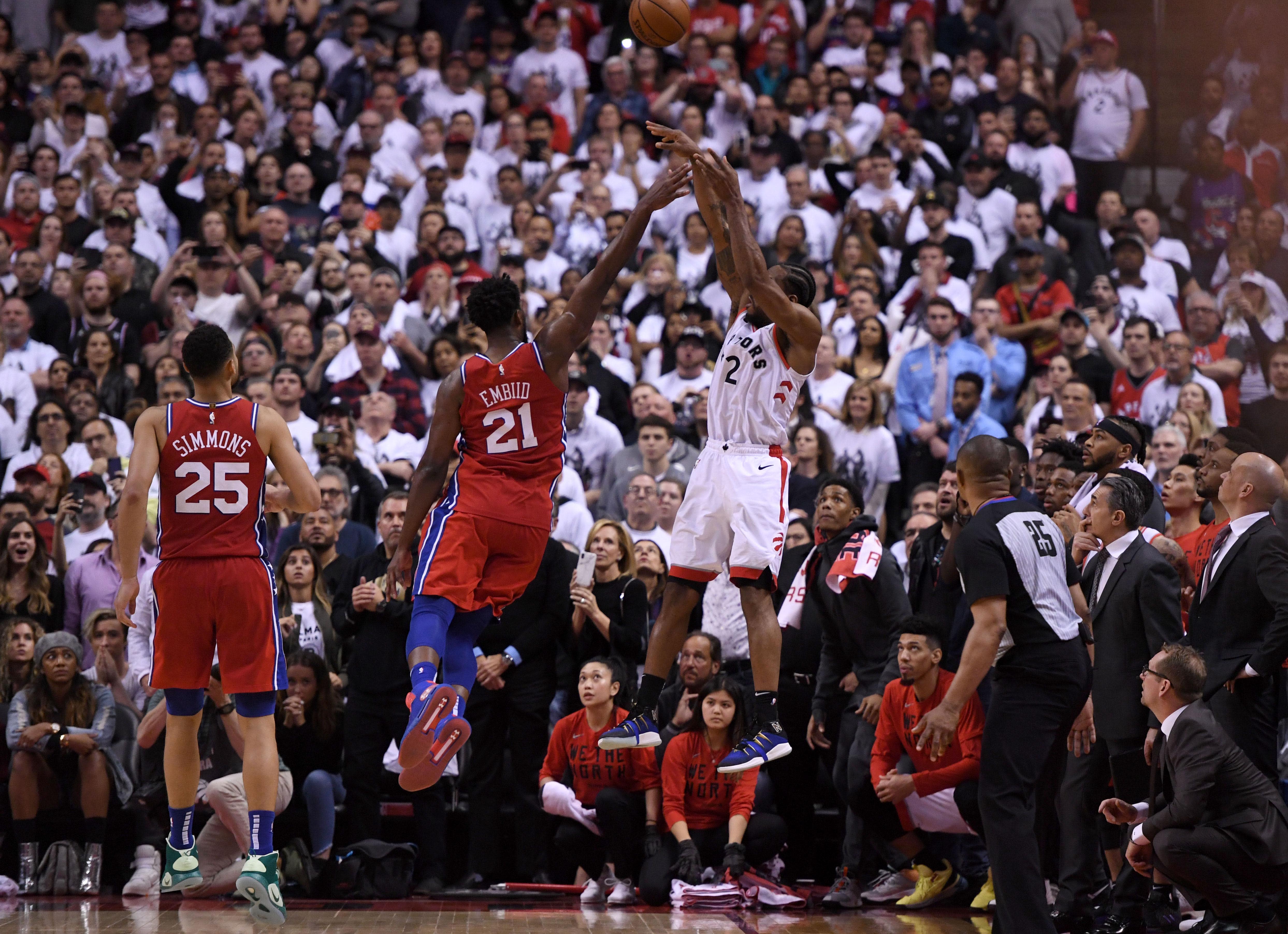 If the shot rims out and the Raptors suffer a brutal loss at home in overtime of Game 7, coming up small once again in a big spot, maybe that makes it easier for Leonard to leave this summer. Maybe a miss means he's that much more likely to head back to his native Southern California. No love, no good vibes, no iconic moment seared into his memory. If his star power wasn't enough to put the Raptors over the top in the Eastern Conference semifinals, maybe Leonard tells the Raptors, "Oh well. It was fun while it lasted. Thanks for the opportunity, but I'm going try something else." Maybe a brutal beatdown at the hands of the Bucks in the conference finals would sour Sunday's good vibes enough that the shot felt like a distant memory instead of springboard. But consider us highly skeptical the Raptors don't put up a big fight against Milwaukee.
The Sixers, on the other hand, just started an off-season that's almost assuredly going to be transformational. Advancing to the conference finals probably secures coach Brett Brown's job for at least next season and maybe another one after that. After Sunday's loss, maybe Sixers management thinks it's time for a new voice since Philly failed to get out of the second round for a second straight season and suffered through it's fair share of strife during the season while twice overhauling the roster. Brown's job security has been a hot topic whenever talking about the Sixers. And six years at an NBA job is practically an eternity these days. New leadership is a legit possibility.
More importantly, what happens to notable free agents Jimmy Butler and Tobias Harris? The likelihood both come back to Philadelphia is probably far-fetched. And while we personally have a lot of respect for Harris here, we also understand why Butler and his talent would make him the priority in the eyes of a lot of observers. Philly signing both and bringing back other key reserves means they would be in luxury tax hell. So Harris and Butler probably have played their last game together as Sixers.
And if you want to spice things up even further, do the Sixers dare entertain the idea of separating Embiid and Ben Simmons? Would they actually dangle the talented but limited Simmons for an attractive package? Maybe that's farcical, but the Sixers are almost assuredly going to look incredibly different next season. It doesn't take a mathematician to know that the odds of that are a hell of a lot higher than Leonard reupping with the Raptors. Thanks to a lucky bounce–or four—Toronto should love its chances.