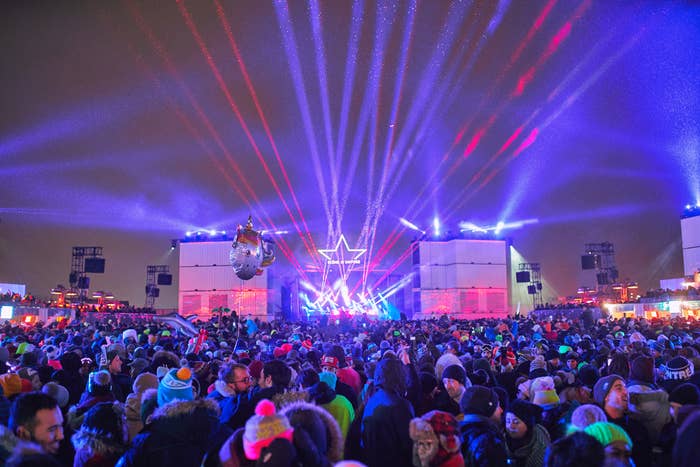 Montreal's premiere party in the snow Igloofest is back after a couple of pandemic years, and the city is ready to don their one-piece snowsuits once again. As always, it's happening in the city's Old Port during the months of January and February, starting tonight with the sold-out return of Montreal favourite Flume. 
But there are plenty of other acts to check out too over the course of the festival. Here are 10 artists to catch at Igloofest 2023.
1. Flume
Performs Jan. 19 at 7:30 p.m.
Headlining the first night of Igloofest, the Australian producer's nocturnal soundscape is the perfect fit for outdoor moonlit partying. He dropped Palaces a year ago, while his breakthrough eponymous debut recently had its tenth anniversary.
2. Porter Robinson
Jan. 21 at 7:30 p.m.
There was a seven year gap between albums for the American producer, and in that time fans only grew more restless about being able to catch the charismatic performer live. Now Montreal gets its chance to experience Robinson in a different way in the form of a special DJ set.
3. Kavinsky
Jan. 26 at 7:30 p.m.
The mysterious French figure rose to fame with his "Odd Look" collaboration with The Weeknd, but he's also kept a low profile since then. Came out of nowhere to drop his sophomore record Reborn a year ago.
4. Jessy Lanza
Jan. 27 at 11 p.m.
The Canadian producer is performing at Phi Centre as part of Igloofest's "Après ski" programming. As the name suggests, it'll be a bit warmer and cozier in the indoor venue compared to the mega party going on outside.
5. Hamza
Feb. 2 at 7:30 p.m.
One of Belgium's most popular rappers, he initially crossed over into Quebec with smash hit "La Sauce" and his collaboration with Montreal producer Freakey. He'll be performing unreleased songs from his new album Sincèrement, Hamza, which is set to drop on Feb. 17.
6. Black Tiger Sex Machine and Apashe
Feb. 4 at 7:30 p.m.
Two of Montreal's loudest, wildest, heaviest electronic acts go back-to-back in a massive homecoming show.
7. TDJ
Feb. 9 at 7:30 p.m.
For fans of shiny, robotic 90's dance pop: think Alice Deejay or Eiffel 65. The Montreal producer does it all with a knowing wink, but it'll take you back to the carefree, effervescent jams of yesteryear.
8. Yung Singh
Feb. 10 at 11 p.m.
Another Phi Centre "Après ski" performance, this time starring a UK DJ who delivered one of the most memorable Boiler Room sets of recent times.