As 2018 comes to a close, Pharrell Williams is in a relaxed state of mind. Celebrating the release of a new East African-inspired pack of his Solar Hu sneaker collaboration with Adidas, he sat down with Complex and openly discussed a range of topics including Kanye West's politics, his relationship with Kid Cudi, possible sneaker collaborations with NBA stars, and more.

Speaking about Kanye West's politics, Pharrell says, "We have to love our brother, regardless. We might not agree with him, but we can't stand by and watch anything happen to him, because he's our brother. And we've gotta pay attention to the symbolism of what's happening, you know? That's our brother. Never have we ever, in history, witnessed a staple in the community be utilized in that way. In that kind of way, with that kind of real impression. So I look at the symbolism of that and I say, man, that's our brother. We don't want to abandon him because we fundamentally disagree. We care about his well-being. We care about the spirit that is him."
"I'm not siding with him at all," Pharrell clarifies. "I said that's our brother and we can't give up on him. Right? I'm not siding with him in any of that. What I'm looking at is his DNA. He's our brother, he's human. You know what I'm saying? That's what it really boils down to. At the end of the day man, like, you gotta understand that even when there is division, we're still one. And it hurts because there's a lot of darkness out there, and they use that. But at the end of the day, we're, believe it or not, we're one. The universe is one, we're all existing at this one time." He adds, "So the division is in our minds and it's a tool. That's our brother, straight up."
Pharrell also addressed Kid Cudi's recent comments that he "doesn't know if Pharrell will work with [him] again." In response, Pharrell says, "He's so inspiring, and I'm only as good as my collaborations anyway. I love the stuff that we did. Love, love. I like music that I want to go to later, you know? A year from now I wanna play it. Or like three months from now I want to play it. You know, we're on an island somewhere, I wanna play it. Like, I'm that guy. So to me, Cudi is a GOAT. His melodies and his concepts—he's a timeless alien."
Watch the video above and read the full conversation between Complex News' Pierce Simpson and Pharrell below.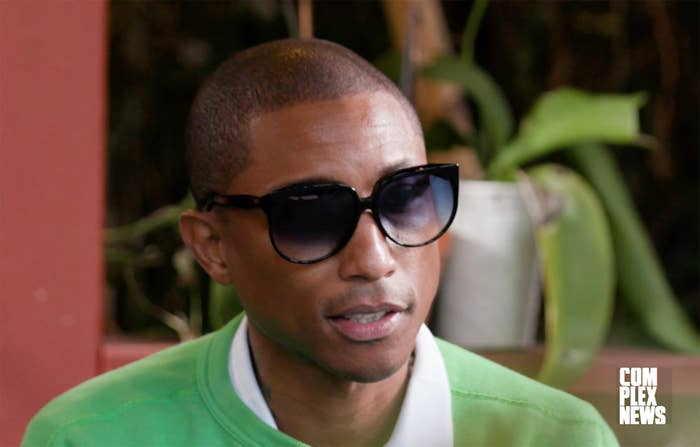 You're releasing your latest sneaker, Solar Hu. You've done a lot of great things with the sneakers and you want to tell different stories. With this one it's East African heritage. What are you looking to accomplish with this one?
Pharrell: For me, it really honestly started with skin tone. Just such a beautiful skin tone. And it doesn't get the kind of visibility in pop culture that it deserves. It's now happening in certain areas like movies and television, but for so long, you wouldn't see that in regards to fashion. We just love the way it looks. And, not for nothing, sorry, but it just makes the clothes pop. It's just beautiful.
The thing I love about your line is the fact that you've given credit and you've honored the Native American culture. You've honored the Hindu culture. Now you're honoring the East African culture. So there's obviously some type of humanity that you're looking to showcase with this line. Is that what you're trying to accomplish?
Yeah, and let me clarify that it started with skin tone, but then when you think about... There's that beautiful dark skin tone in a lot of places in Africa. But I think East Africa just made sense when you think about the marathon runners and the Kenyans happen to be one of the best, so for us, why not? I never really wanted to have my face or use my likeness for my brand. I always wanted my brand to represent other people. So I figured why not highlight other cultures, go and have them tell their story, and actually collaborate with them. Like we did with the Native Americans. I wanted to do the same with the East Africans. I want to continue to do it with different cultures that inspire me. And also, like I said, give a voice, visibility, and reception to these beautiful cultures around the world that inspire us.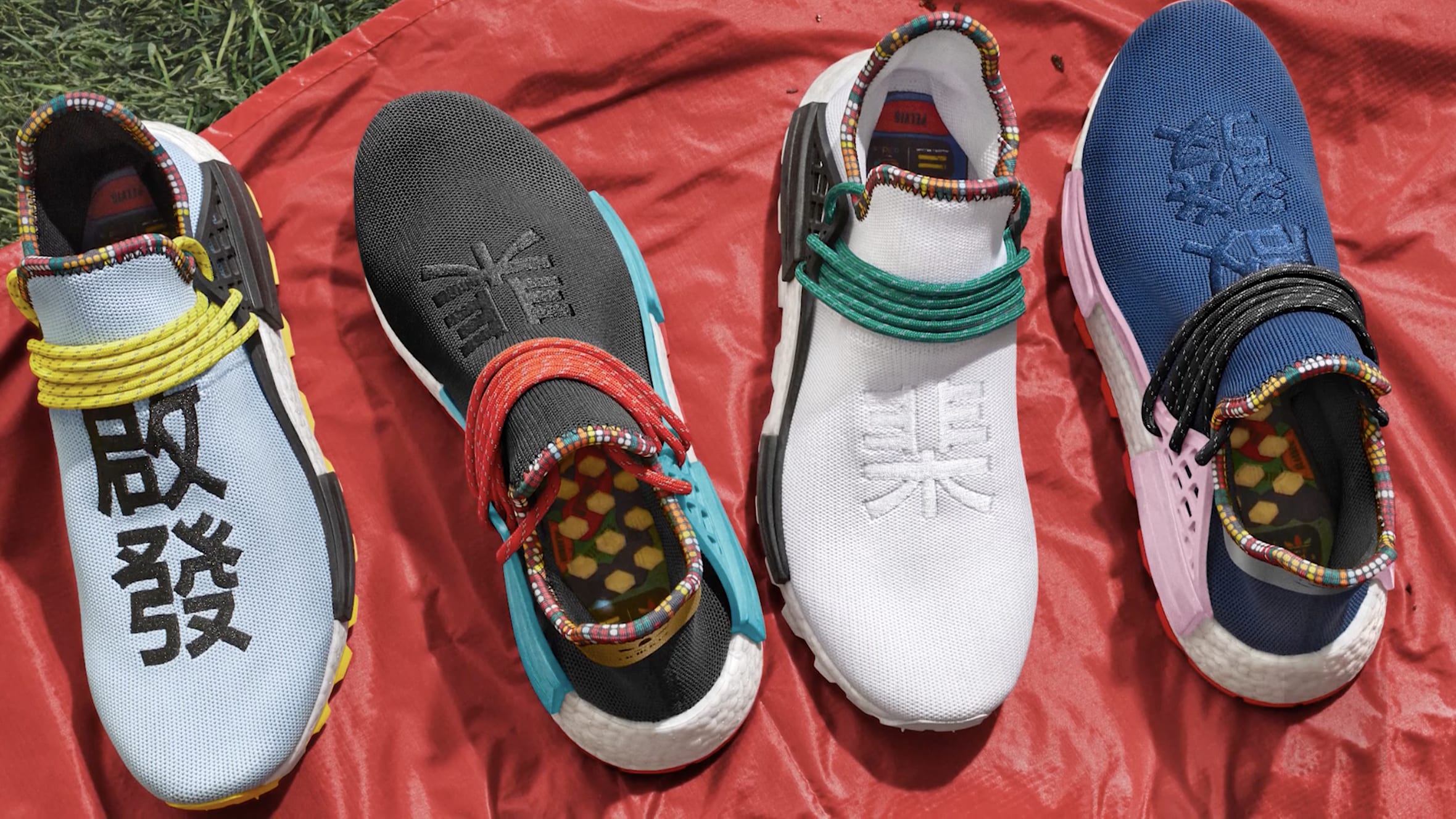 You said the thing you're most proud of in your career so far is the evolution to consider others. What sparked that for you?
I feel like the universe just tapped me on my shoulder at one point in my career, and it humbled me so much because so many things were happening for me that I hadn't asked for and could never have dreamt of. And I just started questioning, why me? After that it made me never really want to do things that were about me, or completely for me. For a while at that point, it was about my family. And at that turning point I realized that I wanted to do things for others.
Do you remember exactly when that turning point was?
Right around 2012, 2013.
That segues perfectly to my next question because in 2013 when "Happy" is ringing off, you're probably at the top of your game when it comes to solo ventures. People are coming up to you and saying "'Happy' is something that I needed. 'Happy' is a record that just speaks to me." But you seem to sense this type of desperation underneath that allowed you to spark a different perspective. What was that perspective that it changed for you?
Well, I just realized that not a lot of people are genuinely happy, you know? A lot of us just look for happiness in other things. And someone would look at me and be like, "Well easy for you to say, look at your this and look at your that or look at your this." But I have to say that it was at that point in my life that—you know, 2012-2013—that I just felt like something was happening around me that I couldn't explain, but I was seeing it. It's kind of like when you see the wind blow on the trees, you see the leaves move. That's the wind. But you don't question whether there's a wind, right? But you can't see it. You can feel it. I had this happening to me in my life in much bigger ways, and more specific ways, and it was just bugging me out.
At that point it was just so much bigger than my career and anything that I was doing. It was like, "Wow, things are moving around me." So I was frightened, but excited and grateful. But humbled. So at that point I just felt funny even doing anything that was laudatory or was seemingly just all about me. I just couldn't even look at things any other way. I was struck, right, by a different kind of lightning.
You mentioned that pressure you alluded to earlier. It's like, "Okay, am I worthy of this, is this for me?" Because "Happy" was originally supposed to be written for Cee Lo Green. You had him in mind with that one.
Yeah.
So when success happens and people are coming up to you with these different types of testimonials and things that they're going through. Did it feel like it was a lot to carry? Was it a lot for you to handle, at that point in time?
I just was still so freshly shocked. You know what I mean? You know, freshly struck. You know, like the song with Daft Punk, "Get Lucky" I thought I was writing that for someone. I didn't know I was going to stay on the song. So that was a shock to me too. There were so many things and I just couldn't explain it. Because I'm an Aries, you know. When I was young I was full of a lot of hubris: Me, me, me, and I, I, I. It took a time when I didn't forecast what was going to happen, for it to happen bigger than anything that I ever forecasted for myself. That's what humbled me and made me go, "You know what? I'm actually not in control." I contribute, but there are so many other forces at hand here. And I need to humble myself and understand those things. Or understand all of it. Which for me was God, you know, the universe.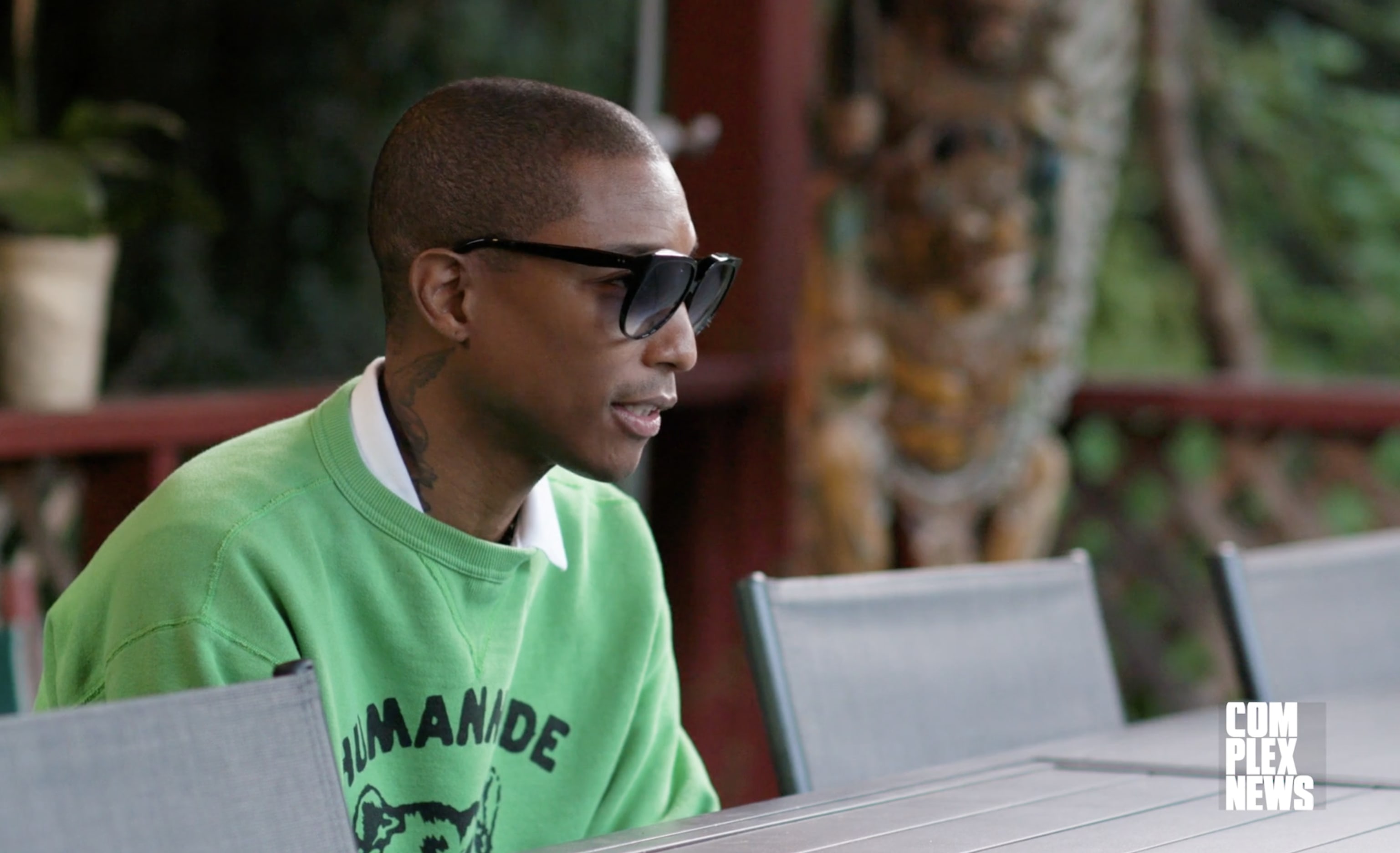 You told GQ that you want your shoes to "inspire positive change and celebrate equality and unity."
Yeah.
Obviously throughout your career that's something that you've focused on and seem to be a very inclusive person. When your shoe line was accused of cultural appropriation, did that bother you? How did that affect your creativity going forward?
It definitely affects, because you don't want to offend anybody. But for me, I just wanted to go make that right and make sure that everything was in the right space. And we've gone back several years. In fact we're actually doing collaborations with them as well.
Nice! That's incredible. Can you speak more about the collaboration or is it kind of under wraps.
It's coming, it's coming.
This country's the most divisive it's been in a long time. When it comes to artwork, sometimes destructive times can create the best creativity. For you as an artist, do you feel stifled by this moment or do you kind of find a silver lining in everything that is going on?
There's a silver lining to everything. Just because, you know, in the darkest of times, on the other side of that is the light. Like, we're gonna be okay. But there is a major divide in this country, and unfortunately even the people who feel like they have the right of way, are also contributing to this divide. And if we don't find a way to bring empathy into any of these equations, there will always be a separation.
You considered yourself a supporter with opinions when it came to the Hillary Clinton campaign. You were kind of warning people about what we're enduring right now. What did you see that kind of made you say, "Hey, it seems like these guys with this hateful rhetoric, it's starting to capture some people's attentions. We need to focus on them and kind of just watch what's happening."
As minorities, we always saw that. We've always known that was there. It wasn't as pronounced because that wasn't the narrative that we were seeing. That wasn't the televised narrative. But in real life, we've seen bumper stickers. We've seen flags and, yeah.
I mean, we're both from the South, we've seen confederate flags and we know how it works.
Yeah, we've seen it. We've seen it. But, God is the greatest and I just feel like at the end of the day, that's a very old spirit. And I feel like there's a lot of new, good spirits that are coming in right now. What leads me to be a perpetual optimist is that the future decision makers are seeing what's going on right now. And I know, I believe in the Gen Z-ers and the millennials. I love that they're not settling. They're speaking out and they're actually doing. I feel like we're gonna be okay.
But, the negativity... You know, the minus signs? They're not gonna crawl back into the hole. Everyone thought, like, "Oh the midterms." Yeah, the midterms, great, but that's not going away. That's very real and very present.
This position that you're in, the platform that you have, and the career that you sustain... It could be very easy for you to take a step back and not be so inclusive. So what's making you kind of preach empathy and fight for the arts like we've seen and do these incredible things when it's easy for a guy in your position to just step back and say, "They deal with that, that's their problem?"
If there's no empathy, then you can never get to any kind of level playing field or even understanding. You don't have to love everything that somebody's into, but we gotta reach out somehow. That being said, it's dark right now, the energy's just dark. You know? It's just dark. People don't even see that. They don't see what they subscribe to. They don't see what it is that they're standing next to. That's just tough.
As a musician are you able to capture that moment without it affecting your work too much? Without your work becoming too dark?
I just try to make music for people.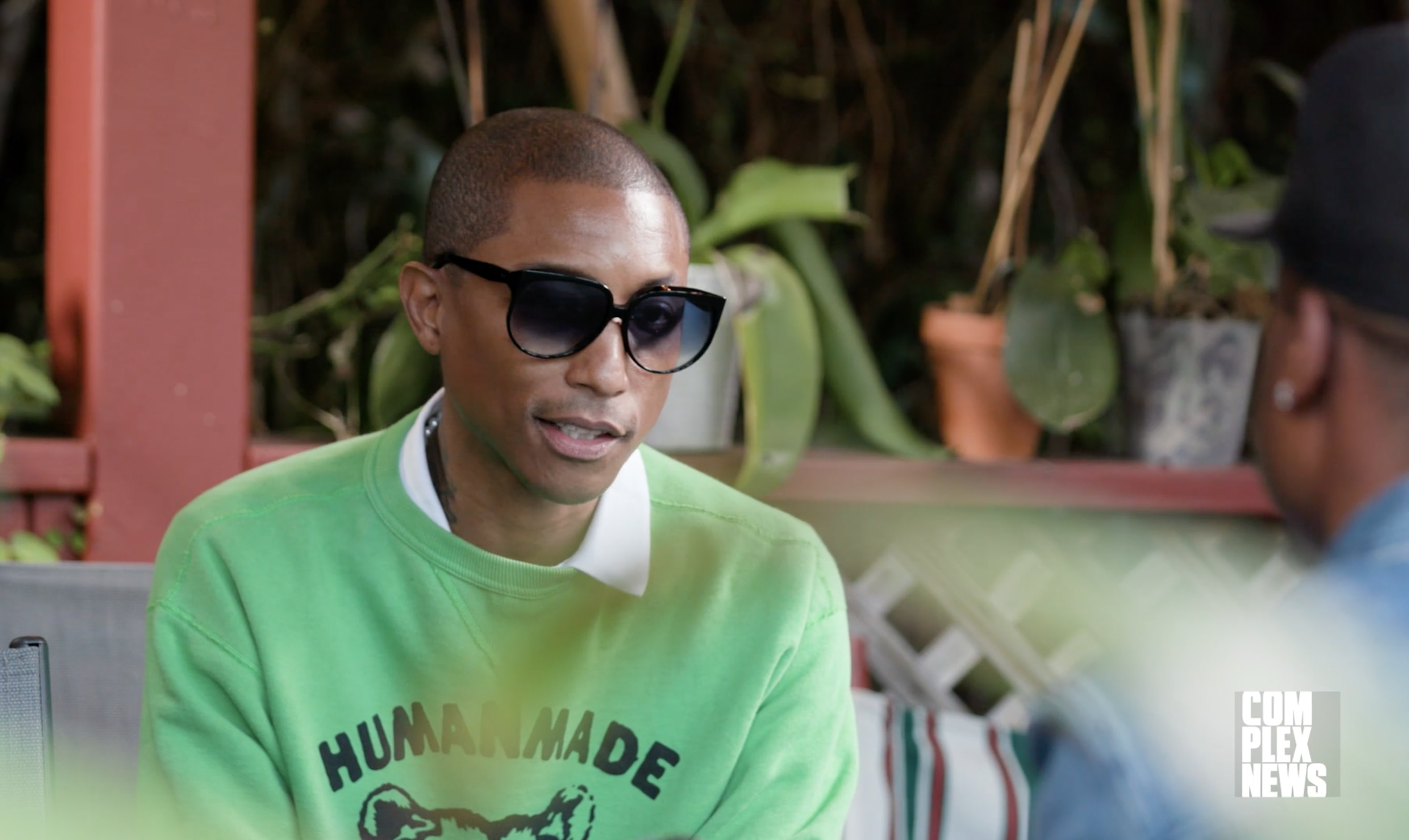 You have this shoe line that you're doing where you want to promote humanity, and you're showcasing all these different cultures and heritages. Then you have your music where you've been very political in some aspects but not overly overt. What is the best way, in your opinion, to capture what you're trying to tell? Is it through the music? Is it through the tangible assets of sneakers and clothes? What do you find is the best for you?
I think across all artistic disciplines we try to tell the story. I'm not gonna call it the responsibility of the artist, but I just feel like that's why you're gifted. If you're gifted then you're supposed to pay it forward. So, when you're given something, you have a responsibility. So, I don't want to say that, but I kind of feel like that. I feel like as artists we have a responsibility to answer. A musician is one who interprets the vibes from the muses. Hence the term musician. So when we're getting vibes and we're given messages and we're given music that's full of emotion, I feel like we've gotta be responsible with it and put it in proper context.
There are some artists these days... I won't say any names, but I'm sure you can understand where I'm going at. Where they will be very in tune with politics, and they will even go to the White House. Do you agree with some of those tactics that they use?
Well, you're talking about our brother.
Mr. West.
Yeah.
I'm sure we're all conflicted.
We have to love our brother, regardless. We might not agree with him, but we can't stand by and watch anything happen to him, because he's our brother. And we've gotta pay attention to the symbolism of what's happening, you know? That's our brother. Never have we ever, in history, have we ever witnessed a staple in the community be utilized in that way. In that kind of way, with that kind of real impression. So I look at the symbolism of that and I say, man, that's our brother. We don't want to abandon him because we fundamentally disagree. We care about his well-being. We care about the spirit that is him.
Does that leave you conflicted in any way when you see that? Or are you just like, "Okay, I need to help a brother out?"
No, no, we love our brother. We gotta love our brother. We don't gotta agree. You know, when somebody's grandparents say something super racist, do they cut their grandparents off? Do they cut their racist uncle off? Not often. Not often. I'm not, that's not an equal comparison-
We don't want to abandon [Kanye] because we fundamentally disagree. We care about his well-being. We care about the spirit that is him.
Right. But I see the sentiment you're trying to get to.
Right. Family is family. You might fundamentally disagree...
You're not going to agree with everything your family member may say.
No, but that's our brother.
But is it a sticky situation for you to have to kind of like navigate and say like, "Listen, I supported Hillary and everything—not everything she did—but I supported her, and I have this idea of what I want humanity to be," and it seems like you're siding with this guy that has a lot of hateful rhetoric. Is it-
Oh, no, I'm not siding with him at all. I said that's our brother and we can't give up on him. Right. I'm not siding with him in any of that. What I'm looking at is his DNA. He's our brother, he's human. You know what I'm saying? That's what it really boils down to. At the end of the day man, like, you gotta understand that even when there is division, we're still one. And it hurts because there's a lot of darkness out there, and they use that. But at the end of the day, we're, believe it or not, we're one. The universe is one, we're all existing at this one time. We're one. Whether we like it, on a molecular level, we're connected. That's what science tells us, right? Are we not technically on the same continent? Or the same planet? So the division is in our minds and it's a tool. That's our brother, straight up. I don't wanna get all deep and shit but that's our brother, though. We wouldn't have let that happen to Cassius Clay, even if he wouldn't have decided to go the other way. We would have stuck by him. You know what I'm saying? That's our brother.
Completely understand. You watched a lot of TV growing up, a lot of cartoons, and you described yourself as a Mr. Magoo type. You don't really know where that guy is going, you don't know what's happening, but he moves off instinct. For you to describe yourself as that, how are you able to keep your finger on the pulse of this culture for well over two decades now and know what works and what doesn't work?
I don't know, aside from my own instincts. That's it. I don't know. I couldn't tell you. That's why I describe myself that way, because I don't know the blueprint. Every time I felt like I did, I'm the guy where the punchline really works—when they say God laughs at our jokes. My efforts have been some of his best punchlines. So I've just given up on feeling like I know. I just bring my instincts to the room.
Was there a moment in particular that you remember where your instincts really paid off for you? Where you were kind of unsure what to do and you just kind of went with a vibe and it worked out tremendously?
It happens a lot. I don't think about it as much. It's just kind of natural.
For sure. You have a very collaborative spirit. Even your first way into the game writing on Teddy Riley's "Rump Shaker" to having the idea to write "Frontin'" for Prince. You have a very collaborative spirit and like I mentioned earlier you're very inclusive. Kid Cudi recently mentioned to GQ that he's fearful that you won't work with him based off commercial success or lack thereof some of y'all's most recent projects. Do you feel that way?
No way.
Exactly. Kid Cudi-
No, he's so inspiring. And I'm only as good as my collaborations anyway. And I love the stuff that we did. Love, love. I like music that I want to go to later, you know? A year from now I wanna play it. Or like three months from now I want to play it. You know, we're on an island somewhere I wanna play it. Like I'm that guy. So to me, Cudi is a GOAT. His melodies and his concepts—he's a timeless alien.
Yeah, he's impacted a lot of careers, especially a lot of artists that we see now that's thriving. He inspired them, that's always great to see.
100 percent.
Cudi is a GOAT. His melodies and his concepts—he's a timeless alien.
Going back to shoes, you mentioned that Adidas has always kind of partnered with distinctive people of color—whether it's Marvin Gaye or Bob Marley or Pusha-T. You recently said that Kanye himself and you are like the gatekeepers at Adidas. Do you feel like you all are the gatekeepers for such an iconic brand that's really been a part of our culture for a long time?
You know I kind of stay away from credit. I always feel funny taking credit.
Why's that?
For me, I feel like credit is to be given not to be taken. You know? If I take it, I kind of feel like I'm stealing.
I respect that. Jerry Lorenzo and Kanye West are getting to performance basketball sneakers. Do you feel like that's something that you want to be a part of with Adidas, in creating some type of basketball—
Oh yeah, we're working on it right now.
Really?
Any other details with basketball sneakers and Adidas?
I hate to talk about what you're gonna do. I just like to do it, you know? Give it a little retrospective, right? To me, I feel like that's the best way. But I like them because I feel like they empower us. They empower athletes but they now also empower artists. And at a certain point they will be inspiring and also empowering academics, as well.
The NBA has lifted its restrictions on sneakers. Are there any players in the league that you admire and would maybe want to work with and collab with when it comes to sneakers and Adidas?
There's two that I'm working on, but I can't let it out.
Okay, damn, okay. Any hints?
I can't. I'm excited though.
No hints whatsoever?
I'm excited. These are both phenomenal players.
What's next for Pharrell?
The agency is here and it's doing well. Filming TV is like crazy too. I'm not so good at rattling off all my things, you know? That's something I like to do with my wife, or I tell my mom and my dad. But in general conversation I just feel funny like, "Hey yo, I'm doing this, I'm doing that." Because I used to be that way.
Really?
Yeah, but there are so many really cool things. I will say this: There's a broad spectrum, like a plethora, actually, of cool shit coming. But I hate to give it away.
I have a theory on when all of that changed. How much did your kids impact your change where you're like, "Okay, I have a new perspective?" Because all my close homies back home have children and I saw an immediate change in them. I kinda sensed of how your career when and how you said, "Okay I have more empathy for others." Because you're bringing these little ones into the world.
Yeah.
So, how much did that change for you?
My family has a huge impression on me. I used to think that I was so mannish, but it actually does. My wife has a huge impression on me. My children have a huge impression on me. Because there's an energy you get from them. And that energy helps to shape your life and what is helping to shape your life essentially shapes your spirit, too. Therefore, anything you make is a byproduct of that collision of all those colors and all that joy and all that energy and all of that solar power. You know what I'm saying? It's informed my life. It's given so much color to aspects of my life that I didn't even realize were gray or black and white.
How does that boost your creativity when it comes to making music or making shoes?
All of that informs it. Your family is like a new operating system. It's kind of like being on a new OS and this one is amazing. No bugs.