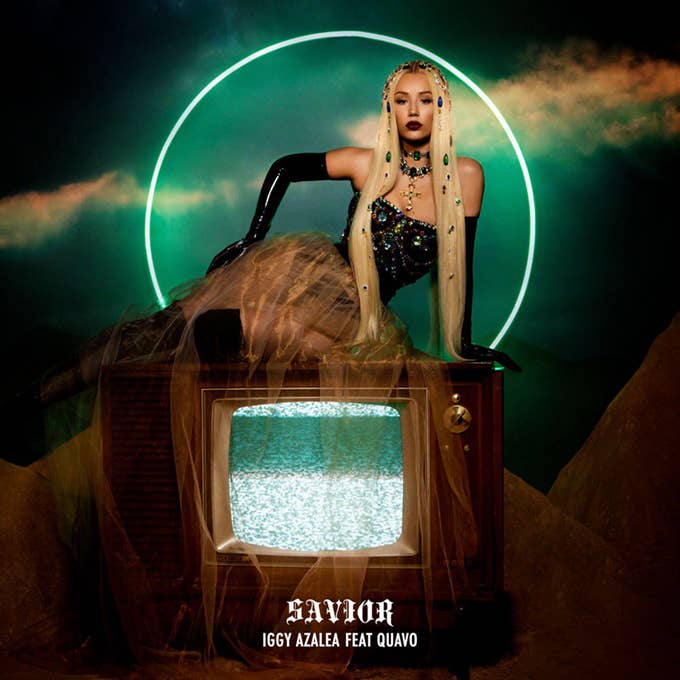 Back in December, a demo version of a new Iggy Azalea single called "Savior" surfaced online. At the time, the song featured a hook from Verse Simmonds, but tonight, the Australian rapper dropped an official version featuring Quavo.
The release of "Savior" is a long time coming for Iggy Azalea fans, as she first teased a brief snippet of the song playing in the background of a private jet 14 months ago. This week, she shared a longer clip of the track, complete with vibrant visuals that may give a glimpse at a future music video.
You can listen to the song now on iTunes and Apple Music or on Spotify below. 
On Thursday morning, Azalea shared a two minute clip on Twitter that gave more background on the song.
"It's about you being your own savior and finding you own strength within yourself to figure it the fuck out," she says in the video. "It's a really hard record for me to have written, and I think it's going to be one that I really struggle to perform, too. Just because I'll probably want to cry every single time."
Azalea stressed that fans shouldn't worry about a total change in direction from her, however. She explained, "Even though it's emotionally vulnerable and stripped back, I still am going to be a fancy diva and I'm still going to rhinestone my wig and I'm still going to bedazzle everything, so don't worry."
"Savior" is expected to land on her next album, Surviving the Summer, which was called Digital Distortion before a name change in November.