Gunna is a Gemini. As any astrology nerd will tell you, Geminis are known to have dual personalities, and apparently Gunna has been spending his time in quarantine thinking about his sign, because he named his new album after his second personality: Wunna.
This is one of many times the 26-year-old rapper has proven to be an expert at naming things. Let's start with Gunna, which is an incredible name for a rapper, one that makes you wonder how the hell it took someone this long to claim it. And, of course, he famously helped popularize the word "drip." Maybe these next-level naming skills run in his family. Did you know Gunna's parents named him Sergio Giavanni Kitchens? Incredible.
For a brief, regrettable moment, Gunna ruined the Wunna name by tweeting that it was an acronym for Wealthy Unapologetic Nigga Naturally Authentic. Thankfully, he backed off that claim in a follow-up interview with Billboard, in which he admitted, "Honestly, I was just high, bro. There's nothing I could do there and I was just trying to come up with something else." Thank God.
So, does the album live up to the incredible name? Did Gunna just drop his best project yet? After giving the 18-song project a few spins, we put together a list of takeaways and first impressions, which you can find below.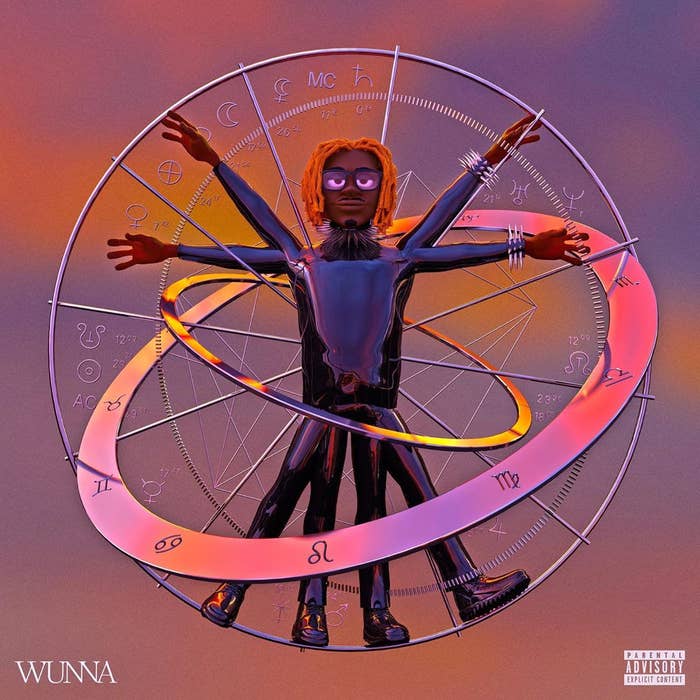 Don't judge it by the cover
Earlier this week, Gunna unveiled the cover artwork for Wunna, and it's… something. A computer-generated image of Gunna adopts the pose of the Vitruvian Man from Leonardo da Vinci's famous 1490 drawing. He looks like a Muppet. The cover feels like it was designed for the sole purpose of attracting the attention of meme accounts. It's goofy. But don't make the mistake of thinking Wunna is a half-serious project that'll make good fodder for internet jokes and nothing else. This is Gunna's most ambitious and fully-formed release to date. The production feels bigger and harder-hitting than past projects, the guests are A-list, and Gunna sounds more engaged. Don't judge a Gunna album by its cover. —Eric Skelton
"Dollaz On My Head" is a masterpiece
Gunna says he has "about 100 to 200" unreleased collaborations with Young Thug in the vault. And after listening to "Dollaz On My Head," I want to hear all of them right now. Some have criticized Gunna for sounding too similar to his mentor, but when these guys get on a song together and tap into the same energy, there might not be a more compatible duo in all of rap right now. Still riding high from 2019's "Hot," they have another hit on their hands with "Dollaz On My Head." Over intoxicating production from Mike Will Made-It and Myles Harris, Gunna and Thug spew out verses that aren't really about anything in particular. (Gunna even admitted, "I think the topic came from somebody saying they was going to put some money on my head or something like that; that was the whole topic.") But that doesn't really matter. There's a joyful spirit that carries the song, as Thug yelps about his "bestie" over and over, and Gunna delivers quotable one-liners about "gettin' it since [he was] a toddler." This is the musical version of that amazing paparazzi photo where Thug flashes a fistfull of cash with an exaggerated smile on his face and Gunna beams in the background. These guys are blissfully living in their own world, obsessing about over-the-top 'fits that may or may not actually be fashionable, and making intoxicating music that's earning them each heaps of cash. Incredible. —Eric Skelton
We learn more about Gunna from his music than his personality
There's very little to know about Gunna. Maybe he enjoys breeding mystery, maybe he's intensely private. Perhaps he simply doesn't give a shit. Regardless, there's very little to know about the rapper through Instagram live streams, videos, and interviews. He treats the live sessions like he's in a music video, flexing with cash, showing off jewelry, and just dead-eyed staring into the camera. It's strange, then, that he's a very evocative and personal rapper. We know more about him through his raps than through any sort of social presence, which is exceedingly rare in this era. Gunna's entire aesthetic is as an MC. He doesn't offer any glimpses outside of that life. It could be dedication to the craft, or Gunna could just be a pretty dry dude who happens to be a world-class rapper. Either way, rapping still matters more than personality, which is affirming in our digital age. —Will Schube
Gunna was made for the streaming era
Twenty years ago, there were radio hits—songs that translated better to the radio format than others. Now, there are streaming hits—inoffensive, watery music that can easily transitions from one song to the next without anyone really noticing. These songs are perfect for a streaming platform like Spotify, whose biggest mission is to keep offering up songs that can play in the background without users having to get up and press "stop" or "next." Gunna joins other artists like Post Malone and Travis Scott, who make music that's perfectly suited for this streaming environment. His music sets a mood that stays steady from one song to the next, blurring genre lines (and occasionally ignoring pronunciation rules altogether). He prioritizes flow over everything, and Wunna is no exception. If you press play on this and don't actively watch the progression of the tracklist, you'll lose orientation as Gunna floats effortless between songs. These tracks might not smack you over the head and demand your full attention, but you won't skip past them when they pop up on a New Music Friday playlist, either. —Eric Skelton
Wheezy shines
Gunna and Weezy make a great pair on Wunna. Wheezy produced eight of the tracks on the album, including "Blindfold," "Argentina," and "Gimmick." He has some of the strongest beats on here, which seems to be a result of developing an understanding of Gunna's sound while working on 2019's Drip or Drown 2. In addition to his famous "Wheezy outta here" tag, the producer's beats are immediately recognizable due to his use of scattered snares and hi-hats layered over vintage sounds. Wheezy is having a great run right now. Beyond Wunna, the producer has also earned credits on some of the biggest albums of the year, including Lil Uzi Vert's Eternal Atake, Lil Baby's My Turn, Future's High Off Life, and NAV's Good Intentions.—Jessica McKinney
Nechie makes the most of the moment
It's no surprise that Gunna recruited his YSL fam to hop on the album, but one artist from the roster that may be new to some listeners is Nechie. The newcomer appears on "ADDYS," and delivers a lethal verse. So who is he? In a recent breakdown of his album for Highsnobiety, Gunna revealed that Nechie is one of his longest childhood friends: "We grew up together. I've known him for like 25 years." He also commented on their new collaboration, saying, "that song's special to me because he on it. We're building right now. I feel like it's just the beginning. We got more to come." Nechie also dropped a seven-track project, SSN: Southside Nechi The Introduction, which features another collab with Gunna called "Pray to the Lord." The rapper also appeared on YSL's 2018 compilation album, Slime Language. —Jessica McKinney
The rise of Gunna and Lil Baby continues
Gunna and Lil Baby are best friends—brothers who hustled, struggled, and eventually rose to monumental success together. The two emerged as world-class Thugger disciples with Drip Harder, showcasing a uniquely psychic ability in their duets. But, because they came up together, they also get compared to each other. After Lil Baby made serious waves with his 2020 release, My Turn, the focus turned to Gunna, who had been relatively quiet since his stellar Drip or Drown 2. With Baby's success, Gunna had to involve himself in a little bit of playful competition between brothers. Just a few months after Lil Baby's best and highest-charting album to date, Gunna returns to make sure his BFF doesn't keep the spotlight entirely for himself. The result is a summer in which the landscape is once again dominated by Gunna and Baby. Even though they're going about their careers with separate releases, the duo will always be inextricably linked. —Will Schube
This feels like Gunna's first event album as a major star 
Every rising star in the rap game gets at least one shot at an event album. It's a big deal. The internet buzzes in anticipation for its release, the guestlist is full of other up-and-comers and a few generous superstars. Wunna is Gunna's first event album as an A-list rapper. Drip or Drown 2 was the dress rehearsal. It featured Playboi Carti, Lil Baby, and Thugger, but it was mostly Gunna's show. He proved that he could handle the burden as a solo artist, so his label flung more resources, more marketing, more studio time his way for Wunna. The result is Gunna's defining work to date. The MC has confidence and swagger but it's earned, not braggadocious. Part of being a star is knowing that you're a star, and throughout Wunna, Gunna proves that he's deserving of his flowers. This album has a few features, too, but it's far less guest-heavy than the traditional event album release. That's because, despite his associations, Gunna is surprisingly far from a traditional rapper. —Will Schube
Roddy Ricch is on fire
Roddy Ricch is unstoppable right now. After releasing his acclaimed debut album, Please Excuse Me for Being Antisocial, in 2019, he has shown up on some of the hottest tracks and albums of 2020. On Wunna, he appears on "Cooler Than a Bitch," one of the album's best songs. It'll likely be a streaming monster. Roddy's style is very melodic, positioning himself as a Compton rapper who has adopted Atlanta's smooth trap sound—making him a perfect collaborator for Gunna. Now they just need to fix the misspelling of Roddy's name on Spotify and Apple Music. —Jessica McKinney
He accomplished his goals
Gunna had a couple main goals he wanted to accomplish with Wunna. First, as he told Highsnobiety, "I want people to understand that I'm a real artist." He elaborated that he wants fans to know he can take his time on an album and create an all-encompassing world around it. Second, as he told Rolling Stone, "I hope they understand that I'mma be here for a while, so get used to me." We're less than 24 hours removed from the release of Wunna, but so far anyway, it feels like he accomplished both goals. Even though Young Thug appears on two of these songs and Lil Baby on another, he's proven himself as an artist who can stand on his own, outside of his YSL associations. Through the documentaries, artwork, and interviews that have been rolled out in tandem with the album's release, he's showing us he can be a star in his own right. You can tell he slowed down a little and put his energy into making it feel like a bigger event than past releases. By playing with a few harder-hitting beats than he's used to rapping over, he's showing new sides of himself. He's growing. He's going to be hear for a while. —Eric Skelton