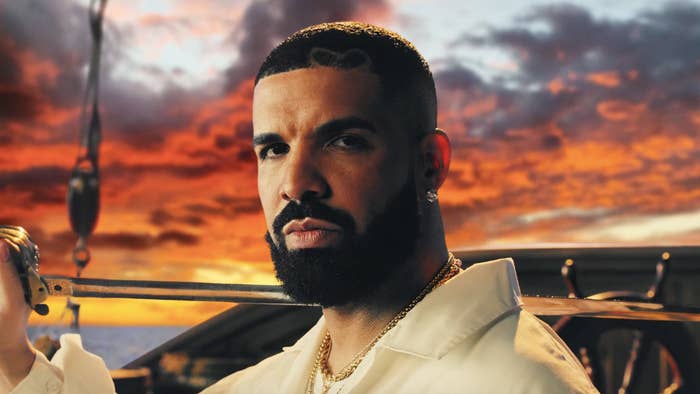 What a week it's been. Just five days after Kanye West released Donda, Drake came through with his sixth studio album Certified Lover Boy.
In the editor's notes on Apple Music, Drake describes the project as "a combination of toxic masculinity and acceptance of truth which is inevitably heartbreaking." And a quick look at the tracklist, which includes song titles like "Fucking Fans," "Champaign Poetry," and "The Remorse," shows it's exactly that.

The 21-song album features guest verses from an impressive collection of co-stars, including Jay-Z, Lil Wayne, Lil Baby, Travis Scott, Young Thug, 21 Savage, and Kid Cudi. Following his double album Scorpion, Drake goes long once again, delivering a project that clocks in at an hour and 26 minutes.
So how are we feeling about it after an initial few spins? What's the best song? Biggest skip? Best and worst things about the album? Members of the Complex Music team (Eric Skelton, Andre Gee, and Jessica McKinney) came together to share some thoughts and first impressions.
Eric: The three-song stretch from "No Friends in the Industry" to "Knife Talk" to "7am On Bridle Path." The energy on "No Friends" is exactly what I want to hear from Drake at this point in his career. The man is on top of the world, and he actually sounds like it here, talking shit over a charged-up beat. That confidence spills over into the menacing "Knife Talk" with 21 Savage, before Drake really gets down to business and lays it all out there (with some not-so-subtle shots at Kanye) on "7am on Bridle Path." He sounds more inspired during this stretch than anywhere else on the album.
Andre: My favorite Drake is him just going in, so I'll say "7am on Bridle Path." He has sharp lyricism, sounds eager to rap, and is witty and honest. He reflects how he felt about Kanye's madness without taking it left, so I appreciate that, too.
Jessica: "Fair Trade" is a highlight for me. It shows Drake's range—he's rapping, but also shifts in and out of singing on the hooks. Lyrically, it's on-brand for Drake, as he raps about his paranoia, being single, and the price of fame. Then Travis delivers a nice feature on the second part of the song. As the tempo speeds up, Trav gets a chance to bring his raging spirit to the track. "Fair Trade" doesn't quite have the same effect of their 2019 collaboration "Sicko Mode," but it is still a top-tier collaboration that will end up on a lot of playlists.
Eric: "Girls Want Girls." Lil Baby doesn't deserve to be stuck on a song that opens with cringey lines like "say that you a lesbian, girl, me too" and "starin' at your dress 'cause it's see-through." These guys have had a lot of great collaborations over the last few years, but this one fell short. I don't think I'll be returning to "Race My Mind" much, either. I know this is an album called Certified Lover Boy, but those harps are way too much.
Andre: "TSU." Don't be out here giving R. Kelly publishing money. 

Jessica: "Way 2 Sexy." I know Drake just dropped the music video, and it's being treated like a single, but I hate everything about it. "Way 2 Sexy" is intentionally corny and sleazy. Sometimes that works for Drake, and those songs (and videos) go viral on social media, but I think he went a little too far this time. It comes off too gimmicky. It's almost like a joke that went on too long, so eventually everyone just agreed to throw it on the album. Drake and Future could have been way more productive with their studio time. 
Eric: This album has flaws, but don't get it twisted: Drake's skills are still sharp and his range on CLB is ridiculous. After listening to him for over a decade, a lot of us take for granted that he can pull off top-tier R&B records, high-energy club songs, and introspective rap cuts on the same album—and do it all at a high level. Honestly, he didn't need all these features on CLB, because he can still do it all himself if he wants to.
Andre: The second half of the album is where it picks up. If he had dropped a 13-track project starting from "7 Am On Bridle Path," plus a couple of the earlier tracks, it would have made for a stronger straight-through listen. CLB picks up after "7 Am…" Even the R&B tracks have a little more energy and vitality to them than the songs in the first half. "Race My Mind" is essentially the same content as some of the earlier toxic chronicles, but it feels brighter, and the Rick James "Give It To Me Baby" interpolation is fire. 

Jessica: We get a mix of the different facets of Drake on CLB. He has made an effort to showcase his different sides and styles on past albums like Scorpion, but he did a better job of balancing it all on this project. He also tried to incorporate both of his sides on each song, instead of dedicating one half of the album to rapping and the other half to singing. There's a good mix of bars, Instagram captions, and singing.
Eric: CLB is suffering from a bit of an identity crisis. It feels like Drake is attempting to channel the energy of his Take Care era and trying to make brutally honest records about life and relationships, but a lot of things about his life have changed since then, and it doesn't feel as natural as it used to. When he opened the album by talking about his cleaning staff plotting to extort him and his personal chef's "recipe for disaster," it was clear this album wasn't going to be as relatable as he'd hoped. Drake is one of the most dominant artists on the planet, and his paranoias are different now. That's fine (growth is a good thing!) but I wish he leaned into it more. At this point in his career, he sounds a lot more believable on triumphant records where he gets to talk shit about living a ridiculously over-the-top life than he does feigning vulnerability. I was hoping he would embrace that evolution more on CLB. And while we're talking about missed opportunities, it's got to be said (again): women rappers need more guest features on these big albums (there are none on CLB).
Andre: This album is immature. I experienced an inverse dynamic of American Gangster here. I remember in '07, the buzz around American Gangster was that Jay was inspired by the Frank Lucas movie, and the prompt of mirroring the drug saga just so happened to take him back to the block lyrically. In reality, though, the album was an opportunity for Jay to satisfy his core fans after a polarizing reaction to Kingdom Come. But it worked for him, as it's a great album.
With CLB, I can see a lot of his fans retorting criticisms of the project's overtread themes and misogyny with "he said it's about toxic masculinity, it's called Certified Lover Boy." Sure, OK. But for me, that's not enough to ignore that this is a 35-year-old father still rhyming about what sounds like college situationships. And he sounds despondent about it on too many tracks, which makes one wonder why he's still living like this. And again, I get it: "That's the point of the album." But the point of this post here is for us to speak on how we felt after listening. And I feel like I'm tired of hearing about Drake's toxic "love" cycles and listening to him putting down women for being as "in the streets" as he is. 
CLB is quintessential Drake, like American Gangster is quintessential Jay-Z. Both projects are/were fan service cloaked as conceptual offerings, but they worked to different effects for me. While Jay used a concept to step back into his zone, Drake is using his concept as a crutch to throw off the reality that his content has become redundant.

Jessica: Rap has a problem with album lengths. This is yet another album with more than 20 tracks, and although there are many highlights, it's just too long. The sweet spot for CLB would have been around the 15 or 16 track range, similar to Nothing Was the Same. Drake has said that he tries to appease his fans by showing all sides of his artistry on each album, but he would have been just as effective if he had shaved off five or six songs.
Eric: After Drake promised CLB would be released before the end of summer, I expected it would sound like more of a "summer album" than this. A common narrative (before the Delta variant) was that major artists would finally release their big club records this summer as everything re-opened, and I expected more upbeat songs and obvious hits on first listen. This is Drake we're talking about, so everything is going to put up huge numbers (and there's nothing wrong with staying away from big pop records) but the relatively moody, laid-back energy of the album surprised me.
Andre: It's not a surprise per se, but Yebba's interlude was a pleasant introduction for me. Now I'm curious to hear more of her stuff. It's a surprise that she has her own moment on the album, because I figured she would have been a feature, but Drake has a history of giving artists the iso on his albums. 

Jessica: The assumption going into CLB was that it was a "baby-making" album or that it would lean more towards Drake's R&B side. So I'm pretty surprised that he didn't include more R&B features on the record. There's Yebba and Tems, sure, but Drake had an opportunity to use other artists like Summer Walker, Jorja Smith, or even Alicia Keys, who appeared on Thank Me Later. The lack of R&B singers doesn't necessarily take away from the album for me, but it could have strengthened some of the more sensual tracks on it. 
Eric: Lil Wayne on "You Only Live Twice." We keep talking about how dominant his guest feature run has been this year and he continues one-upping himself. I'm so ready for a new Wayne album.
Andre: This is difficult. It's either Ross or Wayne on "You Only Live Twice." This was a bright spot on the album. I'll say Ross because Wayne's verse started off a little slow and clunky to me, but he turned way up in the second half. Ross' verse has me even more excited to hear his next project—he sounded invigorated. 
Jessica: Lil Baby continues his winning streak on "Girls Want Girls," where we hear a different side of him. He's stepping into Drake's playing field as he appeals to women listeners with more sexually-charged lyrics. You don't necessarily think of Lil Baby as the ideal collaborator for a slower, R&B-leaning track, but he pulled it off. 
Eric: It's been three years since Drake dropped his last studio album, so I hoped he would use that time to rethink some of the issues that plagued Scorpion, More Life, and Views, and drop a more focused album that would go down as an undeniable classic. But maybe my expectations were too high. During his last Rap Radar interview, Drake admitted that Scorpion suffered a little by being such a "high-volume album" and said, "When you deliver your vision in a concise fashion, it really gets the point across a lot more than having moments for people to drift." Unfortunately, CLB suffers from a similar lack of editing. There are stretches of this album that meander and lose focus, featuring some head-scratching lyrics (mentioned above) that Drake may have gotten away with a decade ago but end up feeling forced today. On first listen anyway, it also lacks the amount of obvious hits that we've come to expect from Drake albums. CLB isn't a bad project, and I'm sure a lot of these songs will grow on me with more listens, but if you press play on this album hoping it'll live up to the heights of his catalog, you'll be disappointed.
Andre: This could have been in the "worst thing" column, but that blurb was running long, and I have to say it: If the album is about toxic relationships, it would've been cool to hear at least one woman rapper get her shit off and mirror the "the strings'll be unattached, Certified Lover Boy, I'm not the one for cuddling or none of that" energy.
This is a touchy situation, because you don't want to tell someone what to do with their music. But at the same time, you can't help but notice the end results on another album with a slew of male rap features. It wouldn't have been a reach to include a woman rapper on here. Part of destigmatizing women in rap is not acting like they're just off in their own world that's not the overall rap world. I know some of Drake's fans have been upset about this observation on social for some reason, but it had to be said, especially after he made a big fuss with the billboard feature announcements. We see who's at the party and who wasn't invited. 
Overall, though, this is a solid album. It's what you would expect from Drake, which feels a little disappointing to say about a veteran act who talks incessantly about how he's the best. It's nice to feel like the most highly regarded and covered artist is a bar to aspire for creatively. But it doesn't feel that way with this album.
There are moments on the project where he talks about therapy, parenthood, and takes stock of how broken relationships inform how he deals with women in adulthood. I would've liked to see more mature reflections on his perceptions of manhood, women, and love (of all kinds) than more nihilism and "you not Ayesha enough" hypocrisy. I feel like he's still being completely honest in his music, which just means the lyrics are a reflection of where he is in life, and maybe he's not there yet to be as thoughtful about love as he has been about his career path and purpose. 
As boundary-pushing as he has been as an artist, he's just another man not above taking advantage of gendered power dynamics and reinforcing them for millions of stans who can't wait to caption his lyrics. It just feels like, for as tired as he seems about living through these stairway to nowhere situationships, I'm tired of hearing them. Someone give Drake All About Love. 
Jessica: It's not perfect, but I think Certified Lover Boy is a strong album. Even with all the delays, the album shaped up to be one of Drake's better projects. He's rapping when he needs to, there's an appropriate amount of singing, and there are Instagram captions and one-liners for days. The features, particularly Lil Baby, Travis Scott, Lil Durk, Lil Wayne, and 21 Savage, were some of his best collaborations, and the production was sharp. While the album started off really strong, though, it kind of trails off in the second half, which could be due to its length. CLB runs for about an hour and a half, which is just way too long. But we did get a handful of solid tracks that will likely stay on repeat, so not all is lost. After more than a year of waiting, this album release could have gone a bunch of different ways, but thankfully it ended up heading in the right direction.