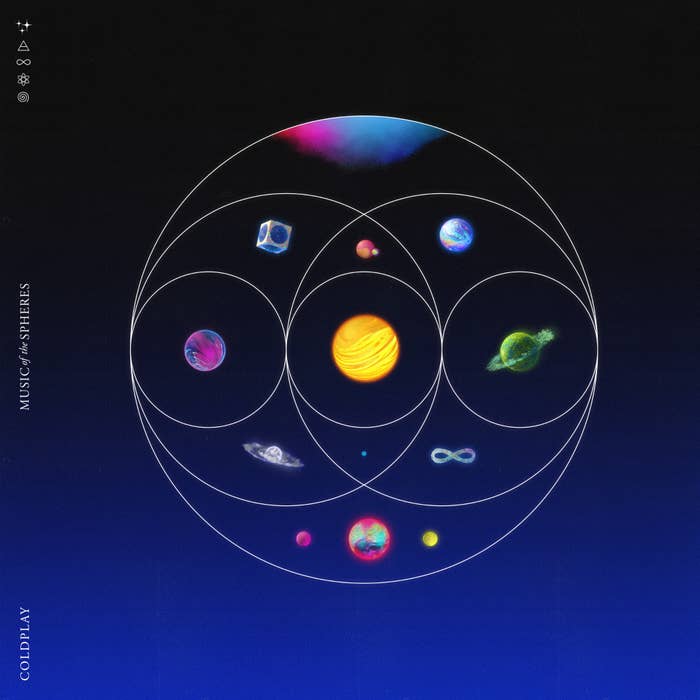 Coldplay offers up their ninth studio album, Music of the Spheres, which finds the veteran British pop rock band working with the likes of Selena Gomez, Jacob Collier, and We Are King.
The project also includes "My Universe"—a collaboration with BTS—which debuted at No. 1 on the Billboard Hot 100 earlier this month. The record counts as Coldplay's second to top the Hot 100 chart, their first being "Viva la Vida" in 2008 off Viva la Vida or Death and All His Friends.
"The message got to me, 'Oh, BTS were wondering if you might have a song for them,'" Coldplay frontman Chris Martin told Entertainment Weekly of how the collaboration came about. "The little indie side of me was like, 'No [working with] boy bands.' And then I was like, 'Yeah, but that's 1998 you speaking. Like, you really like this band. The K-pop thing is very different to what we're used to, and it's quite regimented. But within that, these seven boys are really friends and really a band just like we're a band. It's no different."
Next January, Coldplay is scheduled to perform at the fifth annual iHeartRadio ALTer EGO, which will take place in Los Angeles at the Forum and include additional performances from Imagine Dragons, Willow, Kings of Leon, and All Time Low. Tickets for the Jan. 15 event will be available for pre-sale for Capital One cardholders on Oct. 18, while general public tickets go on sale Oct. 22. Go here for more information.
The band will also be hitting the road for their world tour next March, which will run through September and include stops in Los Angeles, Paris, Atlanta, and London. You can visit their official website for ticket info.
Stream Coldplay's latest project Music of the Spheres below.