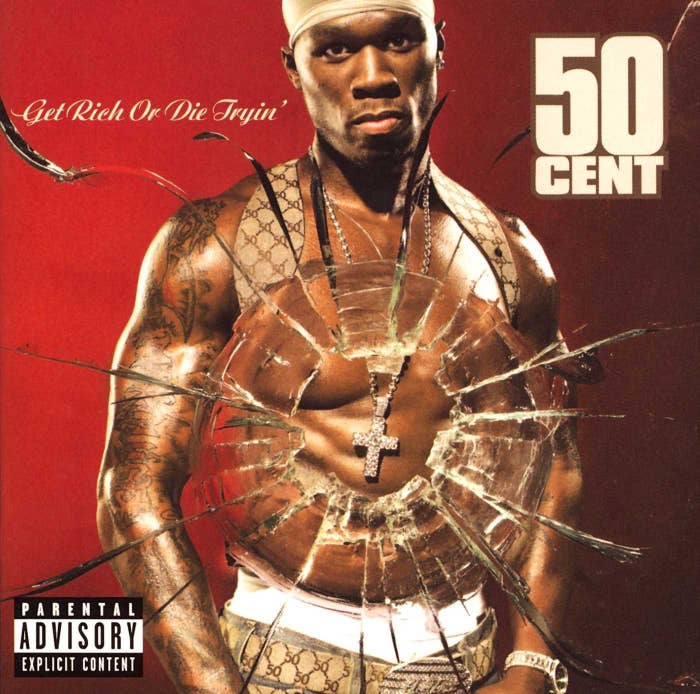 Exactly 15 years ago today—on February 6th, 2003—approximately 400,000 people made their way to a record shop (Apple's iTunes Store wouldn't open its digital doors for another two months) and laid down their hard-earned ducats for 50 Cent's major label debut, Get Rich or Die Tryin'.
By the end of that week, the Jamaica, Queens native would move over 872,000 units, entering at the top of the Billboard Albums chart. By the end of 2003, the RIAA reported six million sales of the album that earned five Grammy nominations, including Best New Artist and Best Rap Album. It was kind of like a big deal.
This was due in large part to the fact that 50 Cent himself had become a huge deal. Nearly a decade after the deaths of two of hip-hop's biggest and best, 50 was presented as a hybrid of Biggie and Pac. Like the Notorious one, he started selling drugs at a young age on the streets of NYC. He took to rapping, seeing it as a way to turn his misery into monetary gain. The late, great Jam Master Jay taught him how to count bars, craft choruses, and make a song.
HIS STORY WAS MYTHICAL AND MARKETABLE, AND IT USHERED IN A NEW HYPER-GANGSTER ERA OF RAP, WHERE JUST TALKING ABOUT PAST WARS WASN'T ENOUGH. YOU HAD TO HAVE THE BATTLE SCARS To PROVE IT.
Like Tupac Amaru, 50 had no qualms about saying exactly what was on his mind, regardless of who it might offend. An early hit was the beef-baiting "How to Rob" which, as the title suggests, had 50 detailing how he would relieve famous rappers—Jay-Z, DMX, Puffy, and others—of their belongings. Also like Pac, he was marked for death.
In 2000, as he sat in the back seat of a car in front of his grandmother's house, he was shot nine times at close range. His story was mythical and marketable, and it ushered in a new hyper-gangster era of rap, where just talking about past wars wasn't enough. You had to have the battle scars to prove it. As Jimmy told Nucky in the second season of Boardwalk Empire, it was no longer enough to be a "halfway gangster."
The rest of the legend is well known: Soon after his witty and brazen independent album Guess Who's Back? fell into Eminem's hands, Fif was signed to a $1 million deal with Shady/Aftermath. This process of making yourself hot in the streets with self-produced mixtapes that led to major label deals would quickly become the blueprint for all new rappers to follow.
Get Rich or Die Tryin' was the perfect storm. Like many other rap classics, it was created in a blur—seven songs of the end product were created in just five days. Dr. Dre, at the height of his powers, produced four songs, Eminem contributed two, and the rest of the songs were handled by a variety of relatively known, highly effective beatsmiths. The impeccable production served as the perfect backdrop for 50's harrowing hood tales. Like 50's flow, the production was region-less. There was no boom-bap or carefully chopped soul samples put on a dusty loop.
It sounded like no other New York rap album—or any other rap album for that matter. When 50 calmly says, "God's on your side? Shit, I'm a-ight with that, 'cause we gon' reload them clips and come right back," on "Heat," before matter-of-factly adding, "Don't think you safe 'cause you moved out the hood, 'cause your momma's still around, dog, and that ain't good," the gunshot snares and funeral-service organs, make it all seem like a movie. Only it wasn't.
The most remarkable thing about Get Rich was the light 50 shined on himself and his hood. He wasn't rapping from the viewpoint of an observer; he was the protagonist of each tale. His rhymes, drenched in anger and anguish, were ones that dudes still clawing their way out of the gutter could relate to. Just as he had years earlier on "Ghetto Quran," 50 gave the listeners access to a world most people only read about or saw on the nightly news.
If "Many Men (Wish Death)" had been made by any other rapper, the words, "Homo shot me, three weeks later he got shot down / Now it's clear I'm here for a real reason, 'cause he got hit like I got hit, but he ain't fucking breathing," would be taken as nothing more than clever storytelling. But on Get Rich, everything was taken at face value. 50's currency was realness, and he had it by the boatload. 
WHEN ICE CUBE AND LUDACRIS TOOK OPRAH TO TASK FOR NOT SUPPORTING HIP HOP, THE TALK SHOW QUEEN CALLED UP POWER 105.1 TO CLEAR THE AIR, SAYING THAT SHE OCCASIONALLY LISTENED TO 'IN DA CLUB' ON HER IPOD.
But there was another side to 50 Cent. A side that that fully understood the mechanics of selling records. 50 wasn't as unhinged as DMX. He was incredibly focused and measured in his savagery, making him sound rawer than Jay-Z or Nas, something more akin to Kool G Rap. Even with his unapologetic lyrics, the songs were tailor-made for radio with sticky choruses and polished production.
The album's breakout Dr. Dre-produced single, "In Da Club," was a juggernaut of a record that stayed at the top of the Billboard charts for nine weeks. It transcended rap and became a pop staple. When Ice Cube and Ludacris claimed Oprah didn't support hip hop, the billionaire multi-hyphenate called up Power 105.1 to clear the air, saying that she occasionally listened to "In Da Club" on her iPod.
Even after ridiculing Ja Rule for his thug-love music, 50 wasn't above dabbling in love and hip-hop himself with the album's third single, the Nate Dogg-assisted "21 Questions." It was as if Fif did these songs just to show that he could; to show that he could do anything he pleased.
Music, like all things, is cyclical. Trends and tastes ebb and flow. But certain records stand out as landmarks. Get Rich or Die Tryin' marked the end of slick, flashy ladies-man rappers and cleared a space for new voices like Young Jeezy who, like many others before him, saw rapping as a way to turn their misery into monetary gain. But what was once novel eventually becomes commonplace. Looking to replicate 50's success, copycat killers began popping up, pushing unbelievable stories in an attempt to out-gangster one another. After 50's debut, crack rap hit a wall. It was a time for a change, which Kanye and Young Money would soon provide. But for that moment 15 years ago, before blogs became tastemakers and the streets made hits, 50 Cent was the only thing that mattered.