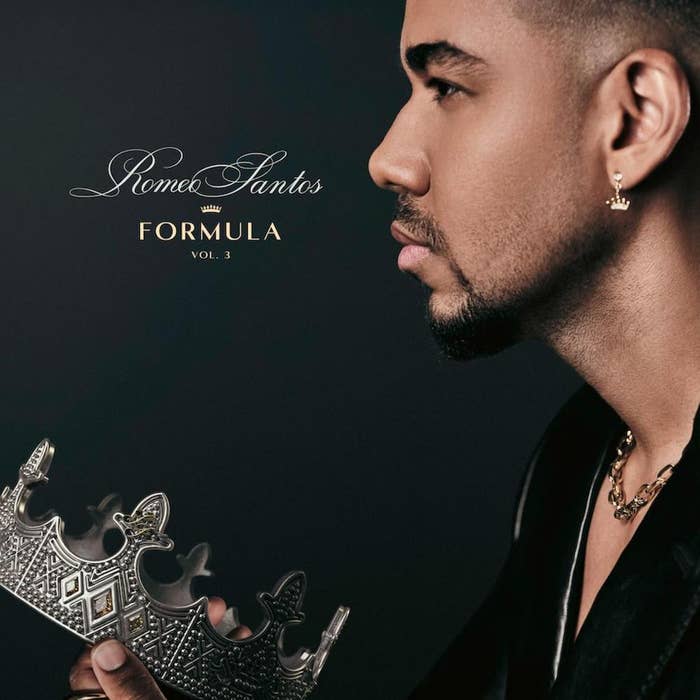 UPDATED 5/23/23, 3:15 p.m. ET: Romeo Santos has announced 22 additional dates for his Formula Vol. 3 Tour. 
Tickets for the new dates will go on sale to the general public beginning Friday, May 19 at 10 a.m. Pre-sale starts on Tuesday, May 16 at 10 a.m. Head here to purchase.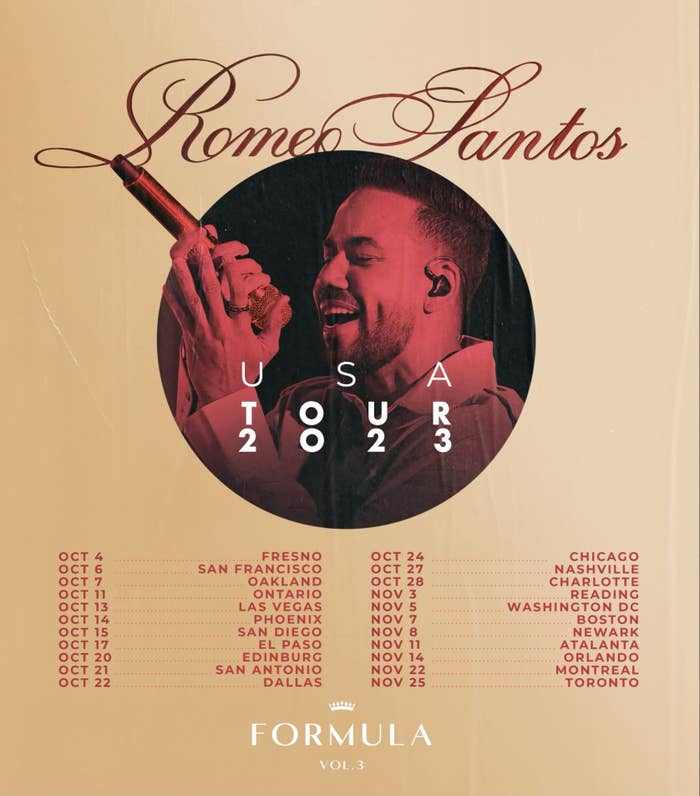 UPDATED 2/14/23, 5:28 p.m. ET: Romeo Santos has announced that his Formula Vol. 3 Tour will be stopping at locations throughout the United States in the summer. 
You'll be able to catch the King of Bachata at stadiums in Southern California, New York, Miami, and Houston. Take a look at dates and locations below and head here to secure tickets.
Formula Vol. 3 – Tour Summer 2023 U.S.A. Stadium Tour Dates:
June 3rd, 2023 – SoFi Stadium (Inglewood, CA) – Tickets at Ticketmaster.com
June 9th, 2023 – Citi Field (Flushing, NY) – Tickets at Ticketmaster.com
June 16th, 2023 – Loan Depot Park (Miami, FL)- Tickets atTicketmaster.com
June 24th, 2023 – Minute Maid Park (Houston, TX) – Tickets at Tickets.com
Formula Vol. 3 – Tour Europe & South America 2023 Tour Dates:
February 10th, 11th, 12th & 14th – Lima, Peru
February 24th – Guayaquil, Ecuador
February 25th – Quito, Ecuador
March 4th – Cali, Colombia
March 7th & 8th – Bogota, Colombia
March 21st, 22nd, 23rd, 24th, 25th, 26th, 28th & 29th – Santiago, Chile
April 12th – San Salvador, El Salvador
April 14th – Guatemala City, Guatemala
April 19th – Asuncion, Paraguay
April 22nd – Buenos Aires, Argentina
May 6th – Tegucigalpa, Honduras
May 11th – Panama City, Panama
July 6th, 7th, 8th & 9th – Madrid, Spain
See original story below.
Romeo Santos has shared his latest album, Fórmula Vol. 3 via Sony Latin, featuring Justin Timberlake, Rosalía, Kat Williams, and more.
Vol. 3 boasts 21 tracks with Timberlake featured on "Sin Fin" and Rosalía on "El Pañuelo." "Sin Fin" has gotten the video treatment directed by Emil Nava, which features both Santos and Timberlake together in Los Angeles performing the pop-bachata song. This year, the album's lead single, "Sus Huellas" also debuted at No. 1 on Billboard's Latin Airplay chart.

Vol. 3 is the third installation in the bachata singer's Fórmula series, with Vol. 1 arriving in 2011 and Vol. 2 in 2014. 
Santos will also be participating in Billboard Latin Music Week 2022 that goes from Sept. 26 to Oct. 1 at the Faena Forum in Miami.
Stream Fórmula Vol. 3 below.