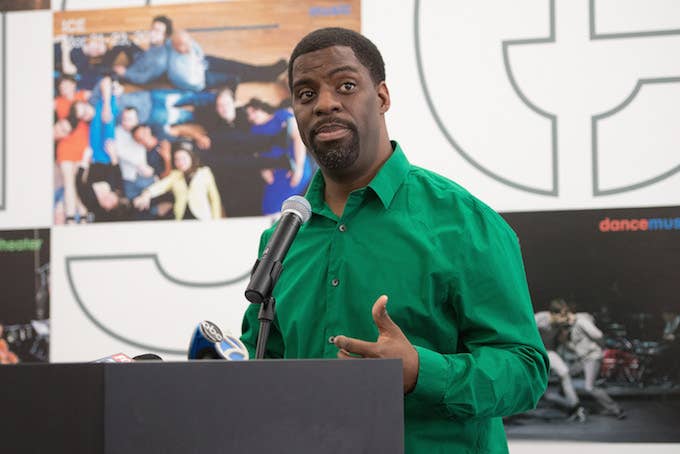 Rhymefest is also calling out Kanye West. On Saturday morning, the Donda's House co-founder tweeted, "I'm asking @Drake to help the part of Chicago Kanye has Abandoned! Please contact @DondasHouse."
Rhymefest then tweeted directly at Drake, writing, "when G.O.O.D. Music sends the money they owe you, will you please help us rebuild Kanye's mothers house for the youth of Chicago. I spoke to Kanye about it. His response was 'fuck the youth of Chicago.'"
Since DAYTONA's release, the internet mainly talked about Pusha-T's diss record "Infrared" and Drake's scalding hot "Duppy Freestyle," where he fires shots at both Push and Kanye. Push then told Drake to invoice him, with the latter posting that paperwork requesting $100,000 for "promotional assistance and career reviving." Rhymefest apparently wants some of that owed money for charity.
While we cannot and do not speak for Kanye West and his views, we can and will speak up for the youth that we serve. We ask that those who feel hurt, angered by or frustrated with Kanye West not penalize or throw away their support, respect and advocacy for us.
Kanye started Donda's House as a charity aimed at providing resources and education in the arts, culture, and entertainment industries for Chicago's youth. The organization is named after his late mother, Donda West. In 2015, 'Ye made the biggest contribution in the organization's history when he donated $133,000, with a portion of that coming from the proceeds of his Louis Vuitton Foundation shows in Paris that year.
Following the donation, Donda's House released a statement, thanking Kanye for his kindness. "This is a great honor and a true tribute to his mother's legacy, who did so much for young artists," Rhymefest said of the donation. Rhymefest also stated that the foundation had been able to help the lives of 160 young Chicagoans before Kanye's record donation.
The following year, in 2016, Rhymefest announced via Instagram that he was turning Kanye's childhood home into a community arts incubator for Donda's House. "It will be the first of our Nationwide Lite-Houses," he wrote. "A state of the art recording studio, a curriculum space for @dondashouse and southside music museum. We want to show bright spots in communities that've been divested from, we know more Lights exist here, they just need to be activated."
However, it seems at some point that Kanye and Donda's House grew apart. Kanye has yet to respond to Rhymefest's tweet, but Donda's House released a statement saying that his recent controversies—which include his Trump praise and slavery "sounds like a choice" comments—don't reflect their mission.
In another tweet replying to another user, Rhymefest does at least contend that "DONDAS house is doing well bro" and that he's "speaking about growth."