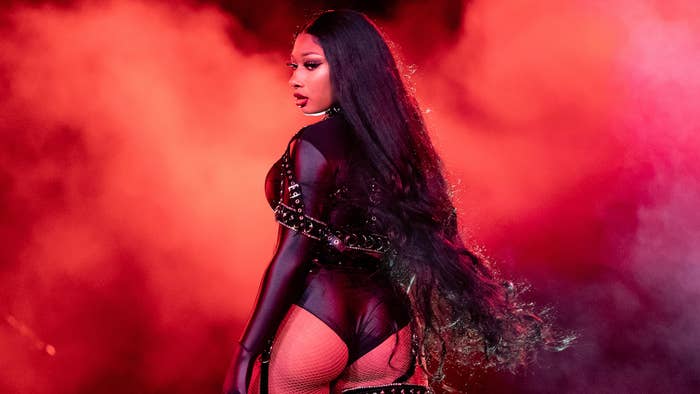 COVID-19 is once against making the rounds in the music world. iHeartRadio's last Jingle Ball show, which was slated for Sunday night in Miami, has been canceled due to the pandemic.
Y100 Miami made the announcement Sunday morning. "Due to the increased transmission of the new Covid-19 variant and to further minimize any potential risks, as a precautionary measure and for the safety of our staff, talent and guests, we have made the decision to cancel tonight's iHeartRadio Y100 Jingle Ball," iHeart said in a statement.
The concert was set to feature Doja Cat, Megan Thee Stallion, Black Eyed Peas, AJR, Saweetie, Tate McRae, Monsta X, Bazzi, Anitta, and Dixie D'Amelio. However, in recent days, Doja, Meg, and the Jonases all pulled out because they or someone in their crew had tested positive for the virus. Doja later revealed that she's also sick.
Meg took to Twitter on Dec. 16 to let her fans know she wasn't performing at the Atlanta show. "We learned a few members on my team have been exposed to COVID. While I tested negative today, I'm not feeling well, and as a safety precaution, I won't be able to perform at Jingle Ball in Atlanta. I'm extremely disappointed to let my hotties down. Hoping to feel better tomorrow."
The Jonas Brother also told their fans that they weren't going to appear in Atlanta via their Instagram story, writing, "We are extremely disappointed that we can't be there with our fans in Atlanta."
Lil Nas X and Coldplay previously dropped out of the U.K.'s Capital FM's Jingle Bell Ball UK after respective members of their crews tested positive earlier this month, with Nas X later sharing he also tested positive.