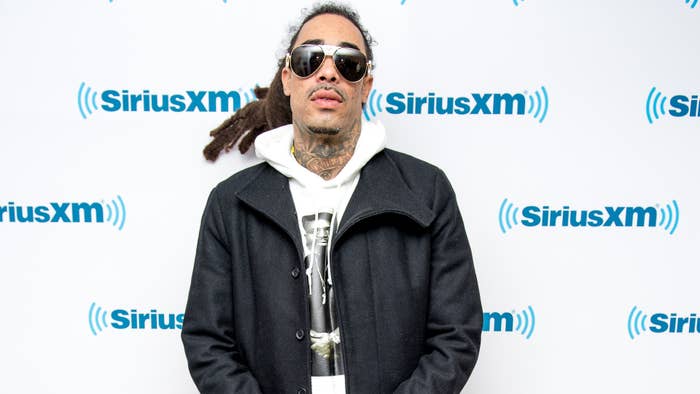 Gunplay's wife has shared an update about her divorce process after the rapper was arrested for pointing an AK-47 at her and their child.
Vonshae Taylor-Morales took to Instagram Live on Saturday to reveal that she won't be able to file for divorce from the rapper "without his permission" due to Florida laws.
"I filed for divorce. He would not sign divorce papers. So, I'm stuck," she said in a clip. "Unfortunately in the state of Florida, I cannot divorce him without his permission. Unless he goes to jail, convicted, or he's a mental institution patient."
"I love him. That's my best friend," she continued "But, unfortunately, sometimes you have to let the person you love go so he can find himself. And I want him to find himself and to get help. We do have a child together so it is what it is."
"I'm not an evil bitch. We're not fighting," she explained. "We all know he has issues. He needs help. He's going to get the help he needs. And we will co-parent. That's all we want to do."
In late August, Gunplay was arrested on charges of aggravated battery with a deadly weapon, false imprisonment, and abuse of a child with no great bodily harm. He was being held at Miami's Turner Guilford Knight Correctional Center with a $20,000 bond.
Police arrived after he allegedly pointed an AK-47 at his wife and 6-month-old newborn. Taylor-Morales explained in an IG post that they started arguing when she asked Gunplay to "quiet down" because he was yelling while playing Call of Duty. When he started yelling, she began collecting her and the baby's things to stay in a hotel room so he could sober up, but he didn't want them to leave.
"I just want everyone to know my daughter and I are safe," she wrote at the time. "Unfortunately, Richard is back using and developed a very bad drinking problem. I've tried everything in my power to help him and love him. This is a demon he has to overcome on his own. At this point I really believe it's too late."
Taylor-Morales then got a restraining order against him and revealed she was going to file for divorce.