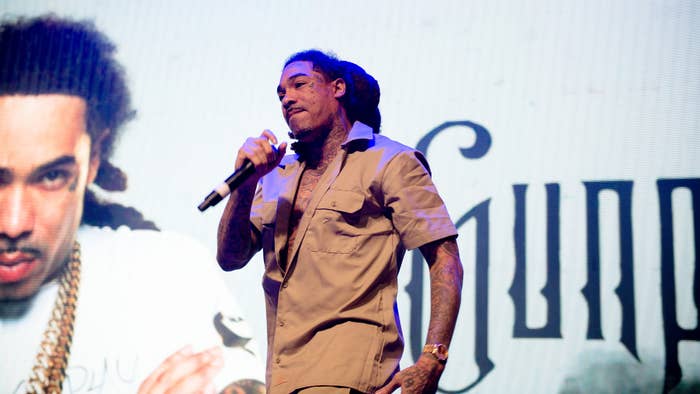 Gunplay was arrested on Sunday, August 20 on battery and domestic violence charges.
As the Miami Dade County Corrections and Rehabilitation inmate search shows, the 44-year-old Florida rapper, real name Richard Morales, was arrested on charges of aggravated battery with a deadly weapon, false imprisonment, and abuse of a child with no great bodily harm. He is currently being held at Miami's Turner Guilford Knight Correctional Center, with his bond set at $20,000.

According to Fox Sports journalist Andy Slater, the rapper allegedly pointed a rifle at his wife and their six-month-old baby following an argument. He has denied the allegation. As later reported by 7 News Miami, it was an AK-47.
His wife, Vonshae Taylor-Morales, addressed his arrest in a post shared on Instagram. "I just want everyone to know my daughter and I are safe," she wrote. "Unfortunately, Richard is back using and developed a very bad drinking problem. I've tried everything in my power to help him and love him. This is a demon he has to overcome on his own. At this point I really believe it's too late."
She later described what led to his arrest and alleged that he threatened her and their child. "I asked Richard to quiet down as he scared the baby sleeping by yelling playing Call of Duty," she continued. "He started going off on me for asking him to be quiet. I tried to collect a bag so my daughter and I can go to a room while he sobers up. He didn't want us to leave and things went left fast. He was arrested last night, the weapon is in police custody."
Taylor-Morales said that she's since gotten a restraining order against him and is going to file for divorce. "My daughter is in my custody and I am filing for divorce," she wrote. "He will never get the chance to disrespect us again. Thank you all for the well wishes and prayers. This is a very traumatizing experience please keep me in your prayers."
Last month, Gunplay was seen threatening to shoot up a club after a DJ played 50 Cent's music at his birthday party. In a viral clip, he asked DJ Juice why he played Fif, with whom he has beef with. "Don't touch me before I shoot this shit up," he threatened. "I'll kill everything in here."
In a statement provided to XXL, he said that he lost his cool because the DJ shouted him out when he played "I Smell Pussy" by G-Unit, a diss track directed at the entire roster of Murder Inc. Records.